Evaluation of the Antioxidant and Anti-glication Effects of the Hexane Extract from Piper auritum Leaves in Vitro and Beneficial Activity on Oxidative Stress and Advanced Glycation End-Product-Mediated Renal Injury in Streptozotocin-Treated Diabetic Rats
1
Laboratorio de Investigación de Productos Naturales, Escuela Superior de Ingenieria Quimica e Industrias Extractivas IPN, Av. Instituto Politécnico Nacional S/N, Unidad Profesional Adolfo Lopez Mateos, cp. 07708, Mexico D.F., Mexico
2
Laboratorio de Metabolitos Secundarios de Microorganismos, Departamento de Biotecnologia y Bioingenieria, Cinvestav, Av. no. 2508, cp. 07360, Mexico D.F., Mexico
*
Author to whom correspondence should be addressed.
Received: 15 September 2012 / Revised: 21 September 2012 / Accepted: 7 October 2012 / Published: 9 October 2012
Abstract
The aim of this study was to investigate the antioxidant activity of hexane extracts from leaves of
Piper
auritum
(HS). Eight complementary
in
vitro
test methods were used, including inhibition of DPPH· radicals, nitric oxide, superoxide anion, ion-chelating, ABTS, oxygen radical absorbance capacity, β-carotene bleaching and peroxy radical scavenging. The results indicated that HS possesses high antioxidant activity. To add to these finding we tested the effect against oxidative stress in liver, pancreas and kidney in diabetic rats. Low levels of SOD, CAT, GPx and GSH in diabetic rats were reverted to near normal values after treatment with HS. These results suggest that
P.
auritum
prevents oxidative stress, acting as a suppressor of liver cell damage. Given the link between glycation and oxidation, we proposed that HS might possess significant
in
vitro
antiglycation activity. Our data confirmed the inhibitory effect of HS on bovine serum albumin, serum glycosylated protein, glycation of LDL, and glycation hemoglobin. The effect of HS on diabetic renal damage was investigated using streptozotocin-induced diabetic rats. The oral administration of HS at a dose of 200 and 400 mg/kg body weight/day for 28 days significantly reduced advanced glycation endproduct (AGE) formation, elevated renal glucose and thiobarbituric acid-reactive substance levels in the kidneys of diabetic rats. This implies that HS would alleviate the oxidative stress under diabetes through the inhibition of lipid peroxidation. These findings indicate that oxidative stress is increased in the diabetic rat kidney and that HS can prevent renal damage associated with diabetes by attenuating the oxidative stress.
View Full-Text
►

▼

Figures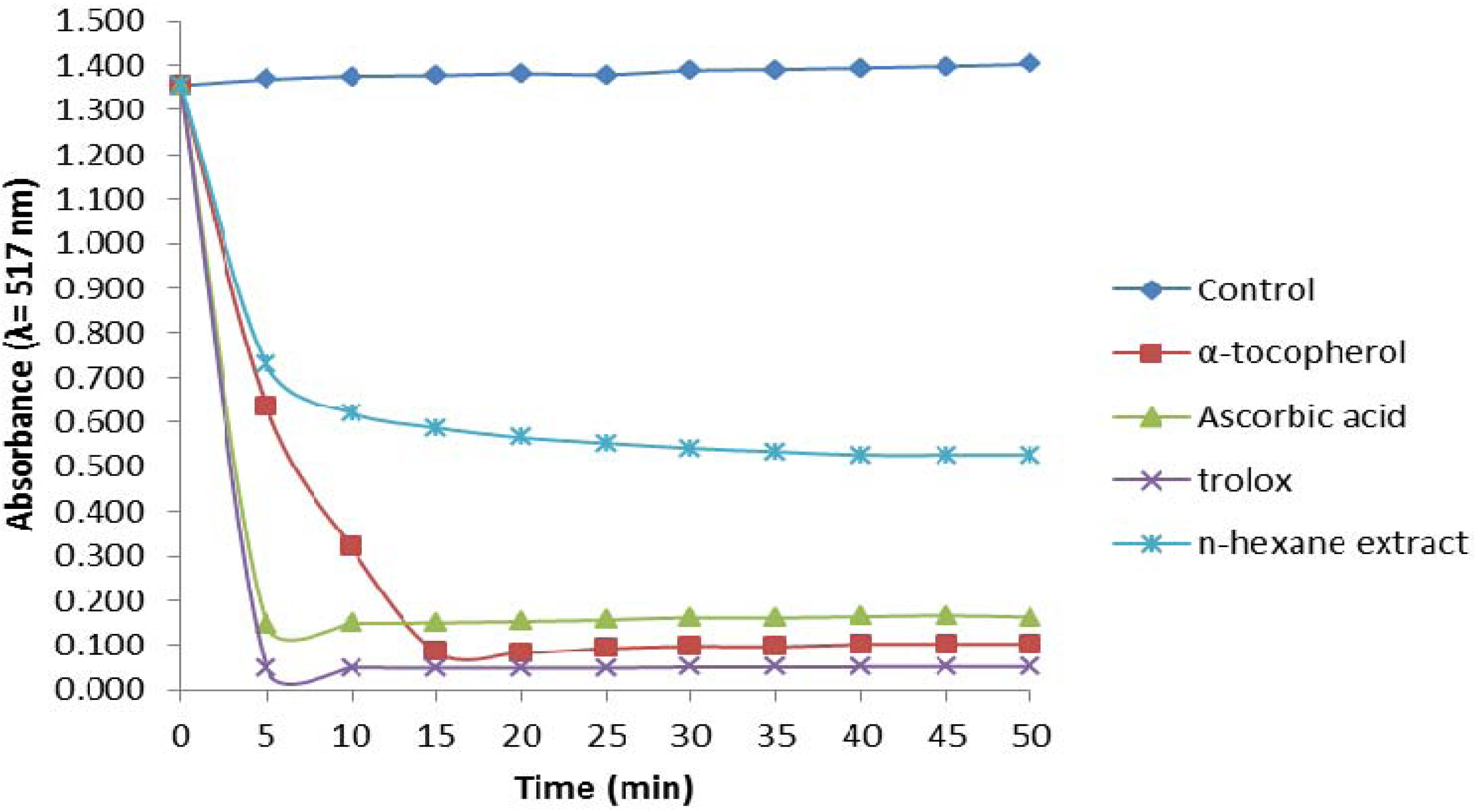 Figure 1
Share & Cite This Article
MDPI and ACS Style
Perez Gutierrez, R.M.; Flores Cotera, L.B.; Gonzalez, A.M.N. Evaluation of the Antioxidant and Anti-glication Effects of the Hexane Extract from Piper auritum Leaves in Vitro and Beneficial Activity on Oxidative Stress and Advanced Glycation End-Product-Mediated Renal Injury in Streptozotocin-Treated Diabetic Rats. Molecules 2012, 17, 11897-11919.
Related Articles
Comments
[Return to top]