Substituted N-Benzylpyrazine-2-carboxamides: Synthesis and Biological Evaluation†
1
Department of Pharmaceutical Chemistry and Drug Control, Faculty of Pharmacy, Charles University in Prague, Heyrovského 1203, 500 05 Hradec Králové, Czech Republic
2
Department of Biophysics and Physical Chemistry, Faculty of Pharmacy, Charles University in Prague, Heyrovského 1203, 500 05 Hradec Králové, Czech Republic
3
Department of Clinical Microbiology, University Hospital, Sokolská 581, 500 05 Hradec Králové, Czech Republic
4
Department of Ecosozology and Physiotactics, Faculty of Natural Sciences, Comenius University, Mlynská Dolina Ch-2, 84215 Bratislava, Slovakia
5
Institute of Chemistry, Faculty of Natural Sciences, Comenius University, Mlynská Dolina CH-2, 842 15 Bratislava, Slovakia
†
Preliminary results related to the topic of this article were presented at The Fifteenth International Electronic Conference on Synthetic Organic Chemistry (ECSOC-15, https://docs.google.com/ viewer?url=http://www.sciforum.net/presentation/599/pdf&chrome=true), 1–30 November 2011.
*
Author to whom correspondence should be addressed.
Received: 22 October 2012 / Revised: 31 October 2012 / Accepted: 2 November 2012 / Published: 6 November 2012
Abstract
A series of twelve amides was synthesized
via
aminolysis of substituted pyrazinecarboxylic acid chlorides with substituted benzylamines. Compounds were characterized with analytical data and assayed
in vitro
for their antimycobacterial, antifungal, antibacterial and photosynthesis-inhibiting activity. 5-
tert
-Butyl-6-chloro-
N
-(4-methoxybenzyl)pyrazine-2-carboxamide (
12
) has shown the highest antimycobacterial activity against
Mycobacterium tuberculosis
(MIC = 6.25 µg/mL), as well as against other mycobacterial strains. The highest antifungal activity against
Trichophyton mentagrophytes
, the most susceptible fungal strain tested, was found for 5-chloro-
N
-(3-trifluoromethylbenzyl)-pyrazine-2-carboxamide (
2
, MIC = 15.62 µmol/L). None of the studied compounds exhibited any activity against the tested bacterial strains. Except for 5-
tert
-butyl-6-chloro-
N
-benzylpyrazine-2-carboxamide (
9
, IC
50
= 7.4 µmol/L) and 5-
tert
-butyl-6-chloro-
N
-(4-chlorobenzyl)pyrazine-2-carboxamide (
11
, IC
50
= 13.4 µmol/L), only moderate or weak photosynthesis-inhibiting activity in spinach chloroplasts (
Spinacia oleracea
L.) was detected.
View Full-Text
►

▼

Figures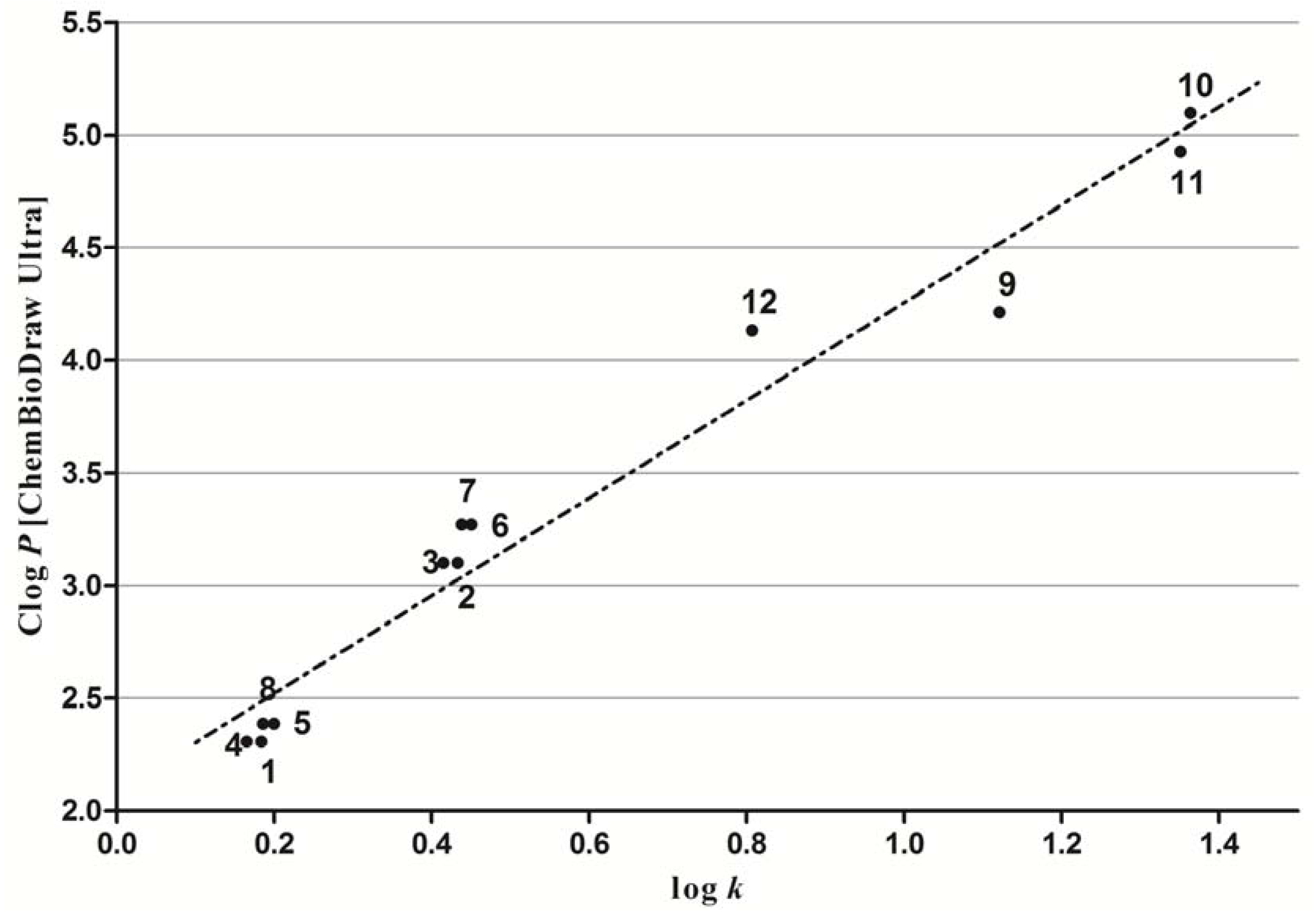 Figure 1
Share & Cite This Article
MDPI and ACS Style
Servusová, B.; Eibinová, D.; Doležal, M.; Kubíček, V.; Paterová, P.; Peško, M.; Kráľová, K. Substituted N-Benzylpyrazine-2-carboxamides: Synthesis and Biological Evaluation. Molecules 2012, 17, 13183-13198.
Related Articles
Comments
[Return to top]