Synthesis and Biological Evaluation of New 2-Azetidinones with Sulfonamide Structures
1
Department of Pharmaceutical Chemistry, Faculty of Pharmacy, Grigore T. Popa University of Medicine and Pharmacy, 16 University Street, Iasi 700115, Romania
2
Department of Physical Chemistry of Polymers, Petru Poni Institute of Macromolecular Chemistry, Romanian Academy, 41A Grigore Ghica Voda Alley, Iasi 700487, Romania
3
Laboratory of Antimicrobial Chemotherapy, Faculty of Veterinary Medicine, Ion Ionescu de la Brad University of Agricultural Sciences and Veterinary Medicine, 8 Mihail Sadoveanu Alley, Iasi 700489, Romania
4
Department of Plastic Surgery, Faculty of Medicine, Grigore T. Popa University of Medicine and Pharmacy, 16 University Street, Iasi 700115, Romania
*
Authors to whom correspondence should be addressed.
Received: 26 February 2013 / Revised: 26 March 2013 / Accepted: 3 April 2013 / Published: 8 April 2013
Abstract
New series of
N
-(arylidene)hydrazinoacetyl sulfonamides
4a1
–6
,
4b1
–6
and
N
-(4-aryl-3-chloro-2-oxoazetidin-1-yl)aminoacetyl sulfonamides
5a1
–6
,
5b1
–6
were synthesized. The structures of the new derivatives was confirmed using spectral methods (FT-IR,
1
H-NMR,
13
C-NMR). The antibacterial activities of these compounds against Gram positive (
Staphyloccoccus aureus
ATCC 6583,
Staphyloccoccus epidermidis
ATCC 12228,
Enterococcus faecalis
ATCC 25912) and Gram negative (
Klebsiella pneumoniae
CIP 53153,
Proteus vulgaris
CIP 104989,
Citrobacter freundii
CIP 5732,
Enterobacter cloacae
CIP 103475,
Escherichia coli
ATCC 25922,
Pseudomonas aeruginosa
CIP 82118) bacterial strains were evaluated using the broth micro-dilution method. Compound
4a2
displayed the highest antibacterial activity, especially against
Staphyloccoccus epidermidis
,
Enterococcus faecalis
and
Pseudomonas aeruginosa
. The antioxidant potential of the synthesized compounds was also investigated according to ferric reducing power, total antioxidant activity and DPPH radical scavenging assays. All tested compounds showed excellent antioxidant activity in comparison with sulfadiazine and sulfisoxazole which were used as parent sulfonamides. Moreover, some of them showed an antioxidant activity comparable with that of ascorbic acid. In general, the compounds designed based on a sulfadiazine skeleton (compounds
4a1–6
,
5a1–6
) are more active than those obtained from sulfisoxazole (compounds
4b1–6
,
5b1–6
), and the
N
-(arylidene)hydrazinoacetyl sulfonamide derivatives
4a1
–6
,
4b1
–6
are more active than their azetidionone analogues
5a1
–6
,
5b1
–6
.
View Full-Text
►

▼

Figures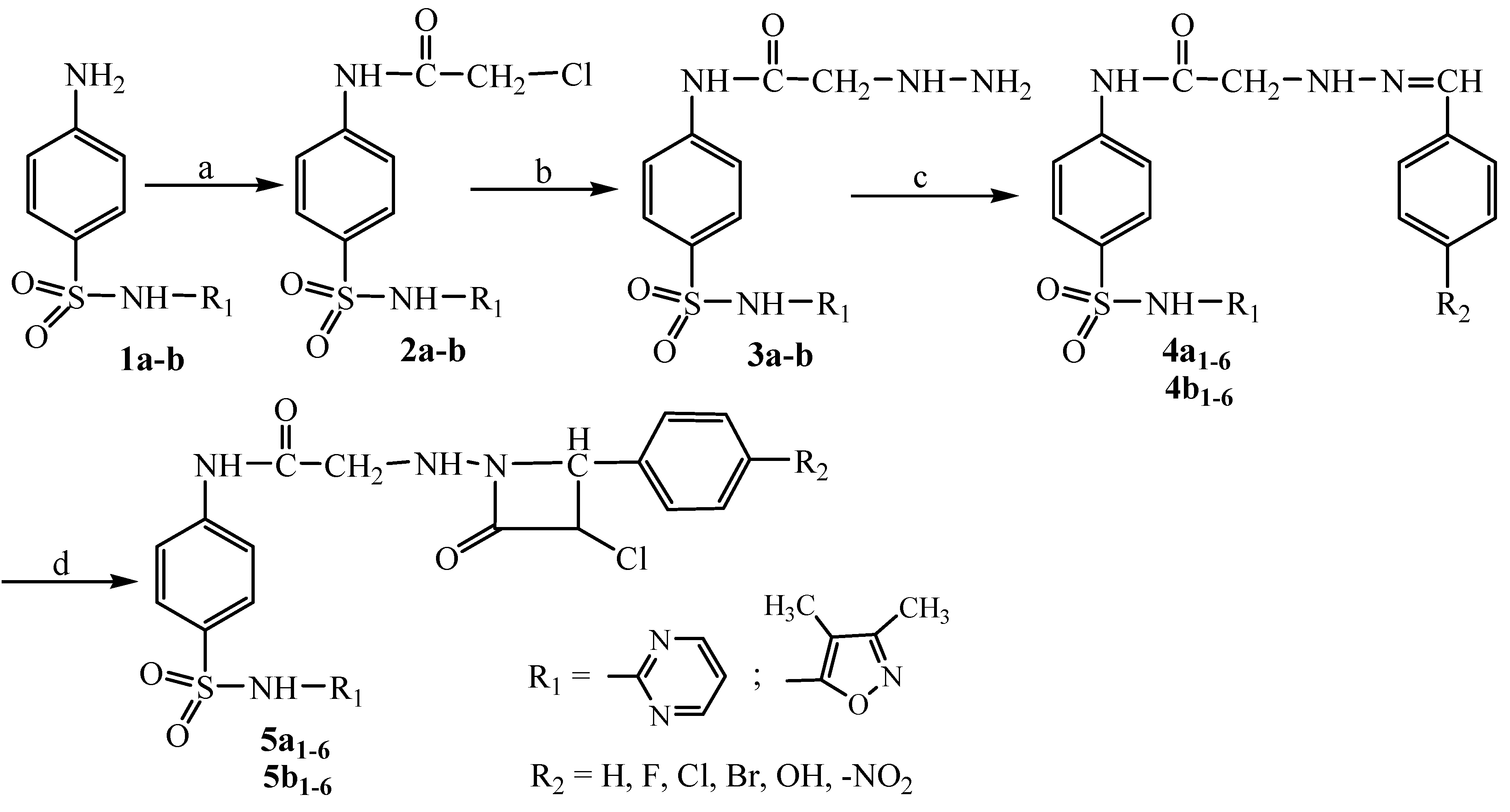 Figure 1
Share & Cite This Article
MDPI and ACS Style
Dragostin, O.M.; Lupascu, F.; Vasile, C.; Mares, M.; Nastasa, V.; Moraru, R.F.; Pieptu, D.; Profire, L. Synthesis and Biological Evaluation of New 2-Azetidinones with Sulfonamide Structures. Molecules 2013, 18, 4140-4157.
Related Articles
Comments
[Return to top]