1H-MAS-NMR Chemical Shifts in Hydrogen-Bonded Complexes of Chlorophenols (Pentachlorophenol, 2,4,6-Trichlorophenol, 2,6-Dichlorophenol, 3,5-Dichlorophenol, and p-Chlorophenol) and Amine, and H/D Isotope Effects on 1H-MAS-NMR Spectra
Graduate School of Nanobioscience, Yokohama City University, Kanazawa-ku, Yokohama 236-0027, Japan
Received: 1 March 2013 / Revised: 12 April 2013 / Accepted: 18 April 2013 / Published: 22 April 2013
Abstract
Chemical shifts (CS) of the
1
H nucleus in N···H···O type hydrogen bonds (H-bond) were observed in some complexes between chlorophenols [pentachlorophenol (PCP), 2,4,6-tricholorophenol (TCP), 2,6-dichlorophenol (26DCP), 3,5-dichlorophenol (35DCP), and
p
-chlorophenol (
p
CP)] and nitrogen-base (N-Base) by solid-state high-resolution
1
H-NMR with the magic-angle-spinning (MAS) method. Employing N-Bases with a wide range of p
K
a
values (0.65–10.75),
1
H-MAS-NMR CS values of bridging H atoms in H-bonds were obtained as a function of the N-Base's p
K
a
. The result showed that the CS values were increased with increasing p
K
a
values in a range of Dp
K
a
< 0 [Dp
K
a
= p
K
a
(N-Base) - p
K
a
(chlorophenols)] and decreased when Dp
K
a
> 2: The maximum CS values was recorded in the PCP (p
K
a
= 5.26)–4-methylpyridine (6.03), TCP (6.59)–imidazole (6.99), 26DCP (7.02)–2-amino-4-methylpyridine (7.38), 35DCP (8.04)–4-dimethylaminopyridine (9.61), and
p
CP (9.47)–4-dimethylaminopyridine (9.61) complexes. The largest CS value of 18.6 ppm was recorded in TCP–imidazole crystals. In addition, H/D isotope effects on
1
H-MAS-NMR spectra were observed in PCP–2-amino-3-methylpyridine. Based on the results of CS simulation using a B3LYP/6-311+G** function, it can be explained that a little changes of the N–H length in H-bond contribute to the H/D isotope shift of the
1
H-MAS-NMR peaks.
View Full-Text
►

▼

Figures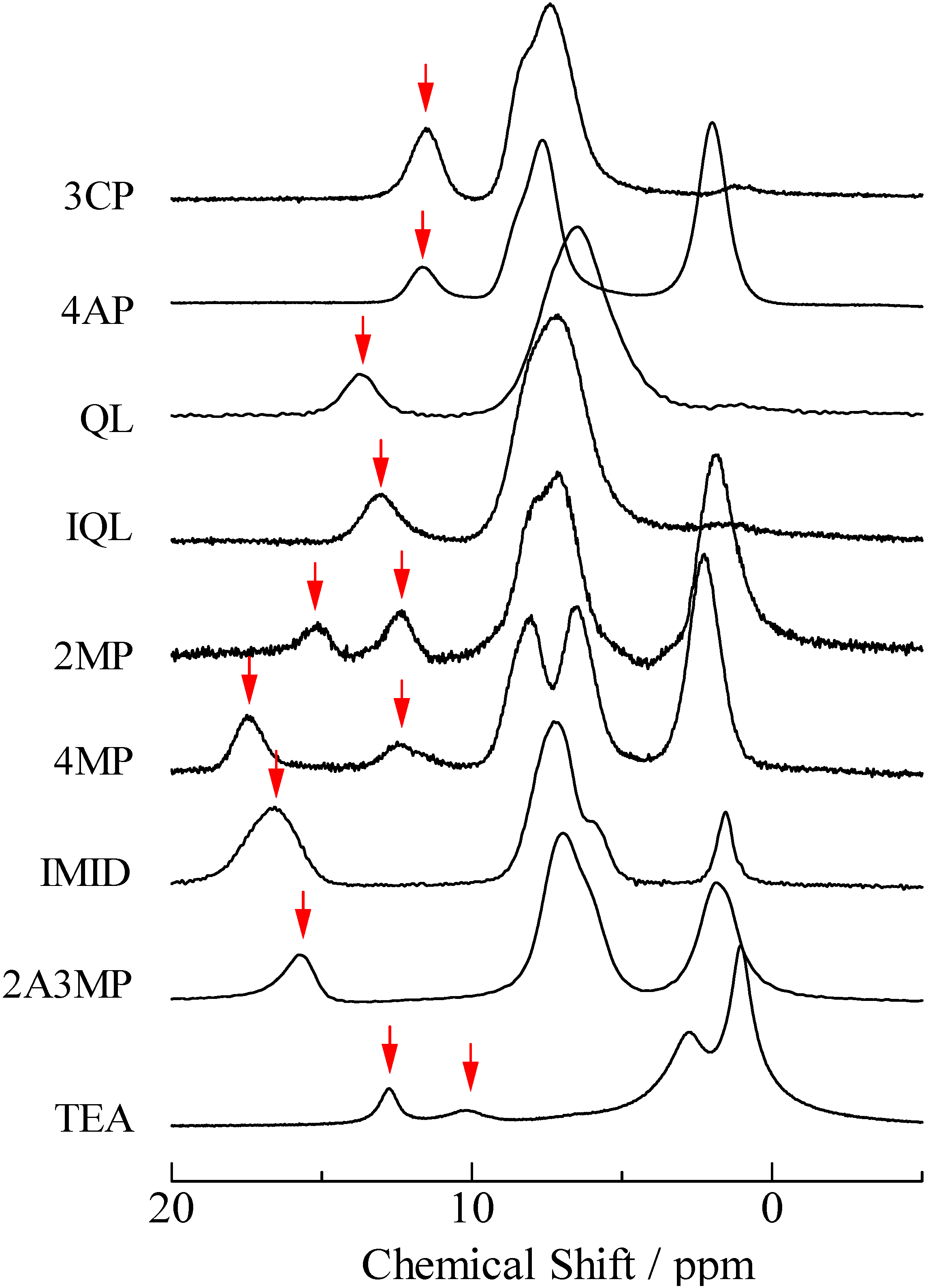 Figure 1
Share & Cite This Article
MDPI and ACS Style
Honda, H. 1H-MAS-NMR Chemical Shifts in Hydrogen-Bonded Complexes of Chlorophenols (Pentachlorophenol, 2,4,6-Trichlorophenol, 2,6-Dichlorophenol, 3,5-Dichlorophenol, and p-Chlorophenol) and Amine, and H/D Isotope Effects on 1H-MAS-NMR Spectra. Molecules 2013, 18, 4786-4802.
Related Articles
Comments
[Return to top]