Dimeric Labdane Diterpenes: Synthesis and Antiproliferative Effects
1
Instituto de Química de Recursos Naturales, Universidad de Talca, Casilla 747, Talca, Chile
2
Facultad de Ciencias de la Salud, Universidad de Talca, Talca, Chile
*
Author to whom correspondence should be addressed.
Received: 15 April 2013 / Revised: 29 April 2013 / Accepted: 13 May 2013 / Published: 21 May 2013
Abstract
Several diterpenes with the labdane skeleton show biological activity, including antiproliferative effects. Most of the research work on bioactive labdanes has been carried out on naturally occurring diterpenes and semisynthetic derivatives, but much less is known on the effects of diterpene dimers. The aim of the present work was to synthesize dimeric diterpenes from the labdane imbricatolic acid using esters, ethers and the triazole ring as linkers. Some 18 new derivatives were prepared and the compounds were evaluated for antiproliferative activity on human normal fibroblasts (MRC-5) and the following human tumor cell lines: AGS, SK-MES-1, J82 and HL-60. The diethers 8–10, differing in the number of CH2 units in the linker, presented better antiproliferative activity with a maximum effect for the derivative 9. The best antiproliferative effect against HL-60 cells was found for compounds 3 and 17, with IC50 values of 22.3 and 23.2 μM, lower than that found for the reference compound etoposide (2.23 μM). The compounds 9, 17 and 11 were the most active derivatives towards AGS cells with IC50 values of 17.8, 23.4 and 26.1 μM. A free carboxylic acid function seems relevant for the effect as several of the compounds showed less antiproliferative effect after methylation.
View Full-Text
►

▼

Figures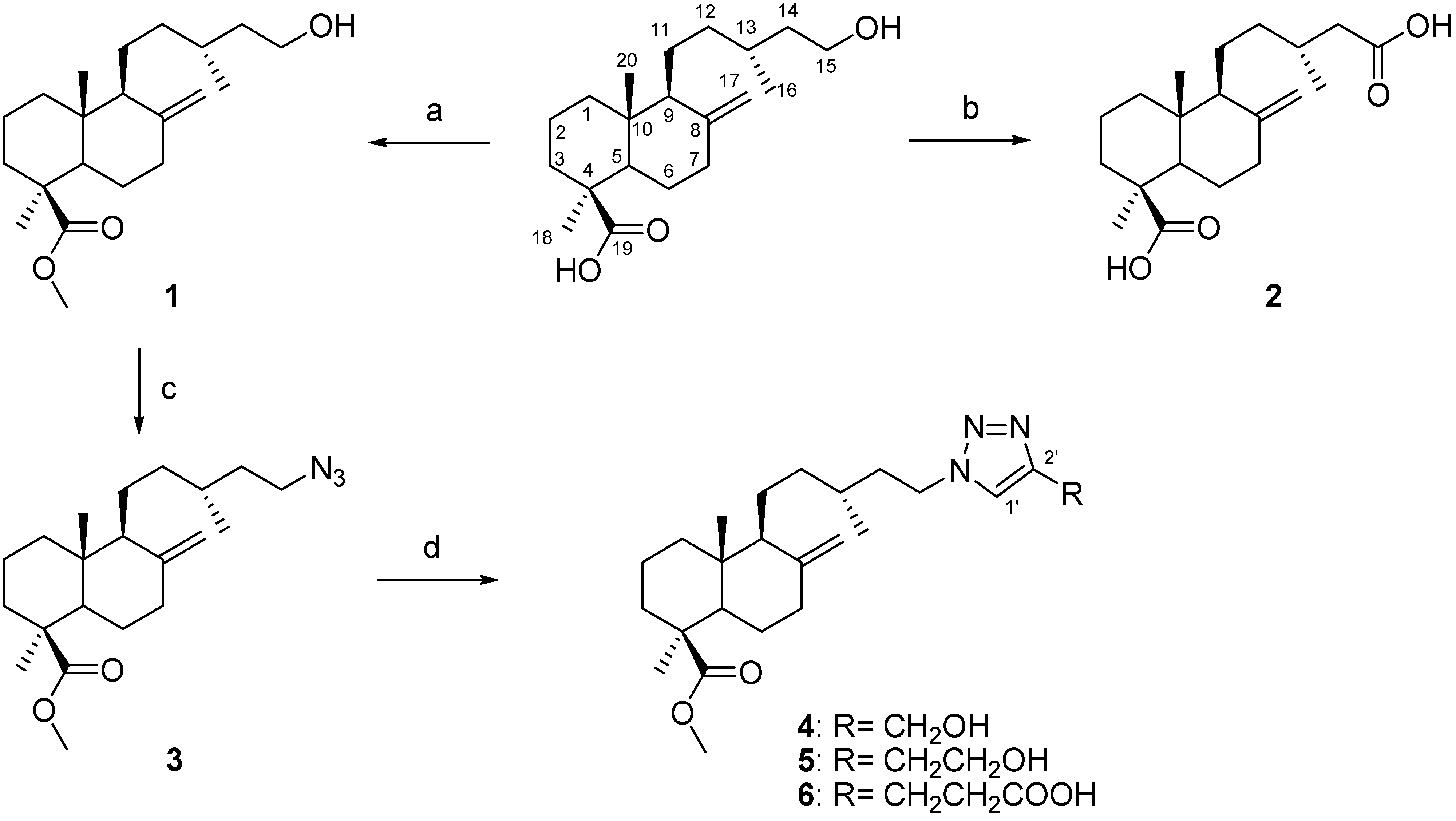 Figure 1
Share & Cite This Article
MDPI and ACS Style
Pertino, M.W.; Theoduloz, C.; Bastías, M.; Schmeda-Hirschmann, G. Dimeric Labdane Diterpenes: Synthesis and Antiproliferative Effects. Molecules 2013, 18, 5936-5953.
Related Articles
Comments
[Return to top]