Optimization of the Culture Medium Composition to Improve the Production of Hyoscyamine in Elicited Datura stramonium L. Hairy Roots Using the Response Surface Methodology (RSM)
1
Laboratoire des Ressources Génétiques et Biotechnologie, Ecole Nationale Supérieure Agronomique, 16200 El-Harrach-Alger, Algeria
2
Université de Picardie Jules Verne, UFR of Sciences, LAMFA, CNRS-UMR 6140, 33 rue Saint Leu, 80039 Amiens cedex 1, France
3
Research Unit EA3900 BioPI-UPJV Biologie des plantes et contrôle des insectes ravageurs, Université de Picardie Jules Verne, UFR of Sciences, Ilot des poulies, 33 rue Saint Leu, 80039 Amiens cedex 1, France
*
Author to whom correspondence should be addressed.
Received: 14 October 2010 / Revised: 3 November 2010 / Accepted: 17 November 2010 / Published: 18 November 2010
Abstract
Traditionally, optimization in biological analyses has been carried out by monitoring the influence of one factor at a time; this technique is called
one‑variable‑at‑a‑time
. The disadvantage of this technique is that it does not include any interactive effects among the variables studied and requires a large number of experiments. Therefore, in recent years, the Response Surface Methodology (RSM) has become the most popular optimization method. It is an effective mathematical and statistical technique which has been widely used in optimization studies with minimal experimental trials where interactive factors may be involved. This present study follows on from our previous work, where RSM was used to optimize the B5 medium composition in [NO
3−
], [Ca
2+
] and sucrose to attain the best production of hyoscyamine (HS) from the hairy roots (HRs) of
Datura stramonium
elicited by Jasmonic Acid (JA). The present paper focuses on the use of the RSM in biological studies, such as plant material, to establish a predictive model with the planning of experiments, analysis of the model, diagnostics and adjustment for the accuracy of the model. With the RSM, only 20 experiments were necessary to determine optimal concentrations. The model could be employed to carry out interpolations and predict the response to elicitation. Applying this model, the optimization of the HS level was 212.7% for the elicited HRs of
Datura stramonium
, cultured in B5-OP medium (optimized), in comparison with elicited HRs cultured in B5 medium (control). The optimal concentrations, under experimental conditions, were determined to be: 79.1 mM [NO
3−
], 11.4 mM [Ca
2+
] and 42.9 mg/L of sucrose.
View Full-Text
►

▼

Figures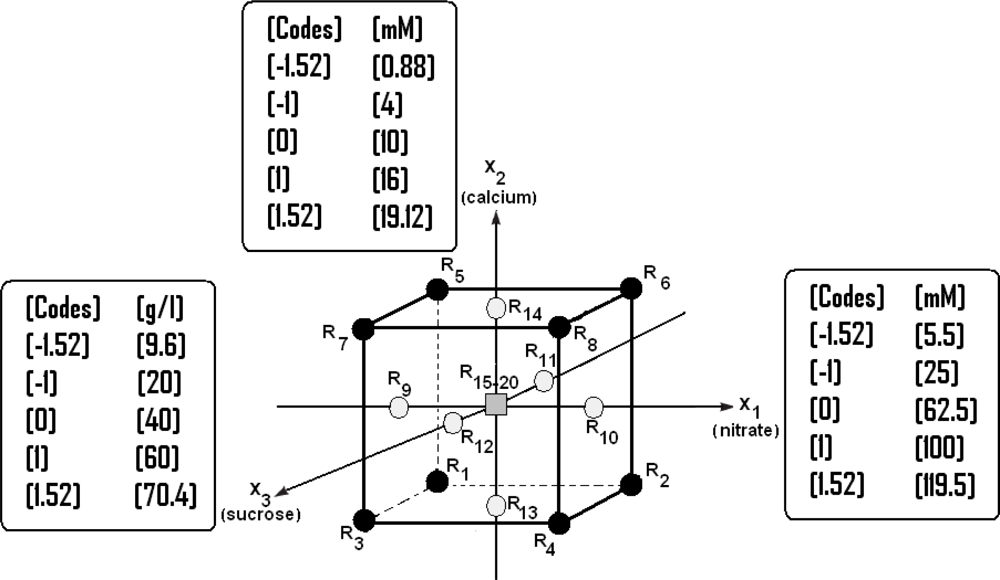 Share & Cite This Article
MDPI and ACS Style
Amdoun, R.; Khelifi, L.; Khelifi-Slaoui, M.; Amroune, S.; Asch, M.; Assaf-Ducrocq, C.; Gontier, E. Optimization of the Culture Medium Composition to Improve the Production of Hyoscyamine in Elicited Datura stramonium L. Hairy Roots Using the Response Surface Methodology (RSM). Int. J. Mol. Sci. 2010, 11, 4726-4740.
Related Articles
Comments
[Return to top]