Preparation of Coaxial-Electrospun Poly[bis(p-methylphenoxy)]phosphazene Nanofiber Membrane for Enzyme Immobilization
1
Key Laboratory of Eco-Textile, Ministry of Education, Jiangnan University, Wuxi 214122, China
2
Key Laboratory of Macromolecular Synthesis and Functionalization, Department of Polymer Science and Engineering, Zhejiang University, Hangzhou 310027, China
*
Author to whom correspondence should be addressed.
Received: 1 August 2012 / Revised: 16 October 2012 / Accepted: 23 October 2012 / Published: 2 November 2012
Abstract
A core/sheath nanofiber membrane with poly[bis(
p
-methylphenoxy)]phospha-zene (PMPPh) as the sheath and easily spinnable polyacrylonitrile (PAN) as the core was prepared via a coaxial electrospinning process. Field-emission scanning electron microscopy and transmission electron microscopy were used to characterize the morphology of the nanofiber membrane. It was found that the concentration of the PAN spinning solution and the ratio of the core/sheath solution flow rates played a decisive role in the coaxial electrospinning process. In addition, the stabilized core/sheath PMPPh nanofiber membrane was investigated as a support for enzyme immobilization because of its excellent biocompatibility, high surface/volume ratio, and large porosity. Lipase from
Candida rugosa
was immobilized on the nanofiber membrane by adsorption. The properties of the immobilized lipase on the polyphosphazene nanofiber membrane were studied and compared with those of a PAN nanofiber membrane. The results showed that the adsorption capacity (20.4 ± 2.7 mg/g) and activity retention (63.7%) of the immobilized lipase on the polyphosphazene nanofiber membrane were higher than those on the PAN membrane.
View Full-Text
►

▼

Figures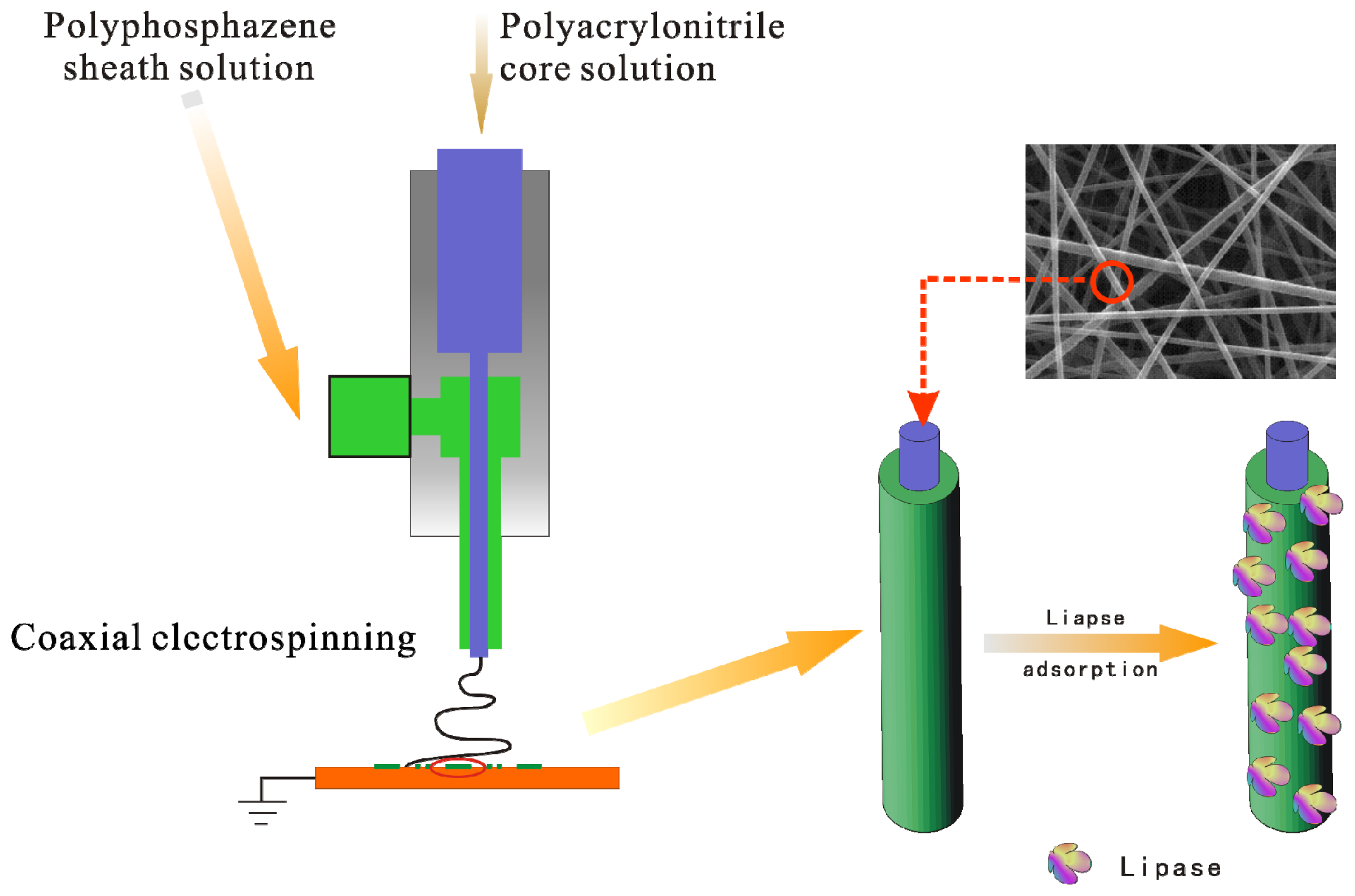 Share & Cite This Article
MDPI and ACS Style
Wang, S.-G.; Jiang, X.; Chen, P.-C.; Yu, A.-G.; Huang, X.-J. Preparation of Coaxial-Electrospun Poly[bis(p-methylphenoxy)]phosphazene Nanofiber Membrane for Enzyme Immobilization. Int. J. Mol. Sci. 2012, 13, 14136-14148.
Related Articles
Comments
[Return to top]