Role of Key Residues at the Flavin Mononucleotide (FMN):Adenylyltransferase Catalytic Site of the Bifunctional Riboflavin Kinase/Flavin Adenine Dinucleotide (FAD) Synthetase from Corynebacterium ammoniagenes
1
Department of Biochemistry and Cellular and Molecular Biology, Faculty of Sciences, Institute for Biocomputation and Physics of Complex Systems (BIFI)-Joint Unit BIFI-IQFR (CSIC), University of Zaragoza, Pedro Cerbuna, 12. 50009 Zaragoza, Spain
2
Foundation, Aragonian Government, 50018 Zaragoza, Spain
*
Author to whom correspondence should be addressed.
Received: 24 September 2012 / Revised: 1 November 2012 / Accepted: 2 November 2012 / Published: 8 November 2012
(This article belongs to the Special Issue
Flavins
)
Abstract
In mammals and in yeast the conversion of Riboflavin (RF) into flavin mononucleotide (FMN) and flavin adenine dinucleotide (FAD) is catalysed by the sequential action of two enzymes: an ATP:riboflavin kinase (RFK) and an ATP:FMN adenylyltransferase (FMNAT). However, most prokaryotes depend on a single bifunctional enzyme, FAD synthetase (FADS), which folds into two modules: the
C
-terminal associated with RFK activity and the
N
-terminal associated with FMNAT activity. Sequence and structural analysis suggest that the 28-HxGH-31, 123-Gx(D/N)-125 and 161-xxSSTxxR-168 motifs from FADS must be involved in ATP stabilisation for the adenylylation of FMN, as well as in FAD stabilisation for FAD phyrophosphorolysis. Mutants were produced at these motifs in the
Corynebacterium ammoniagenes
FADS (
Ca
FADS). Their effects on the kinetic parameters of
Ca
FADS activities (RFK, FMNAT and FAD pyrophosphorilase), and on substrates and product binding properties indicate that H28, H31, N125 and S164 contribute to the geometry of the catalytically competent complexes at the FMNAT-module of
Ca
FADS.
View Full-Text
►

▼

Figures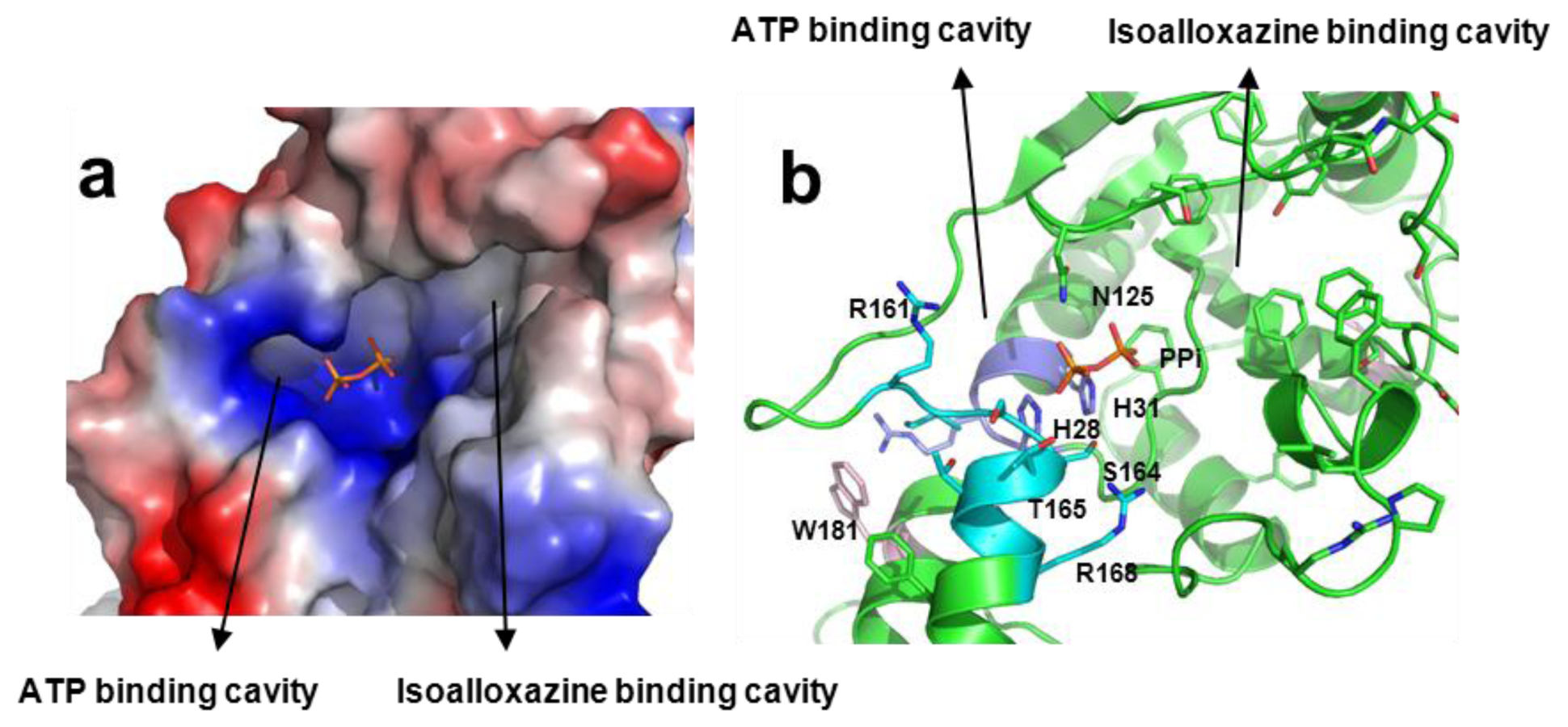 Share & Cite This Article
MDPI and ACS Style
Serrano, A.; Frago, S.; Velázquez-Campoy, A.; Medina, M. Role of Key Residues at the Flavin Mononucleotide (FMN):Adenylyltransferase Catalytic Site of the Bifunctional Riboflavin Kinase/Flavin Adenine Dinucleotide (FAD) Synthetase from Corynebacterium ammoniagenes. Int. J. Mol. Sci. 2012, 13, 14492-14517.
Related Articles
Comments
[Return to top]