Molecular Systematics of Genus Atractylodes (Compositae, Cardueae): Evidence from Internal Transcribed Spacer (ITS) and trnL-F Sequences
1
Institute of Chinese Materia Medica, China Academy of Chinese Medical Science, Beijing 100700, China
2
Department of Pharmacy, Anhui University of Traditional Chinese Medicine, Hefei 230031, China
*
Author to whom correspondence should be addressed.
Received: 13 August 2012 / Revised: 26 October 2012 / Accepted: 30 October 2012 / Published: 9 November 2012
Abstract
To determine the evolutionary relationships among all members of the genus
Atractylodes
(Compositae, Cardueae), we conducted molecular phylogenetic analyses of one nuclear DNA (nrDNA) region (internal transcribed spacer, ITS) and one chloroplast DNA (cpDNA) region (intergenic spacer region of trn
L
-
F
). In ITS and ITS + trn
L
-
F
trees, all members of
Atractylodes
form a monophyletic clade.
Atractylodes
is a sister group of the
Carlina
and
Atractylis
branch.
Atractylodes
species were distributed among three clades: (1)
A. carlinoides
(located in the lowest base of the
Atractylodes
phylogenetic tree), (2)
A. macrocephala
, and (3) the
A. lancea
complex, including
A. japonica
,
A. coreana
,
A. lancea
,
A. lancea
subsp.
luotianensis
, and
A. chinensis
. The taxonomic controversy over the classification of species of
Atractylodes
is mainly concentrated in
the
A. lancea
complex
.
In base on molecular results, the intraspecific division of
Atractylodes lancea
is not supported,
and
A. coreana
should be treated as a synonym
A. chinensis
.
View Full-Text
►

▼

Figures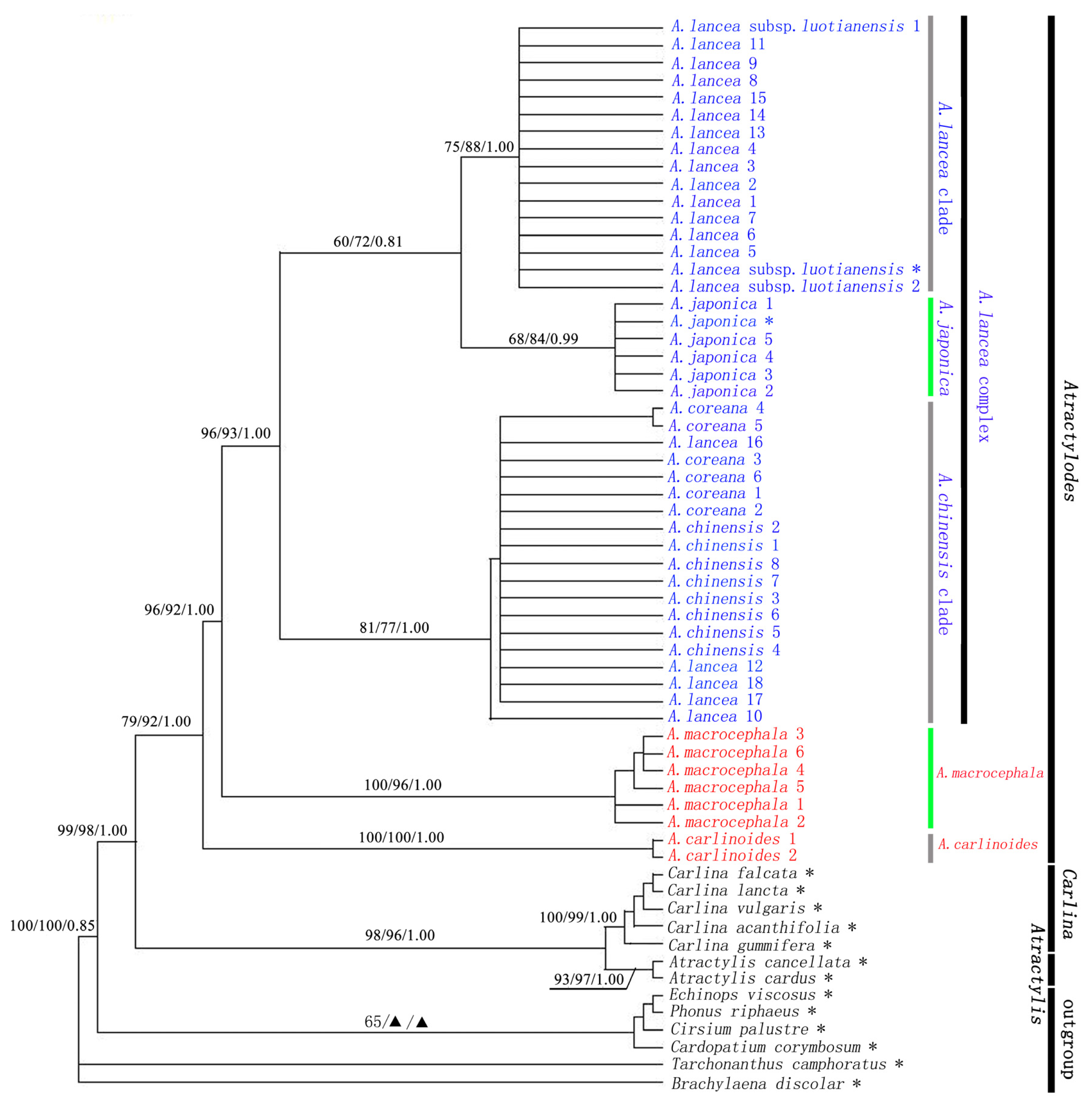 Share & Cite This Article
MDPI and ACS Style
Peng, H.-S.; Yuan, Q.-J.; Li, Q.-Q.; Huang, L.-Q. Molecular Systematics of Genus Atractylodes (Compositae, Cardueae): Evidence from Internal Transcribed Spacer (ITS) and trnL-F Sequences. Int. J. Mol. Sci. 2012, 13, 14623-14633.
Related Articles
Comments
[Return to top]