Carbohydrate Stress Affecting Fruitlet Abscission and Expression of Genes Related to Auxin Signal Transduction Pathway in Litchi
1
State Key Laboratory for Conservation and Utilization of Subtropical Agro-Bioresources/Guangdong Key Laboratory for Postharvest Science, College of Horticulture, South China Agricultural University, Guangzhou 510642, China
2
China Litchi Research Center, South China Agricultural University, Guangzhou 510642, China
3
College of Basic Education, Zhanjiang Normal University, Zhanjiang 524037, China
†
These authors contributed equally to this work.
*
Author to whom correspondence should be addressed.
Received: 18 October 2012 / Revised: 6 November 2012 / Accepted: 16 November 2012 / Published: 29 November 2012
Abstract
Auxin, a vital plant hormone, regulates a variety of physiological and developmental processes. It is involved in fruit abscission through transcriptional regulation of many auxin-related genes, including early auxin responsive genes (
i.e.
, auxin/indole-3-acetic acid (
AUX/IAA
), Gretchen Hagen3 (
GH3
) and small auxin upregulated (
SAUR
)) and auxin response factors (
ARF
), which have been well characterized in many plants. In this study, totally five auxin-related genes, including one
AUX/IAA
(
LcAUX/IAA1
), one
GH3
(
LcGH3.1
), one
SAUR
(
LcSAUR1
) and two
ARFs
(
LcARF1
and
LcARF2
), were isolated and characterized from litchi fruit.
LcAUX/IAA1
,
LcGH3.1
,
LcSAUR1
,
LcARF1
and
LcARF2
contain open reading frames (ORFs) encoding polypeptides of 203, 613, 142, 792 and 832 amino acids, respectively, with their corresponding molecular weights of 22.67, 69.20, 11.40, 88.20 and 93.16 kDa. Expression of these genes was investigated under the treatment of girdling plus defoliation which aggravated litchi fruitlet abscission due to the blockage of carbohydrates transport and the reduction of endogenous IAA content. Results showed that transcript levels of
LcAUX/IAA1
,
LcGH3.1
and
LcSAUR1
mRNAs were increased after the treatment in abscission zone (AZ) and other tissues, in contrast to the decreasing accumulation of
LcARF1
mRNA, suggesting that
LcAUX/IAA1
,
LcSAUR1
and
LcARF1
may play more important roles in abscission. Our results provide new insight into the process of fruitlet abscission induced by carbohydrate stress and broaden our understanding of the auxin signal transduction pathway in this process at the molecular level.
View Full-Text
►

▼

Figures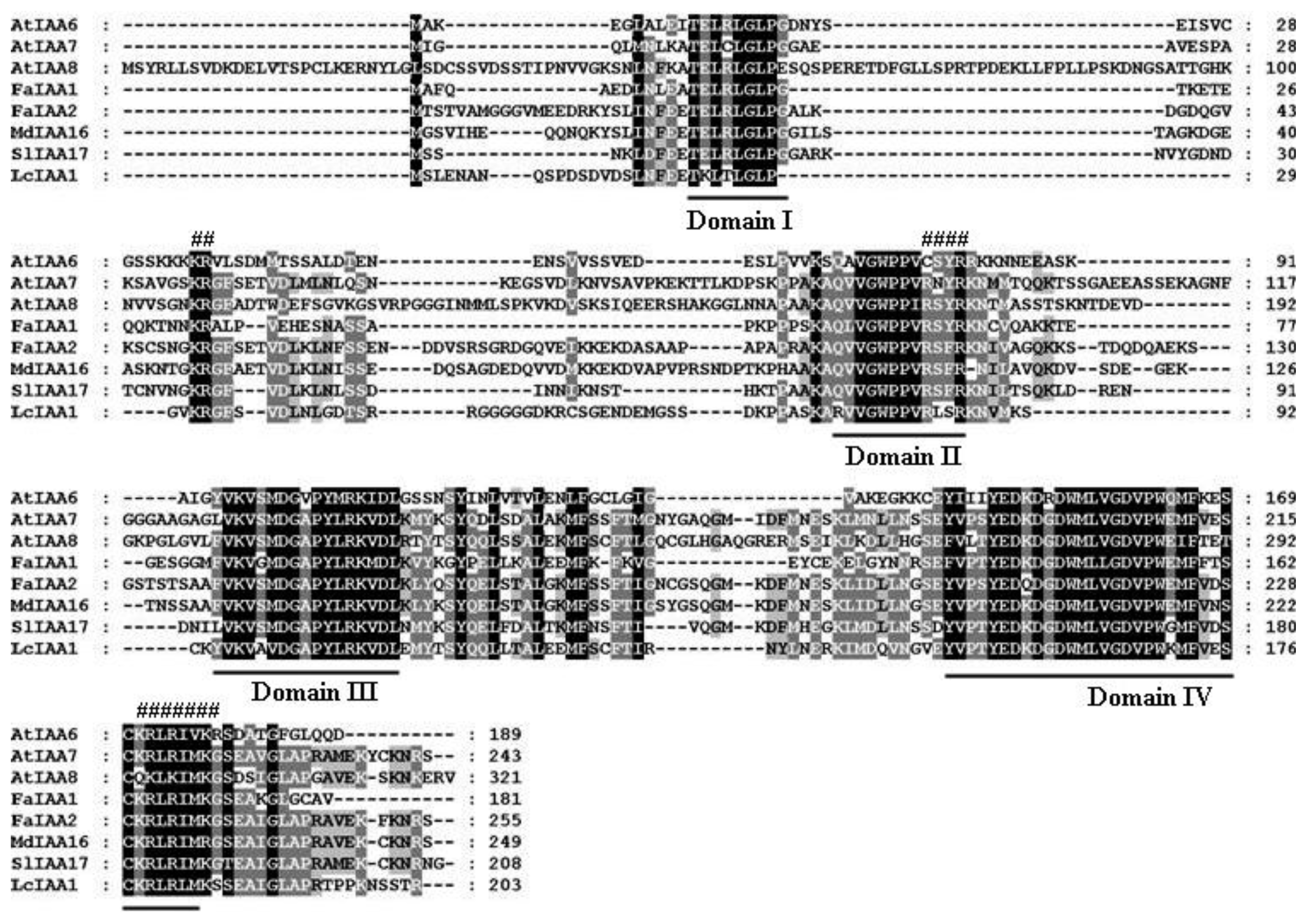 Share & Cite This Article
MDPI and ACS Style
Kuang, J.-F.; Wu, J.-Y.; Zhong, H.-Y.; Li, C.-Q.; Chen, J.-Y.; Lu, W.-J.; Li, J.-G. Carbohydrate Stress Affecting Fruitlet Abscission and Expression of Genes Related to Auxin Signal Transduction Pathway in Litchi. Int. J. Mol. Sci. 2012, 13, 16084-16103.
Related Articles
Comments
[Return to top]