UVA Irradiation of Dysplastic Keratinocytes: Oxidative Damage versus Antioxidant Defense
1
Faculty of Biology, University of Bucharest, Bucharest 050095, Romania
2
"Victor Babes" National Institute of Pathology, Bucharest 050096, Romania
3
"Carol Davila" University of Medicine and Pharmacy, Bucharest 050096, Romania
†
These authors contributed equally to this work.
*
Author to whom correspondence should be addressed.
Received: 5 September 2012 / Revised: 13 November 2012 / Accepted: 29 November 2012 / Published: 6 December 2012
Abstract
UVA affects epidermal cell physiology in a complex manner, but the harmful effects have been studied mainly in terms of DNA damage, mutagenesis and carcinogenesis. We investigated UVA effects on membrane integrity and antioxidant defense of dysplastic keratinocytes after one and two hours of irradiation, both immediately after exposure, and 24 h post-irradiation. To determine the UVA oxidative stress on cell membrane, lipid peroxidation was correlated with changes in fatty acid levels. Membrane permeability and integrity were assessed by propidium iodide staining and lactate dehydrogenase release. The effects on keratinocyte antioxidant protection were investigated in terms of catalase activity and expression. Lipid peroxidation increased in an exposure time-dependent manner. UVA exposure decreased the level of polyunsaturated fatty acids, which gradually returned to its initial value. Lactate dehydrogenase release showed a dramatic loss in membrane integrity after 2 h minimum of exposure. The cell ability to restore membrane permeability was noted at 24 h post-irradiation (for one hour exposure). Catalase activity decreased in an exposure time-dependent manner. UVA-irradiated dysplastic keratinocytes developed mechanisms leading to cell protection and survival, following a non-lethal exposure. The surviving cells gained an increased resistance to apoptosis, suggesting that their pre-malignant status harbors an abnormal ability to control their fate.
View Full-Text
►

▼

Figures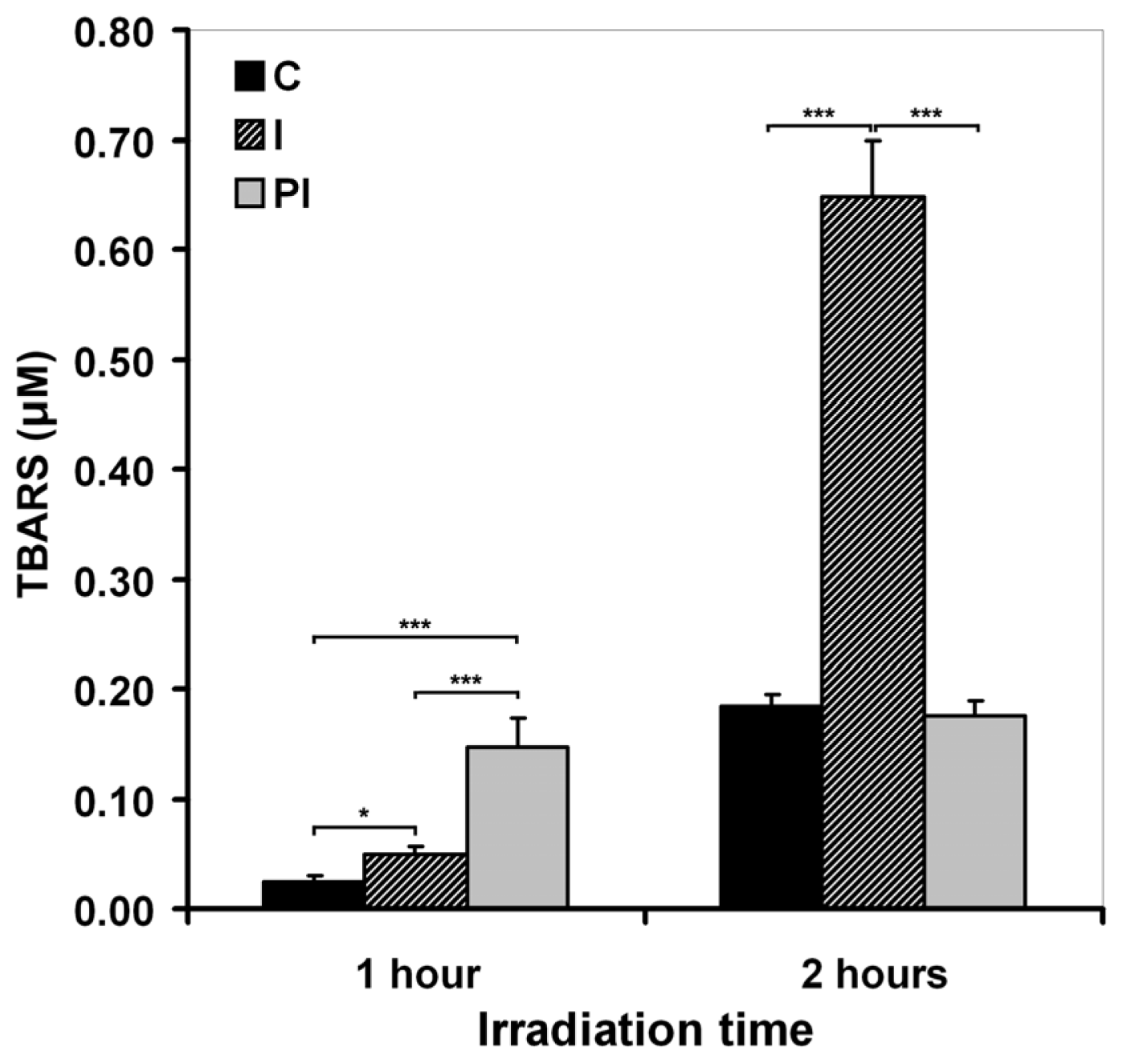 Share & Cite This Article
MDPI and ACS Style
Nechifor, M.T.; Niculiţe, C.M.; Urs, A.O.; Regalia, T.; Mocanu, M.; Popescu, A.; Manda, G.; Dinu, D.; Leabu, M. UVA Irradiation of Dysplastic Keratinocytes: Oxidative Damage versus Antioxidant Defense. Int. J. Mol. Sci. 2012, 13, 16718-16736.
Related Articles
Comments
[Return to top]