UBE4B: A Promising Regulatory Molecule in Neuronal Death and Survival
Department of Laboratory Medicine and Pathology, University of Alberta, Edmonton, AB T6G 2S2, Canada
*
Author to whom correspondence should be addressed.
Received: 7 October 2012 / Revised: 22 November 2012 / Accepted: 27 November 2012 / Published: 10 December 2012
Abstract
Neuronal survival and death of neurons are considered a fundamental mechanism in the regulation of the nervous system during early development of the system and in adulthood. Defects in this mechanism are highly problematic and are associated with many neurodegenerative diseases. Because neuronal programmed death is apoptotic in nature, indicating that apoptosis is a key regulatory process, the p53 family members (p53, p73, p63) act as checkpoints in neurons due to their role in apoptosis. The complexity of this system is due to the existence of different naturally occurring isoforms that have different functions from the wild types (WT), varying from apoptotic to anti-apoptotic effects. In this review, we focus on the role of UBE4B (known as Ube4b or Ufd2a in mouse), an E3/E4 ligase that triggers substrate polyubiquitination, as a master regulatory ligase associated with the p53 family WT proteins and isoforms in regulating neuronal survival. UBE4B is also associated with other pathways independent of the p53 family, such as polyglutamine aggregation and Wallerian degeneration, both of which are critical in neurodegenerative diseases. Many of the hypotheses presented here are gateways to understanding the programmed death/survival of neurons regulated by UBE4B in normal physiology, and a means of introducing potential therapeutic approaches with implications in treating several neurodegenerative diseases.
View Full-Text
►

▼

Figures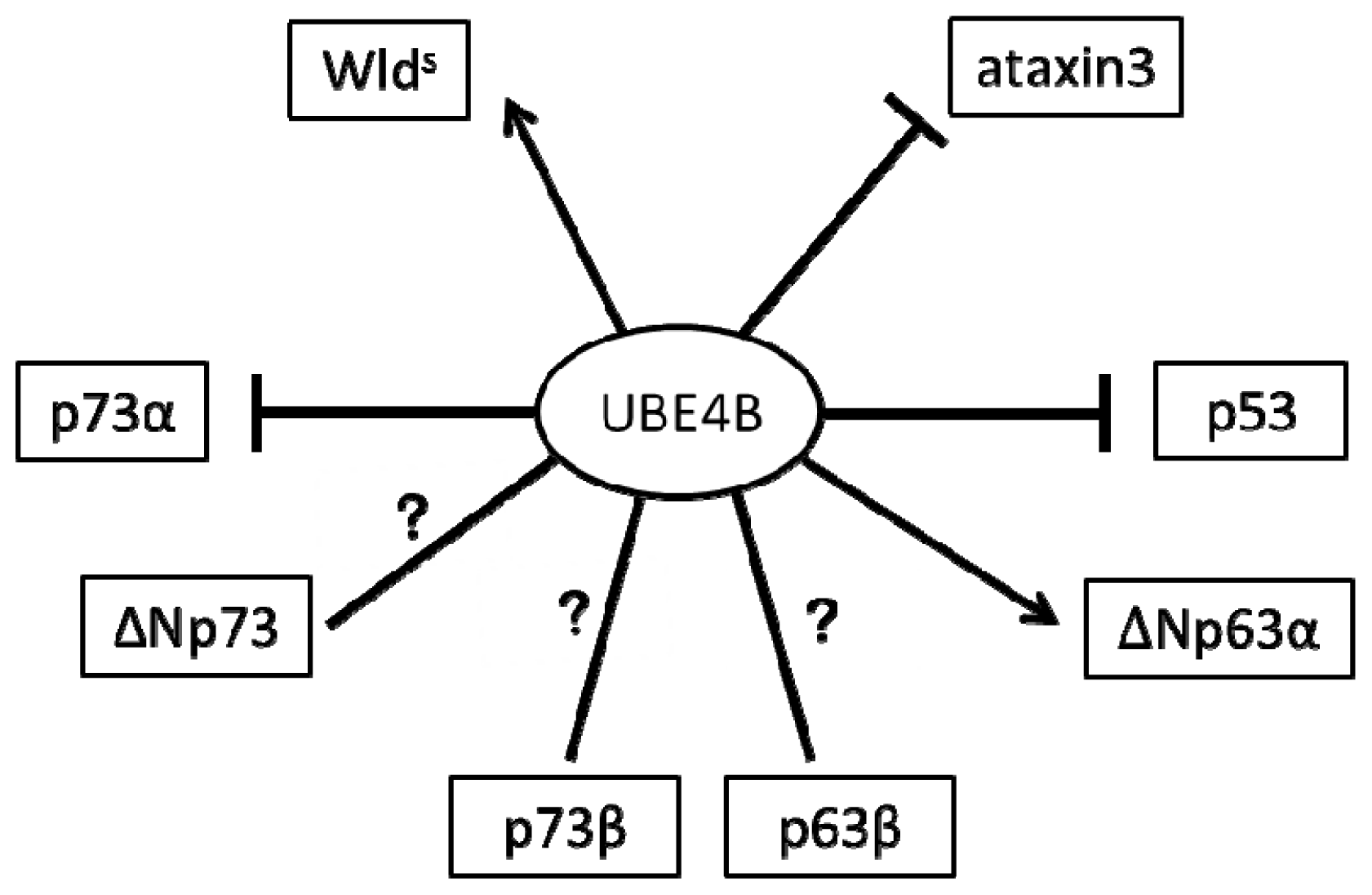 Share & Cite This Article
MDPI and ACS Style
Zeinab, R.A.; Wu, H.; Sergi, C.; Leng, R. UBE4B: A Promising Regulatory Molecule in Neuronal Death and Survival. Int. J. Mol. Sci. 2012, 13, 16865-16879.
Related Articles
Comments
[Return to top]