Bacterial Over-Expression and Purification of the 3'phosphoadenosine 5'phosphosulfate (PAPS) Reductase Domain of Human FAD Synthase: Functional Characterization and Homology Modeling
1
Department of Biosciences, Biotechnology and Biopharmaceutics, University of Bari "A. Moro", via Orabona 4, I-70126, Bari, Italy
2
Department of Cellular Biology, University of Calabria, via Bucci 4c, I-87036, Arcavacata di Rende, Italy
3
Institute of Biomembranes and Bioenergetics, CNR, via Amendola 165/A, I-70126, Bari, Italy
†
These authors contributed equally to this work.
*
Author to whom correspondence should be addressed.
Received: 10 October 2012 / Revised: 14 November 2012 / Accepted: 20 November 2012 / Published: 11 December 2012
(This article belongs to the Special Issue
Flavins
)
Abstract
FAD synthase (FADS, EC 2.7.7.2) is a key enzyme in the metabolic pathway that converts riboflavin into the redox cofactor, FAD. Human FADS is organized in two domains: -the 3'phosphoadenosine 5'phosphosulfate (PAPS) reductase domain, similar to yeast Fad1p, at the
C
-terminus, and -the resembling molybdopterin-binding domain at the
N
-terminus. To understand whether the PAPS reductase domain of hFADS is sufficient to catalyze FAD synthesis,
per se
, and to investigate the role of the molybdopterin-binding domain, a soluble "truncated" form of hFADS lacking the
N
-terminal domain (Δ
1-328
-hFADS) has been over-produced and purified to homogeneity as a recombinant His-tagged protein. The recombinant Δ
1-328
-hFADS binds one mole of FAD product very tightly as the wild-type enzyme. Under turnover conditions, it catalyzes FAD assembly from ATP and FMN and, at a much lower rate, FAD pyrophosphorolytic hydrolysis. The Δ
1-328
-hFADS enzyme shows a slight, but not significant, change of
K
m
values (0.24 and 6.23 µM for FMN and ATP, respectively) and of
k
cat
(4.2 × 10
−2
s
−1
) compared to wild-type protein in the forward direction. These results demonstrate that the molybdopterin-binding domain is not strictly required for catalysis. Its regulatory role is discussed in light of changes in divalent cations sensitivity of the Δ
1-328
-hFADS
versus
wild-type protein.
View Full-Text
►

▼

Figures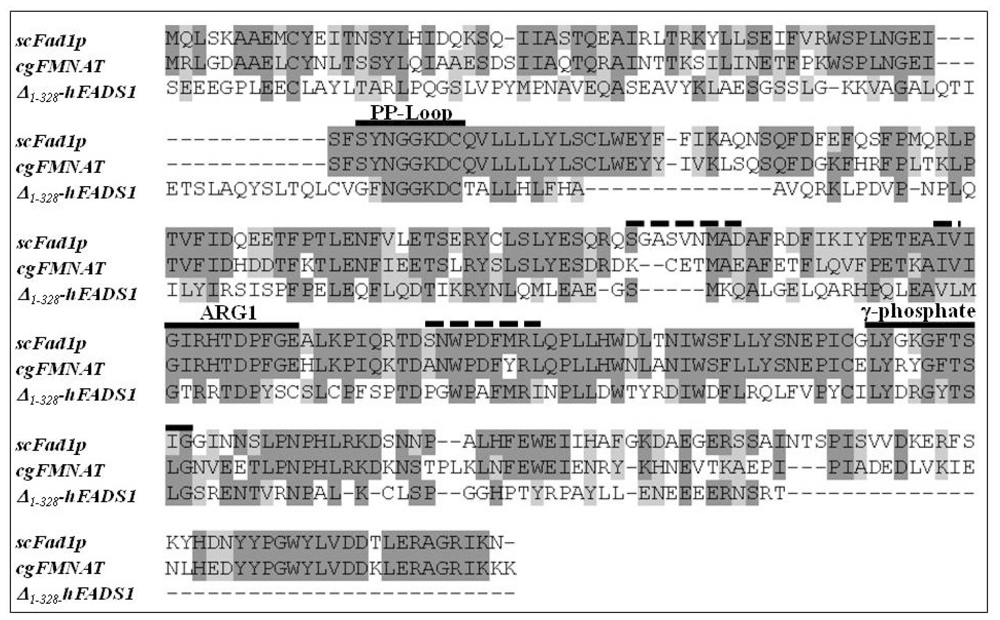 Share & Cite This Article
MDPI and ACS Style
Miccolis, A.; Galluccio, M.; Giancaspero, T.A.; Indiveri, C.; Barile, M. Bacterial Over-Expression and Purification of the 3'phosphoadenosine 5'phosphosulfate (PAPS) Reductase Domain of Human FAD Synthase: Functional Characterization and Homology Modeling. Int. J. Mol. Sci. 2012, 13, 16880-16898.
Related Articles
Comments
[Return to top]