In Vitro Cytotoxicity of Fluorescent Silica Nanoparticles Hybridized with Aggregation-Induced Emission Luminogens for Living Cell Imaging
1
Department of General Surgery, Tongji Hospital, Tongji Medical College, Huazhong University of Science and Technology, Wuhan 430030, China
2
Department of Hepatobiliary Surgery, Union Hospital, Tongji Medical College, Huazhong University of Science and Technology, Wuhan 430022, China
†
These authors contributed equally to this work.
*
Author to whom correspondence should be addressed.
Received: 21 November 2012 / Revised: 28 December 2012 / Accepted: 28 December 2012 / Published: 7 January 2013
Abstract
Fluorescent silica nanoparticles (FSNPs) can provide high-intensity and photostable fluorescent signals as a probe for biomedical analysis. In this study, FSNPs hybridized with aggregation-induced emission (AIE) luminogens (namely FSNP-SD) were successfully fabricated by a surfactant-free sol-gel method. The FSNP-SD were spherical, monodisperse and uniform in size, with an average diameter of approximately 100 nm, and emitted strong fluorescence at the peak of 490 nm. The FSNP-SD selectively stained the cytoplasmic regions and were distributed in the cytoplasm. Moreover, they can stay inside cells, enabling the tacking of cells over a long period of time. The intracellular vesicles and multinucleated cells were increase gradually with the rise of FSNP-SD concentration. Both cell viability and survival only lost less than 20% when the cells were exposed to the high concentration of 100 μg/mL FSNP-SD. Additionally, the cell apoptosis and intracellular ROS assay indicated that FSNP-SD had no significant toxic effects at the maximum working concentration of 80 μg/mL. This study demonstrated that the FSNP-SD are promising biocompatible fluorescent probes for living cell imaging.
View Full-Text
►

▼

Figures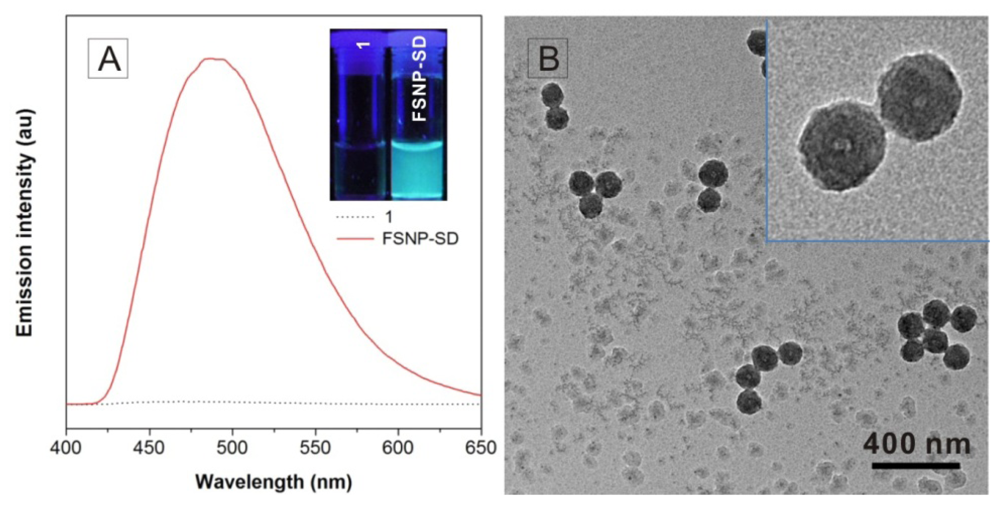 Share & Cite This Article
MDPI and ACS Style
Xia, Y.; Li, M.; Peng, T.; Zhang, W.; Xiong, J.; Hu, Q.; Song, Z.; Zheng, Q. In Vitro Cytotoxicity of Fluorescent Silica Nanoparticles Hybridized with Aggregation-Induced Emission Luminogens for Living Cell Imaging. Int. J. Mol. Sci. 2013, 14, 1080-1092.
Related Articles
Comments
[Return to top]