IL-6 Receptor Is a Possible Target against Growth of Metastasized Lung Tumor Cells in the Brain
1
Laboratory of Pathophysiology, Graduate School of Pharmaceutical Sciences, Kyushu University, 3-1-1 Maidashi, Higashi-ku, Fukuoka 812-8582, Japan
2
Department of Pharmaceutics, Graduate School of Pharmaceutical Sciences, Kyushu University, 3-1-1 Maidashi, Higashi-ku, Fukuoka 812-8582, Japan
3
Department of Pathology, National Hospital Organization Shikoku Cancer Center, Matsuyama, Ehime 791-0280, Japan
4
Department of Internal Medicine, National Hospital Organization Shikoku Cancer Center, Matsuyama, Ehime 791-0280, Japan
*
Author to whom correspondence should be addressed.
Received: 30 November 2012 / Revised: 13 December 2012 / Accepted: 14 December 2012 / Published: 27 December 2012
Abstract
In the animal model of brain metastasis using human lung squamous cell carcinoma-derived cells (HARA-B) inoculated into the left ventricle of the heart of nude mice, metastasized tumor cells and brain resident cells interact with each other. Among them, tumor cells and astrocytes have been reported to stimulate each other, releasing soluble factors from both sides, subsequently promoting tumor growth significantly. Among the receptors for soluble factors released from astrocytes, only IL-6 receptor (IL-6R) on tumor cells was up-regulated during the activation with astrocytes. Application of monoclonal antibody against human IL-6R (tocilizumab) to the activated HARA-B cells, the growth of HARA-B cells stimulated by the conditioned medium of HARA-B/astrocytes was significantly inhibited. Injecting tocilizumab to animal models of brain metastasis starting at three weeks of inoculation of HARA-B cells, two times a week for three weeks, significantly inhibited the size of the metastasized tumor foci. The up-regulated expression of IL-6R on metastasized lung tumor cells was also observed in the tissue from postmortem patients. These results suggest that IL-6R on metastasized lung tumor cells would be a therapeutic target to inhibit the growth of the metastasized lung tumor cells in the brain.
View Full-Text
►

▼

Figures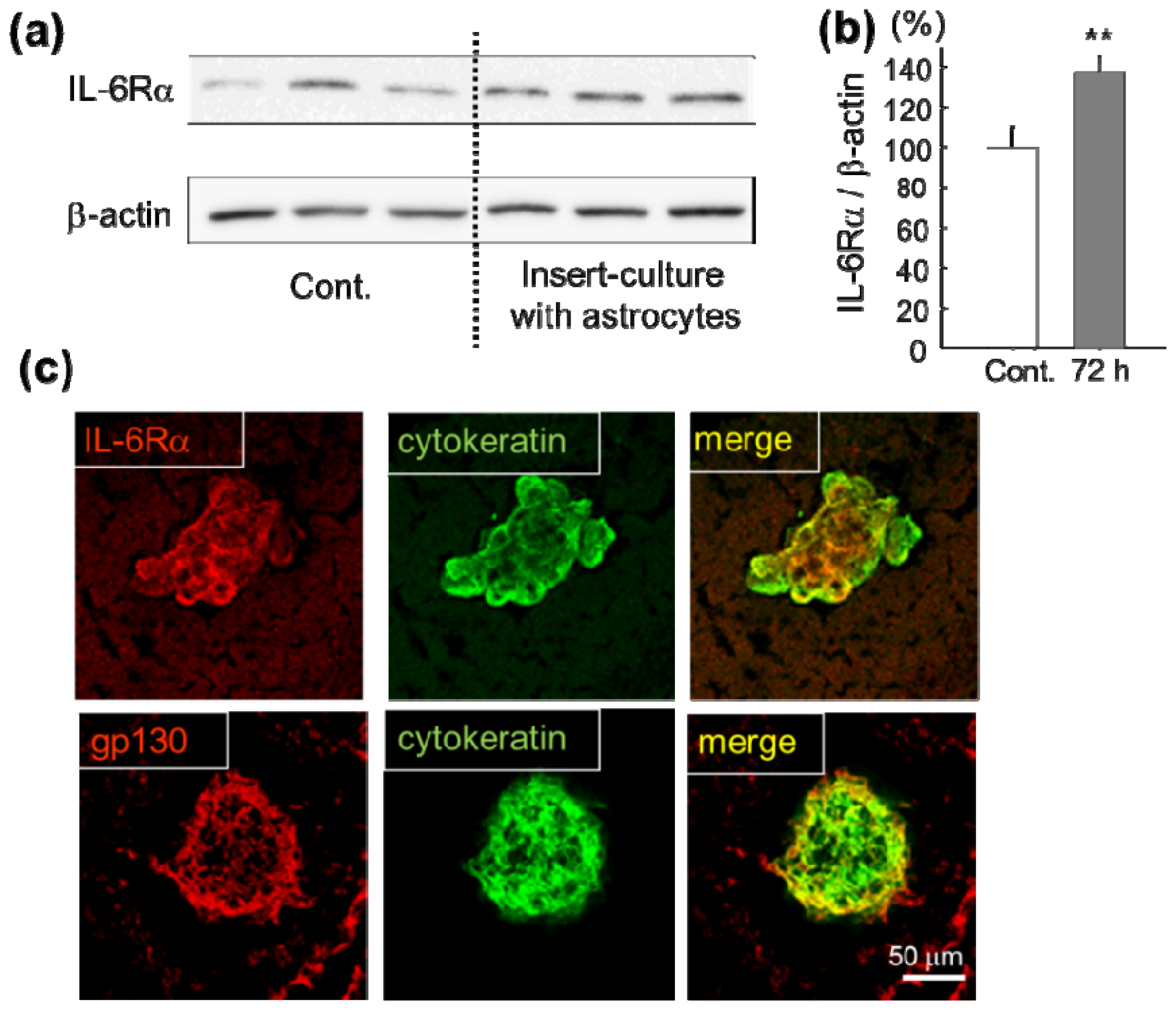 Share & Cite This Article
MDPI and ACS Style
Noda, M.; Yamakawa, Y.; Matsunaga, N.; Naoe, S.; Jodoi, T.; Yamafuji, M.; Akimoto, N.; Teramoto, N.; Fujita, K.; Ohdo, S.; Iguchi, H. IL-6 Receptor Is a Possible Target against Growth of Metastasized Lung Tumor Cells in the Brain. Int. J. Mol. Sci. 2013, 14, 515-526.
Related Articles
Comments
[Return to top]