Determination of Homoarginine, Arginine, NMMA, ADMA, and SDMA in Biological Samples by HPLC-ESI-Mass Spectrometry
1
Department of Biochemistry, Biophysics and General Pathology, Second University of Naples, 80138 Naples, Italy
2
Stazione Sperimentale per le Industrie delle Essenze e dei derivati dagli Agrumi (SSEA), Azienda Speciale della Camera di Commercio di Reggio Calabria, 89125 Reggio Calabria, Italy
*
Author to whom correspondence should be addressed.
Received: 29 July 2013 / Revised: 28 August 2013 / Accepted: 18 September 2013 / Published: 9 October 2013
Abstract
N
G
,
N
G
-dimethyl-L-arginine (ADMA) and
N
G
-methyl-L-arginine (NMMA) are endogenous inhibitors of nitric oxide synthase (NOS). In contrast,
N
G
,
N
'
G
-dimethyl-L-arginine (SDMA) possesses only a weak inhibitory potency towards neuronal NOS and it is known to limit nitric oxide (NO) production by competing with L-arginine for cellular uptake. The inhibition of NOS is associated with endothelial dysfunction in cardiovascular diseases as well in chronic renal failure. L-Homoarginine (HArg), a structural analog of L-arginine (Arg), is an alternative but less efficient substrate for NOS. Besides, it inhibits arginase, leading to an increased availability of L-arginine for NOS to produce NO. However, its relation with cardiovascular disease remains unclear. To date, several analytical methods for the quantitative determination of Arg, HArg, NMMA, AMDA, and SDMA in biological samples have been described. Here, we present a simple, fast, and accurate HPLC-ESI-MS/MS method which allows both the simultaneous determination and quantification of these compounds without needing derivatization, and the possibility to easily modulate the chromatographic separation between HArg and NMMA (or between SDMA and ADMA). Data on biological samples revealed the feasibility of the method, the minimal sample preparation, and the fast run time which make this method very suitable and accurate for analysis in the basic and clinical settings.
View Full-Text
►

▼

Figures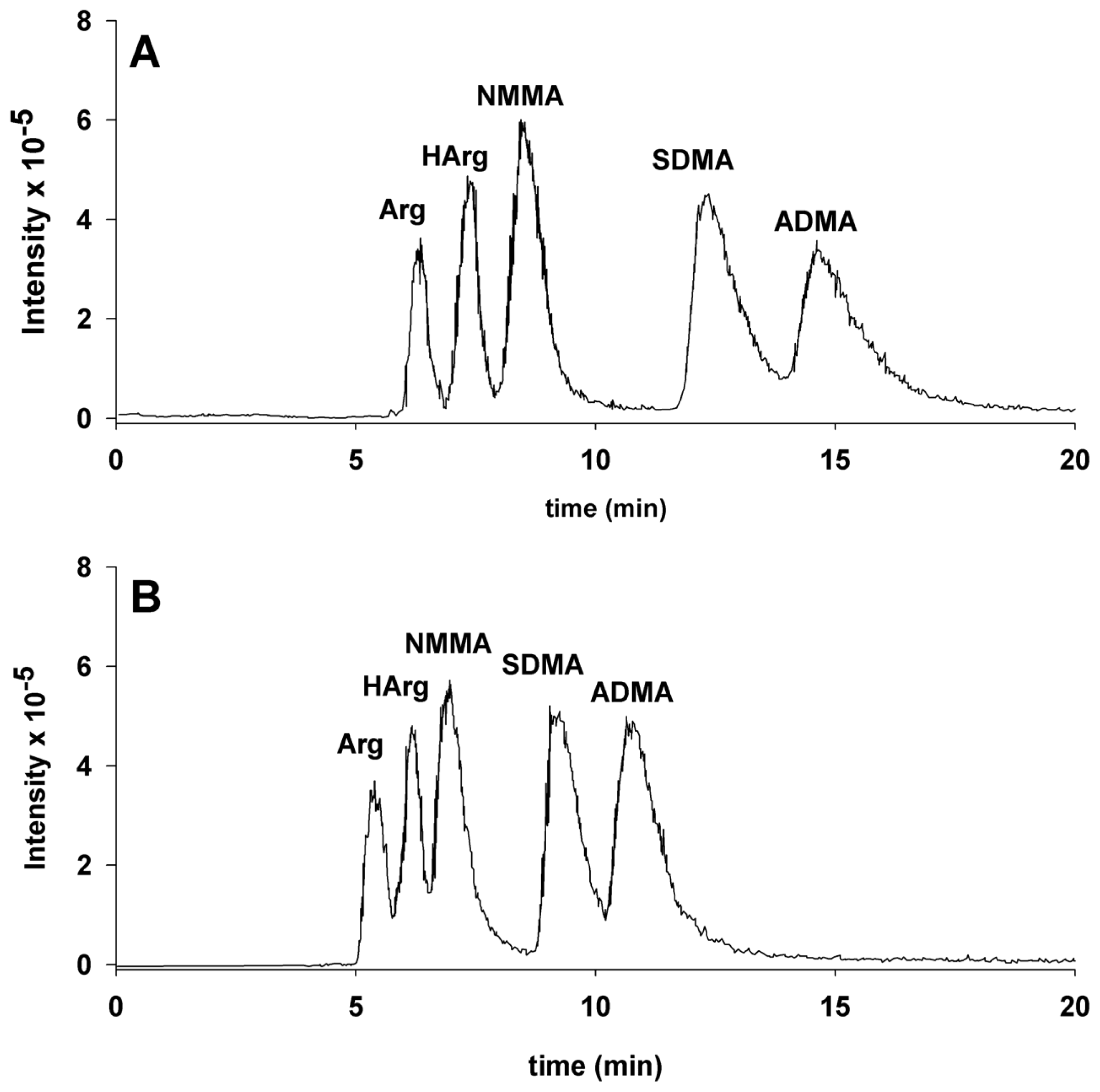 Share & Cite This Article
MDPI and ACS Style
Servillo, L.; Giovane, A.; D'Onofrio, N.; Casale, R.; Cautela, D.; Castaldo, D.; Balestrieri, M.L. Determination of Homoarginine, Arginine, NMMA, ADMA, and SDMA in Biological Samples by HPLC-ESI-Mass Spectrometry. Int. J. Mol. Sci. 2013, 14, 20131-20138.
Related Articles
Comments
[Return to top]