Physiological and Proteomic Responses of Diploid and Tetraploid Black Locust (Robinia pseudoacacia L.) Subjected to Salt Stress
1
College of Life Science, Northeast Forestry University, Harbin 150040, China
2
Department of Medical Biotechnology, College of Biomedical Science, Kangwon National University, Chuncheon, Gangwon-do 200-701, Korea
†
These authors contributed equally to this work.
*
Author to whom correspondence should be addressed.
Received: 17 June 2013 / Revised: 31 August 2013 / Accepted: 9 September 2013 / Published: 14 October 2013
Abstract
Tetraploid black locust (
Robinia pseudoacacia
L.) is adaptable to salt stress. Here, we compared morphological, physiological, ultrastructural, and proteomic traits of leaves in tetraploid black locust and its diploid relatives under salt stress. The results showed that diploid (2×) plants suffered from greater negative effects than those of tetraploid (4×) plants. After salt treatment, plant growth was inhibited, photosynthesis was reduced, reactive oxygen species, malondialdehyde content, and relative electrolyte leakage increased, and defense-related enzyme activities decreased in 2× compared to those in 4×. In addition, salt stress resulted in distorted chloroplasts, swollen thylakoid membranes, accumulation of
plastoglobules, and increased starch grains in 2× compared to those in 4×. However, 4× developed diverse responses under salt stress. A comparative proteomic analysis revealed that 41 and 37 proteins were differentially expressed in 2×
and 4×, respectively. These proteins were mainly involved in photosynthesis, stress and defense, energy, metabolism, transcription/translation, and transportation. Distinct patterns of protein changes between 2×
and 4× were analyzed. Collectively, our results suggest that the plants showed significantly different responses to salt stress based on ploidy level of the plant. The 4× possessed a better salt protection mechanism than that of 2×, suggesting salt tolerance in the polyploid plant.
View Full-Text
►

▼

Figures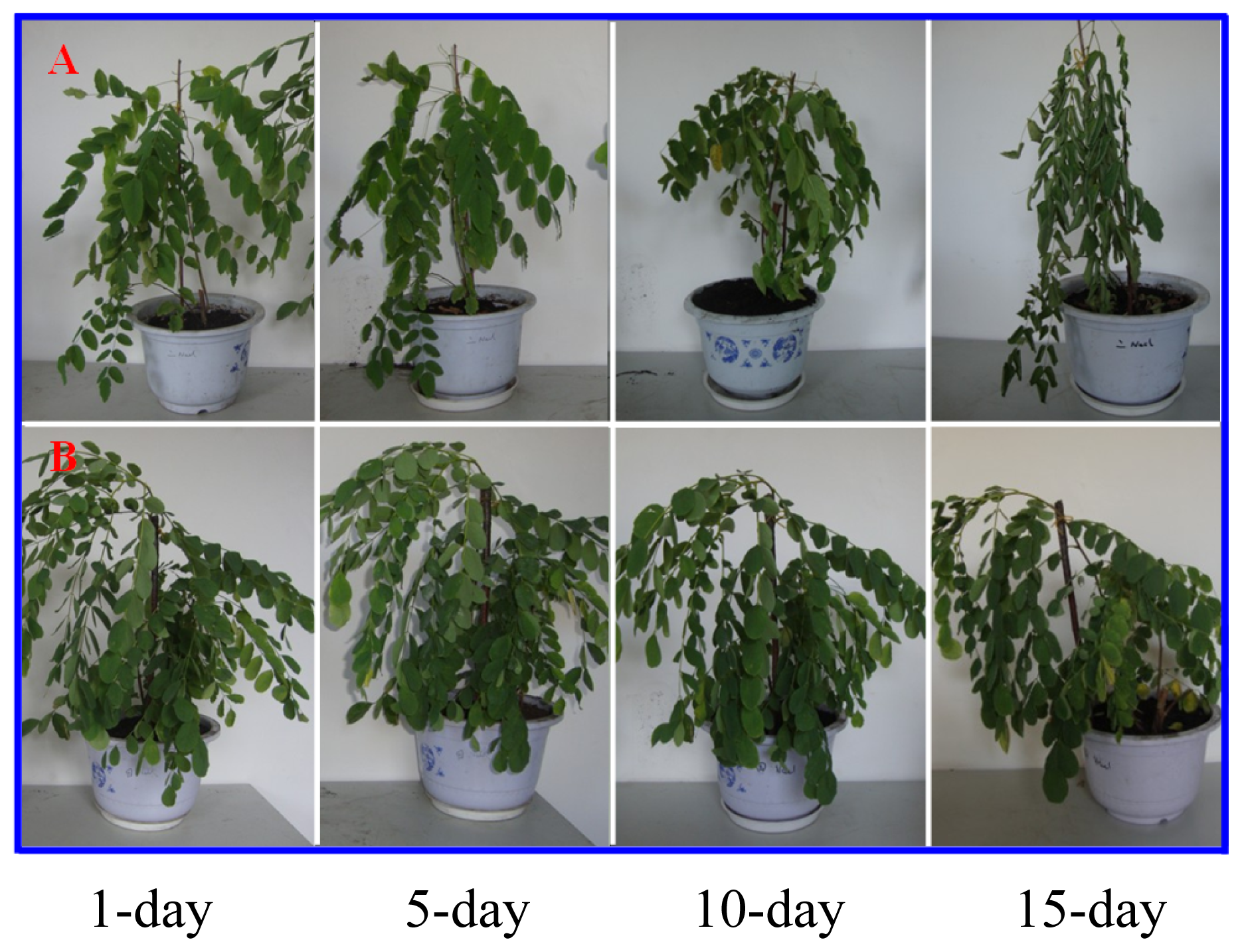 Share & Cite This Article
MDPI and ACS Style
Wang, Z.; Wang, M.; Liu, L.; Meng, F. Physiological and Proteomic Responses of Diploid and Tetraploid Black Locust (Robinia pseudoacacia L.) Subjected to Salt Stress. Int. J. Mol. Sci. 2013, 14, 20299-20325.
Related Articles
Comments
[Return to top]