Combined Taurine, Epigallocatechin Gallate and Genistein Therapy Reduces HSC-T6 Cell Proliferation and Modulates the Expression of Fibrogenic Factors
1
Guangxi University Library, Guangxi University, Nanning 530004, Guangxi, China
2
Key Laboratory Joint Established by Ministry of Education and Guangxi, Medical Scientific Research Center of Guangxi Medical University, Nanning 530021, Guangxi, China
*
Author to whom correspondence should be addressed.
Received: 12 August 2013 / Revised: 20 September 2013 / Accepted: 22 September 2013 / Published: 14 October 2013
Abstract
Hepatic fibrogenesis involves the activation of hepatic stellate cells (HSCs), which synthesize excess extracellular matrix and contribute to the development of liver fibrosis. In a prior study we tested the effect of combined treatment with taurine, epigallocatechin gallate and genistein on the development of alcohol-induced liver fibrosis
in vitro
. In this study, the biological activity of the combination of these molecules was assessed by measuring its effect on cell proliferation, fibrosis-related gene expression, and proteomic expression profiling in the activated HSC cell line, HSC-T6. HSC-T6 cells were incubated with different concentrations of the drug combination taurine, epigallocatechin gallate and genistein. Cell proliferation was evaluated by MTT assay. Transforming growth factor β1 (
TGF-β1
), collagen type
I (Col-I
), matrix metalloproteinase-2 (
MMP-2
), and tissue inhibitor of metalloproteinases 1 and 2 (
TIMP-1
and
TIMP-2
) mRNA were analyzed by semi-quantitative reverse-transcription PCR. Proteomic profiling of HSC-T6 cells was also performed by SELDI-TOF-MS. Combined drug treatment significantly inhibited cell proliferation and
TGF-β1
,
Col-I
,
TIMP-1
and
TIMP-2
mRNA expression in activated HSC-T6 cells, while the expression of
MMP-2
mRNA increased. A total of 176 protein
m/z
peaks were identified. The intensities of 10 protein peaks were downregulated and two protein peaks were upregulated in HSC-T6 cells after combined drug treatment. In conclusion, combined drug treatment with taurine, epigallocatechin gallate and genistein can inhibit HSC proliferation, and impact fibrosis-related gene and protein expression. The antifibrotic effects of this drug combination may be due to its effects on the expression of fibrogenic genes.
View Full-Text
►

▼

Figures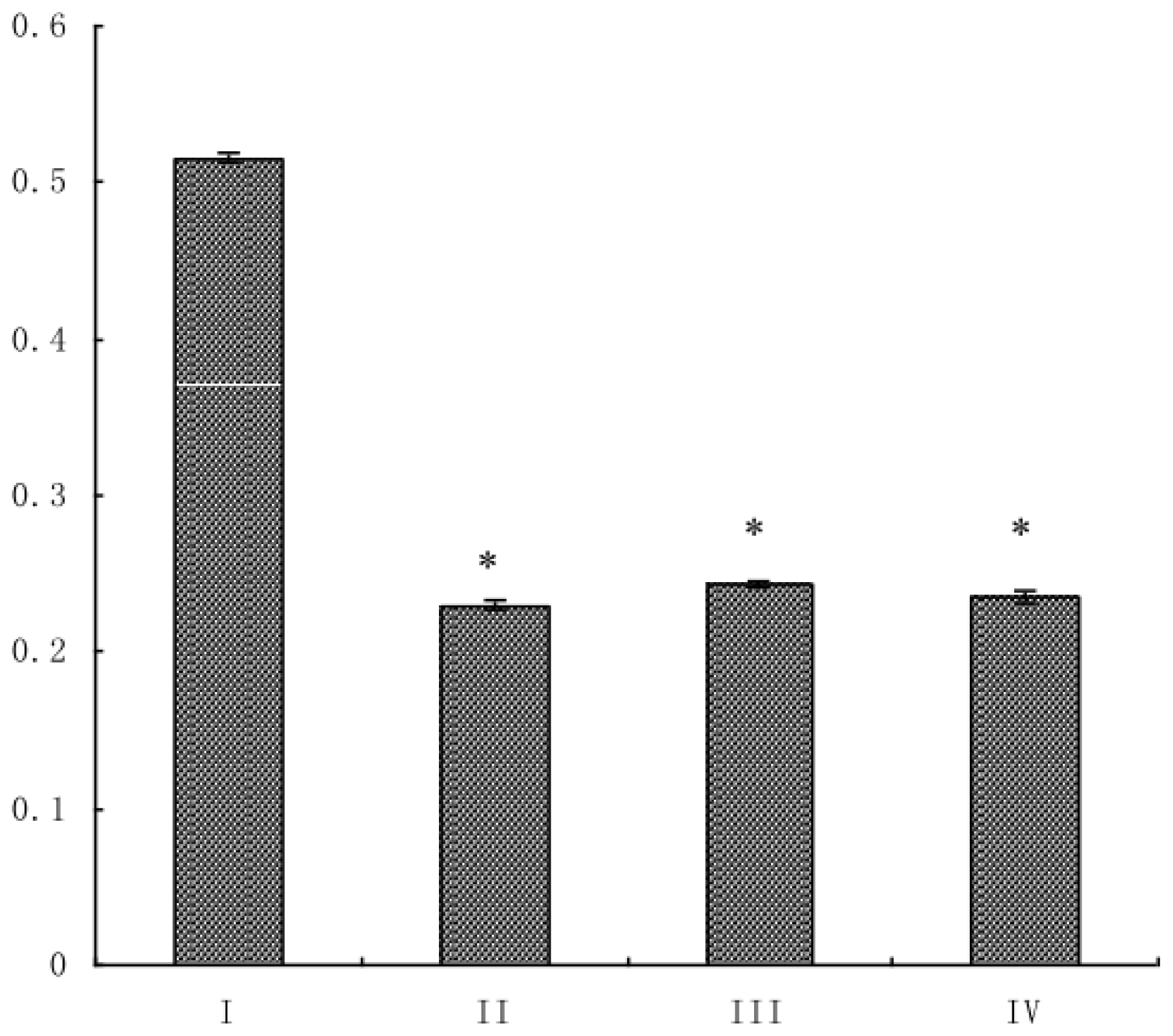 Share & Cite This Article
MDPI and ACS Style
Li, Y.; Luo, Y.; Zhang, X.; Lin, X.; He, M.; Liao, M. Combined Taurine, Epigallocatechin Gallate and Genistein Therapy Reduces HSC-T6 Cell Proliferation and Modulates the Expression of Fibrogenic Factors. Int. J. Mol. Sci. 2013, 14, 20543-20554.
Related Articles
Comments
[Return to top]