The ERK1/2 Signaling Pathway Is Involved in Sulfur Dioxide Preconditioning-Induced Protection against Cardiac Dysfunction in Isolated Perfused Rat Heart Subjected to Myocardial Ischemia/Reperfusion
1
Department of Pediatrics, Peking University First Hospital, Xi-An Men Str. No. 1, West District, Beijing 100034, China
2
Department of Medical and Health Sciences, Linköping University, Linköping 58183, Sweden
3
Key Laboratory of Molecular Cardiology, Ministry of Education, Beijing 100191, China
4
Department of Physiology and Pathophysiology, Health Sciences Center, Peking University, Beijing 100191, China
†
These authors contributed equally to this work.
*
Author to whom correspondence should be addressed.
Received: 12 August 2013 / Revised: 31 October 2013 / Accepted: 1 November 2013 / Published: 8 November 2013
Abstract
Ischemia/reperfusion injury (IRI) occurs frequently during reperfusion of ischemic myocardium, and preconditioning has been regarded as one of the best strategies to prevent myocardial injury during the ischemia/reperfusion process. Our previous studies indicated that a small dose of sulfur dioxide (SO
2
) used as preconditioning exerts cardioprotection. However, the mechanisms underlying the cardioprotection remain unclear. The present study was designed to examine if the extracellular regulated protein kinases 1/2 (ERK1/2) signaling pathway mediated protection against cardiac dysfunction after SO
2
preconditioning in isolated rat hearts subjected to ischemia/reperfusion (I/R). Langendorff heart perfusion was performed
in vitro
, where 56 male Wistar rats were randomly divided into seven groups: control group, 5 μmol/L SO
2
group (S5), 2-(2-Amino-3-methoxyphenyl)-4
H
-1-benzopyran-4-one (PD98059) + 5 μmol/L SO
2
(PD98059 + S5) group, PD98059 group, I/R group, 5 μmol/L SO
2
+ I/R (S5 + I/R) group and PD98059 + 5 μmol/L SO
2
+ I/R (PD98059 + S5 + I/R) group. Cardiac function and myocardial phosphorylated ERK1/2 protein were measured. We found that I/R in isolated rat heart resulted in cardiac dysfunction with a significant increase in phosphorylated ERK1/2 protein. SO
2
preconditioning markedly suppressed phosphorylated ERK1/2 protein and improved cardiac function in isolated rat heart with I/R (
p <
0.05). However, pre-treatment with PD98059 could prevent the above effects of SO
2
preconditioning. In conclusion, SO
2
preconditioning protected against cardiac dysfunction in isolated rat heart subjected to I/R via suppression of the over-activation of the ERK1/2 signaling pathway.
View Full-Text
►

▼

Figures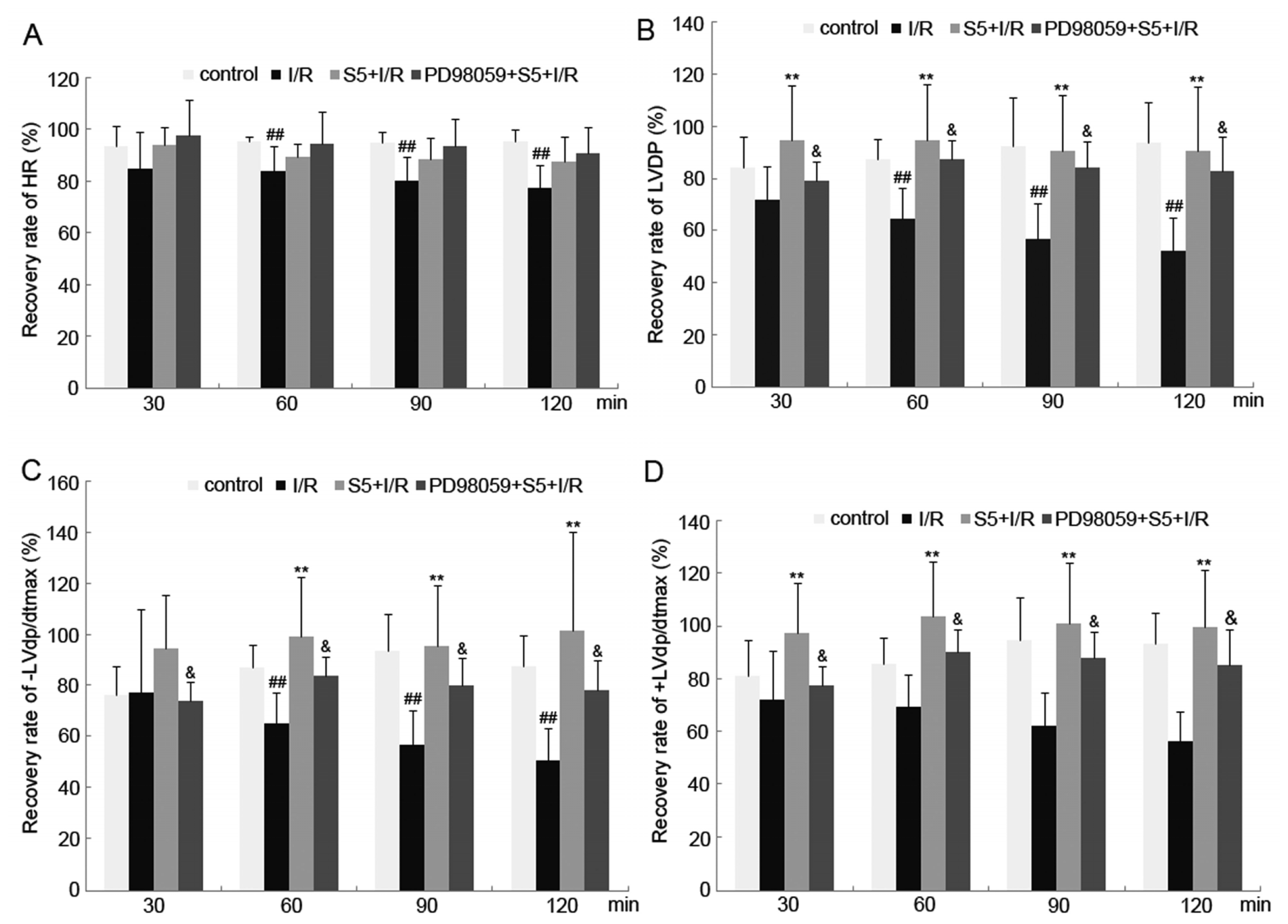 Share & Cite This Article
MDPI and ACS Style
Huang, P.; Sun, Y.; Yang, J.; Chen, S.; Liu, A.D.; Holmberg, L.; Huang, X.; Tang, C.; Du, J.; Jin, H. The ERK1/2 Signaling Pathway Is Involved in Sulfur Dioxide Preconditioning-Induced Protection against Cardiac Dysfunction in Isolated Perfused Rat Heart Subjected to Myocardial Ischemia/Reperfusion. Int. J. Mol. Sci. 2013, 14, 22190-22201.
Related Articles
Comments
[Return to top]