Acidic Residue Glu199 Increases SUMOylation Level of Nuclear Hormone Receptor NR5A1
1
Department of Biomedical Sciences, Mercer University School of Medicine, Savannah, GA 31404, USA
2
Department of Genetics and Comprehensive Cancer Center, University of Alabama at Birmingham, Birmingham, AL 35294, USA
*
Author to whom correspondence should be addressed.
Received: 9 October 2013 / Revised: 1 November 2013 / Accepted: 5 November 2013 / Published: 13 November 2013
Abstract
Steroidogenic factor 1 (NR5A1/SF1) is a well-known master regulator in controlling adrenal and sexual development, as well as regulating numerous genes involved in adrenal and gonadal steroidogenesis. Several studies including ours have demonstrated that NR5A1 can be SUMOylated on lysine 194 (K194, the major site) and lysine 119 (K119, the minor site), and the cycle of SUMOylation regulates NR5A1's transcriptional activity. An extended consensus negatively charged amino acid-dependent SUMOylation motif (NDSM) enhances the specificity of substrate modification by SUMO has been reported; however, the mechanism of NDSM for NR5A1 remains to be clarified. In this study, we investigated the functional significance of the acidic residue located downstream from the core consensus SUMO site of NR5A1. Here we report that E199A (glutamic acid was replaced with alanine) of NR5A1 reduced, but not completely abolished, its SUMOylation level. We next characterized the functional role of NR5A1 E199A on target gene expression and protein levels. We found that E199A alone, as well as combination with K194R, increased
Mc2r
and
Cyp19a1
reporter activities. Moreover, E199A alone as well as combination with K194R enhanced NR5A1-mediated STAR protein levels in mouse adrenocortical cancer Y1 cells. We also observed that E199A increased interaction of NR5A1 with CDK7 and SRC1. Overall, we provide the evidence that the acidic residue (E199) located downstream from the core consensus SUMO site of NR5A1 is, at least in part, required for SUMOylation of NR5A1 and for its mediated target gene and protein expression.
View Full-Text
►

▼

Figures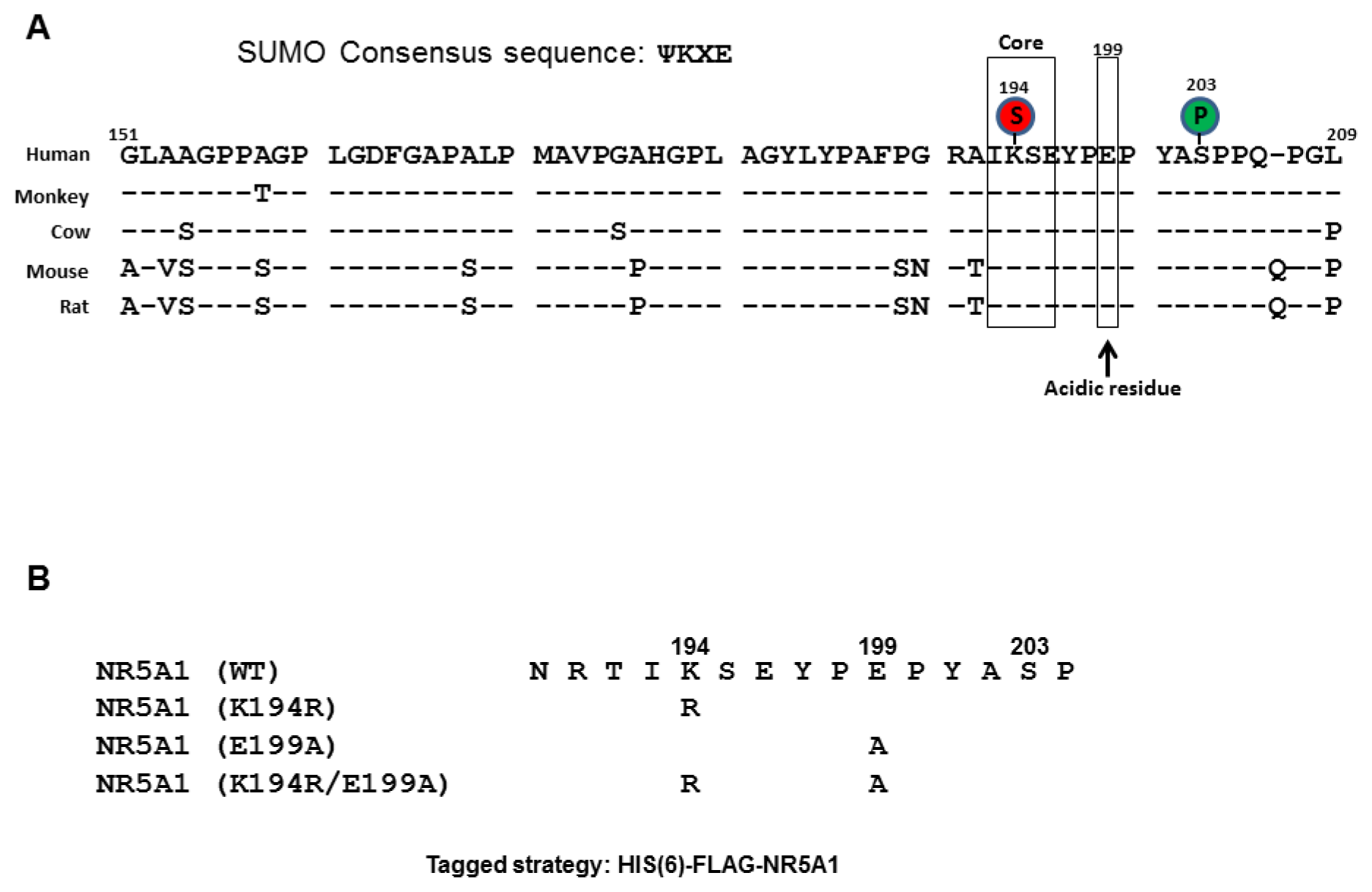 Share & Cite This Article
MDPI and ACS Style
Wang, C.-M.; Liu, R.; Wang, L.; Yang, W.-H. Acidic Residue Glu199 Increases SUMOylation Level of Nuclear Hormone Receptor NR5A1. Int. J. Mol. Sci. 2013, 14, 22331-22345.
Related Articles
Comments
[Return to top]