Cloning, Characterization and Effect of TmPGRP-LE Gene Silencing on Survival of Tenebrio Molitor against Listeria monocytogenes Infection
1
Division of Plant Biotechnology, Institute of Environmentally-Friendly Agriculture (IEFA), College of Agriculture and Life Sciences, Chonnam National University, Gwangju 500-757, Korea
2
National Research Laboratory of Defense Proteins, College of Pharmacy, Pusan National University, Jangjeon Dong, Kumjeong Ku, Busan 609-735, Korea
3
Department of Life Science and Biotechnology, College of Natural Sciences, Soonchunhyang University, Asan City 336-745, Korea
4
Division of Applied Entomology, National Academy of Agricultural Science, Rural Development Administration, 61th, Seodun-dong, Gwonseon-gu, Suwon, Gyeonggi-do 441-853, Korea
*
Author to whom correspondence should be addressed.
Received: 6 September 2013 / Revised: 16 October 2013 / Accepted: 30 October 2013 / Published: 14 November 2013
Abstract
Peptidoglycan recognition proteins (PGRPs) are a family of innate immune molecules that recognize bacterial peptidoglycan. PGRP-LE, a member of the PGRP family, selectively binds to diaminopimelic acid (DAP)-type peptidoglycan to activate both the immune deficiency (Imd) and proPhenoloxidase (proPO) pathways in insects. A PGRP-LE-dependent induction of autophagy to control
Listeria monocytogenes
has also been reported. We identified and partially characterized a novel PGRP-LE homologue, from
Tenebrio molitor
and analyzed its functional role in the survival of the insect against infection by a DAP-type PGN containing intracellular pathogen,
L. monocytogenes
. The cDNA is comprised of an open reading frame (ORF) of 990 bp and encodes a polypeptide of 329 residues. TmPGRP-LE contains one PGRP domain, but lacks critical residues for amidase activity. Quantitative RT-PCR analysis showed a broad constitutive expression of the transcript at various stages of development spanning from larva to adult. RNAi mediated knockdown of the transcripts, followed by a challenge with
L. monocytogenes
, showed a significant reduction in survival rate of the larvae, suggesting a putative role of TmPGRP-LE in sensing and control of
L. monocytogenes
infection in
T. molitor
. These results implicate PGRP-LE as a defense protein necessary for survival of
T. molitor
against infection by
L. monocytogenes
.
View Full-Text
►

▼

Figures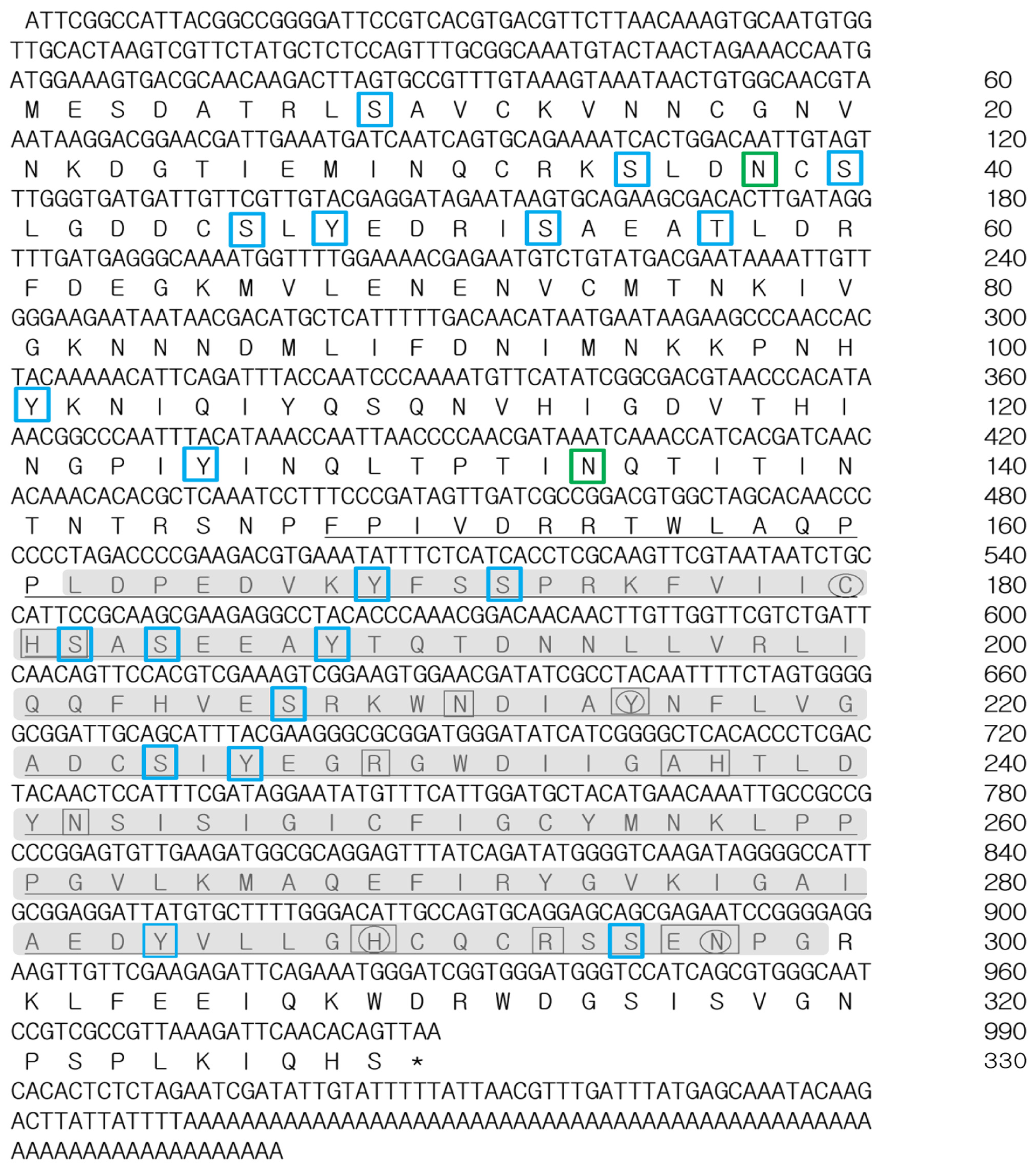 Share & Cite This Article
MDPI and ACS Style
Tindwa, H.; Patnaik, B.B.; Kim, D.H.; Mun, S.; Jo, Y.H.; Lee, B.L.; Lee, Y.S.; Kim, N.J.; Han, Y.S. Cloning, Characterization and Effect of TmPGRP-LE Gene Silencing on Survival of Tenebrio Molitor against Listeria monocytogenes Infection. Int. J. Mol. Sci. 2013, 14, 22462-22482.
Related Articles
Comments
[Return to top]