Does the Neuroprotective Role of Anandamide Display Diurnal Variations?
Physiology Department, School of Medicine, Universidad Nacional Autonoma de Mexico, AP 70-250, Mexico D.F. 04510, Mexico
*
Author to whom correspondence should be addressed.
Received: 3 October 2013 / Revised: 17 November 2013 / Accepted: 19 November 2013 / Published: 27 November 2013
Abstract
The endocannabinoid system is a component of the neuroprotective mechanisms that an organism displays after traumatic brain injury (TBI). A diurnal variation in several components of this system has been reported. This variation may influence the recovery and survival rate after TBI. We have previously reported that the recovery and survival rate of rats is higher if TBI occurs at 1:00 than at 13:00. This could be explained by a diurnal variation of the endocannabinoid system. Here, we describe the effects of anandamide administration in rats prior to the induction of TBI at two different times of the day: 1:00 and 13:00. We found that anandamide reduced the neurological damage at both times. Nevertheless, its effects on bleeding, survival, food intake, and body weight were dependent on the time of TBI. In addition, we analyzed the diurnal variation of the expression of the cannabinoid receptors CB1R and CB2R in the cerebral cortex of both control rats and rats subjected to TBI. We found that CB1R protein was expressed more during the day, whereas its mRNA level was higher during the night. We did not find a diurnal variation for the CB2R. In addition, we also found that TBI increased CB1R and CB2R in the contralateral hemisphere and disrupted the CB1R diurnal cycle.
View Full-Text
►

▼

Figures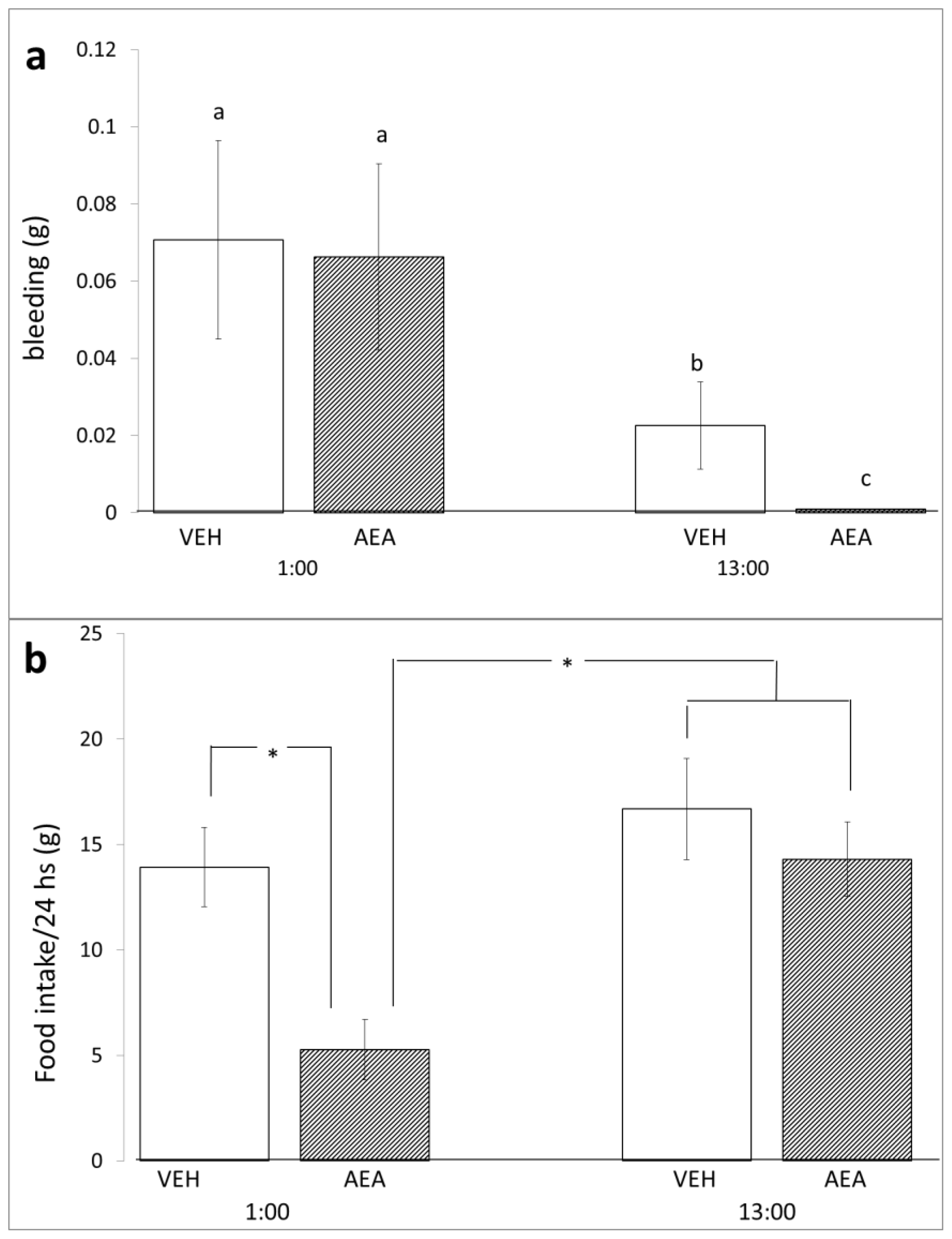 Share & Cite This Article
MDPI and ACS Style
Martinez-Vargas, M.; Morales-Gomez, J.; Gonzalez-Rivera, R.; Hernandez-Enriquez, C.; Perez-Arredondo, A.; Estrada-Rojo, F.; Navarro, L. Does the Neuroprotective Role of Anandamide Display Diurnal Variations? Int. J. Mol. Sci. 2013, 14, 23341-23355.
Related Articles
Comments
[Return to top]