Melatonin May Curtail the Metabolic Syndrome: Studies on Initial and Fully Established Fructose-Induced Metabolic Syndrome in Rats
1
Department of Teaching and Research, Faculty of Medical Sciences, Pontificia Universidad Católica Argentina, 1107 Buenos Aires, Argentina
2
Department of Physiology, Faculty of Medicine, University of Buenos Aires, 1121 Buenos Aires, Argentina
*
Author to whom correspondence should be addressed.
Received: 24 December 2012 / Revised: 15 January 2013 / Accepted: 22 January 2013 / Published: 25 January 2013
Abstract
To examine the effect of melatonin given to rats simultaneously with fructose on initial and fully developed metabolic syndrome, male Wistar rats had free access to chow and 5% or 10% fructose drinking solution for 8 weeks. As compared to controls, systolic blood pressure augmented significantly under both treatments whereas excessive body weight was seen in rats receiving the 10% fructose only. Rats drinking 5% fructose showed a greater tolerance to a glucose load while rats having access to a 10% fructose drinking solution exhibited the expected impaired glucose tolerance found in the metabolic syndrome. Circulating triglyceride and low density lipoproteins-cholesterol (LDL-c) concentration augmented significantly in rats showing a fully developed metabolic syndrome only, while high blood cholesterol levels were found at both stages examined. Melatonin (25 μg/mL drinking solution) counteracted the changes in body weight and systolic blood pressure found in rats administered with fructose. Melatonin decreased the abnormal hyperglycemia seen after a glucose load in 10% fructose-treated rats but it did not modify the greater tolerance to glucose observed in animals drinking 5% fructose. Melatonin also counteracted the changes in plasma LDL-c, triglyceride and cholesterol levels and decreased plasma uric acid levels. The results underline a possible therapeutical role of melatonin in the metabolic syndrome, both at initial and established phases.
View Full-Text
►

▼

Figures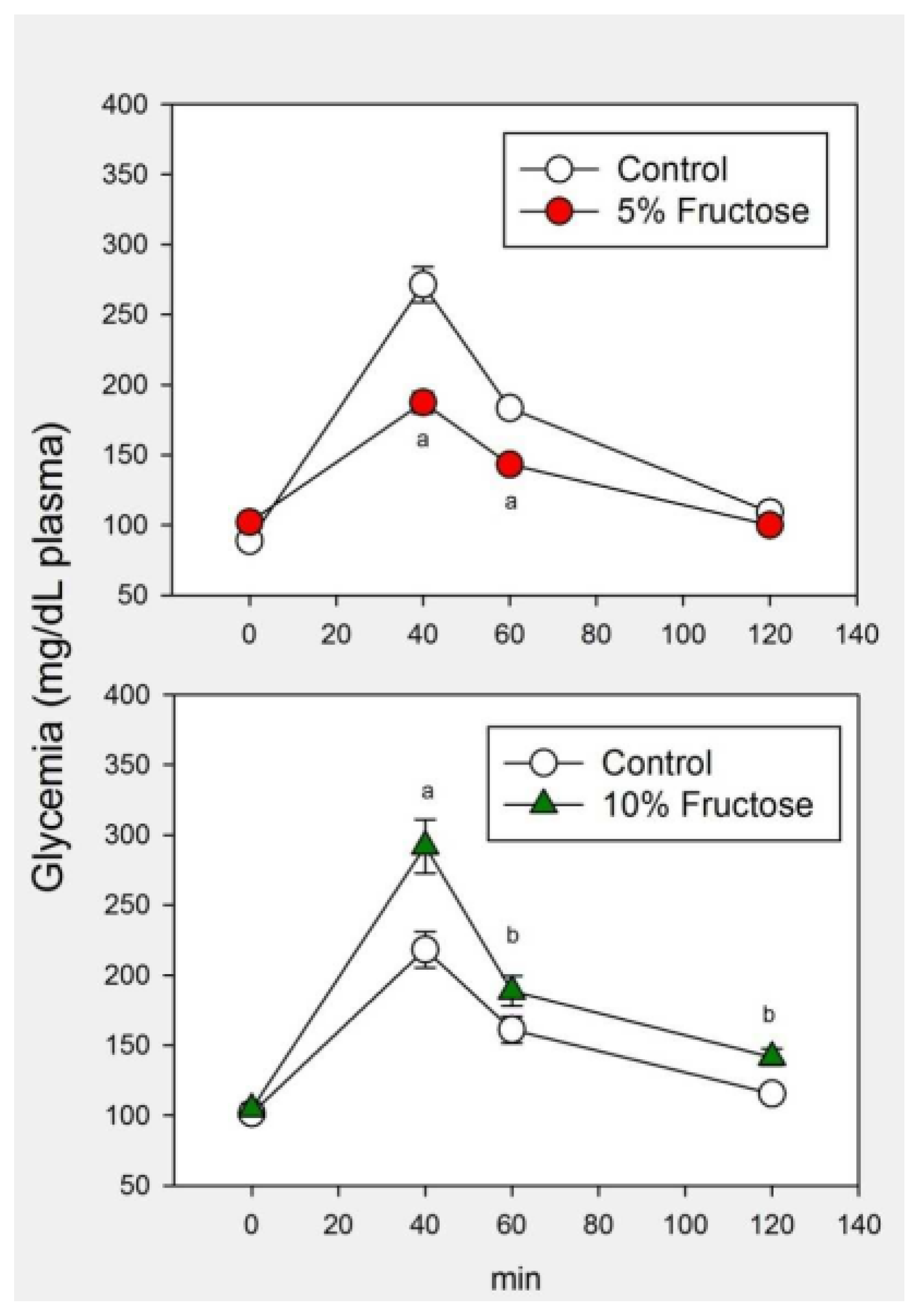 Share & Cite This Article
MDPI and ACS Style
Cardinali, D.P.; Bernasconi, P.A.S.; Reynoso, R.; Toso, C.F.R.; Scacchi, P. Melatonin May Curtail the Metabolic Syndrome: Studies on Initial and Fully Established Fructose-Induced Metabolic Syndrome in Rats. Int. J. Mol. Sci. 2013, 14, 2502-2514.
Related Articles
Comments
[Return to top]