Identification of Oxidative Stress Related Proteins as Biomarkers for Lung Cancer and Chronic Obstructive Pulmonary Disease in Bronchoalveolar Lavage
1
Biomedicine Institute of Seville, Seville 41013, Spain
2
Respiratory Diseases Medical and Surgical Unit of the Virgen del Rocío University Hospital, Seville 41013, Spain
3
Oncology Unit of the Virgen del Rocío University Hospital, Seville 41013, Spain
4
Superior Counsil of Scientific Research, Seville 41013, Spain
†
The authors contributed equally to this work.
*
Author to whom correspondence should be addressed.
Received: 24 December 2012 / Revised: 23 January 2013 / Accepted: 31 January 2013 / Published: 6 February 2013
Abstract
Lung cancer (LC) and chronic obstructive pulmonary disease (COPD) commonly coexist in smokers, and the presence of COPD increases the risk of developing LC. Cigarette smoke causes oxidative stress and an inflammatory response in lung cells, which in turn may be involved in COPD and lung cancer development. The aim of this study was to identify differential proteomic profiles related to oxidative stress response that were potentially involved in these two pathological entities. Protein content was assessed in the bronchoalveolar lavage (BAL) of 60 patients classified in four groups: COPD, COPD and LC, LC, and control (neither COPD nor LC). Proteins were separated into spots by two dimensional polyacrylamide gel electrophoresis (2D-PAGE) and examined by matrix-assisted laser desorption/ionization time of flight mass spectrometry (MALDI-TOF/TOF). A total of 16 oxidative stress regulatory proteins were differentially expressed in BAL samples from LC and/or COPD patients as compared with the control group. A distinct proteomic reactive oxygen species (ROS) protein signature emerged that characterized lung cancer and COPD. In conclusion, our findings highlight the role of the oxidative stress response proteins in the pathogenic pathways of both diseases, and provide new candidate biomarkers and predictive tools for LC and COPD diagnosis.
View Full-Text
►

▼

Figures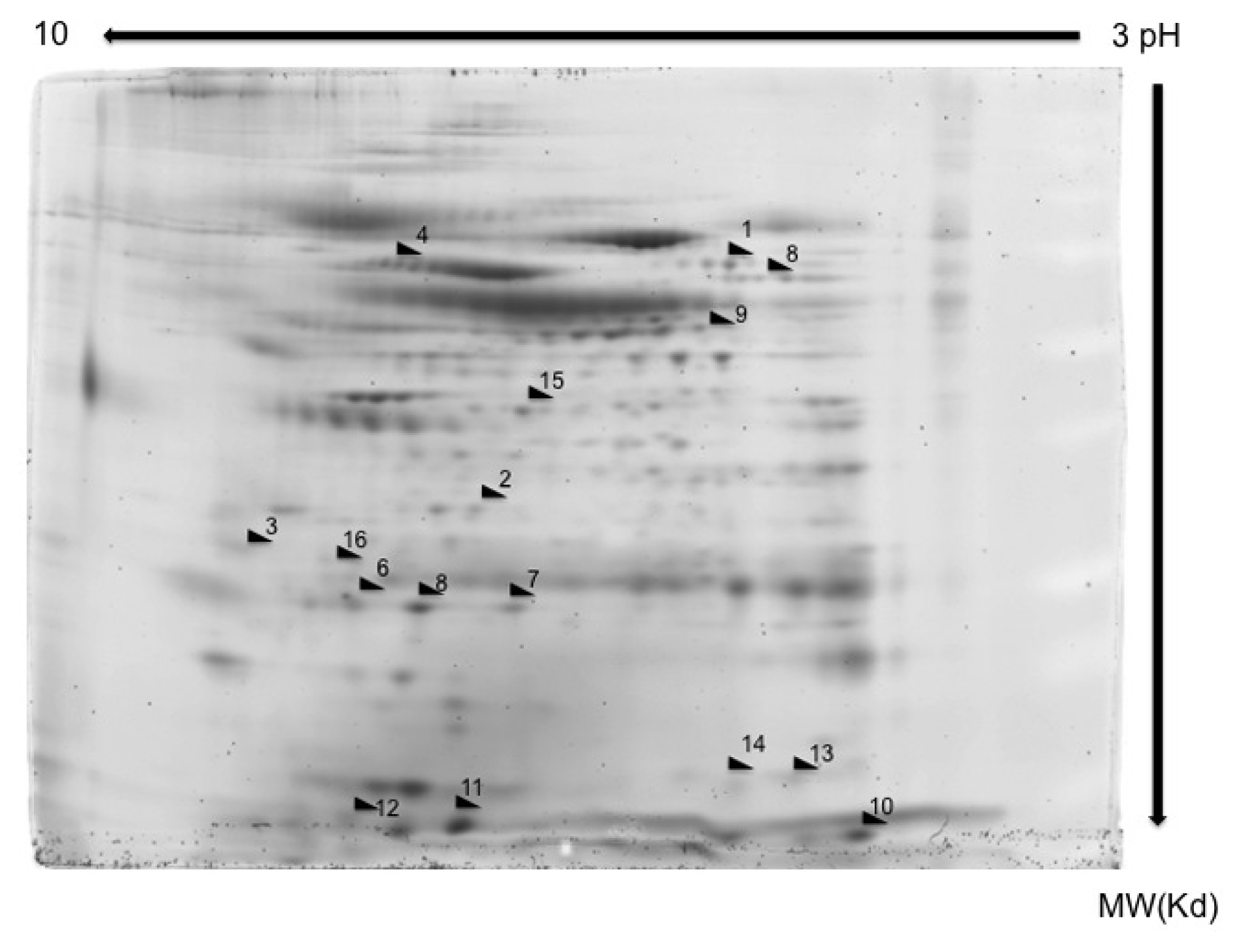 Share & Cite This Article
MDPI and ACS Style
Pastor, M.D.; Nogal, A.; Molina-Pinelo, S.; Meléndez, R.; Romero-Romero, B.; Mediano, M.D.; López-Campos, J.L.; García-Carbonero, R.; Sanchez-Gastaldo, A.; Carnero, A.; Paz-Ares, L. Identification of Oxidative Stress Related Proteins as Biomarkers for Lung Cancer and Chronic Obstructive Pulmonary Disease in Bronchoalveolar Lavage. Int. J. Mol. Sci. 2013, 14, 3440-3455.
Related Articles
Comments
[Return to top]