Synthesis and Structural Characterization of Substituted 2-Phenacylbenzoxazoles
1
Department of Chemistry, University of Technology and Life Sciences, Seminaryjna 3, PL-85-326 Bydgoszcz, Poland
2
Department of Chemistry, P.O. Box 35, FI-40014 University of Jyväskylä, Finland
3
Department of Physical Chemistry, Collegium Medicum, N. Copernicus University, Kurpińskiego 5, 85-950 Bydgoszcz, Poland
*
Author to whom correspondence should be addressed.
Received: 10 January 2013 / Revised: 4 February 2013 / Accepted: 16 February 2013 / Published: 25 February 2013
Abstract
1
H and
13
C NMR spectra of eleven 2-phenacylbenzoxazoles (ketimine form) show that their CDCl
3
-solutions contains also (
Z
)-2-(benzo[
d
]oxazol-2-yl)-1-phenylethenols (enolimine form). Intramolecular hydrogen bonding in the latter tautomer was found to be significantly weaker than that one in respective (
Z
)-2-(2-hydroxy-2-phenylvinyl)pyridines. Integrals of the
1
H NMR signals were used to evaluate the molar ratio of the tautomers. Strong electron-donating substituents were found to stabilize the ketimine tautomer. p
K
T
(negative logarithm of the equilibrium constant,
K
T
= [ketimine]/[enolimine]) was found to be linearly dependent on the Hammett substituent constant σ. The results of the MP2
ab initio
calculations reveal enolimine including an intramolecular OH
…
N hydrogen bond to be the most stable form both with electron-donor and electron-acceptor substituents. The stability of ketimines is an intermediate of those found for enolimines and enaminones
i.e.
, (
E
)-2-(benzo[
d
]oxazol-2(3
H
)-ylidene)-1-phenylethanones.
13
C CPMAS NMR spectral data reveal that in the crystalline state the ketimine tautomer is predominant in
p
-NMe
2
substituted congener. On the other hand, enolimine forms were detected there when the substituent has less electron-donating character or when it is an electron-acceptor by character.
View Full-Text
►

▼

Figures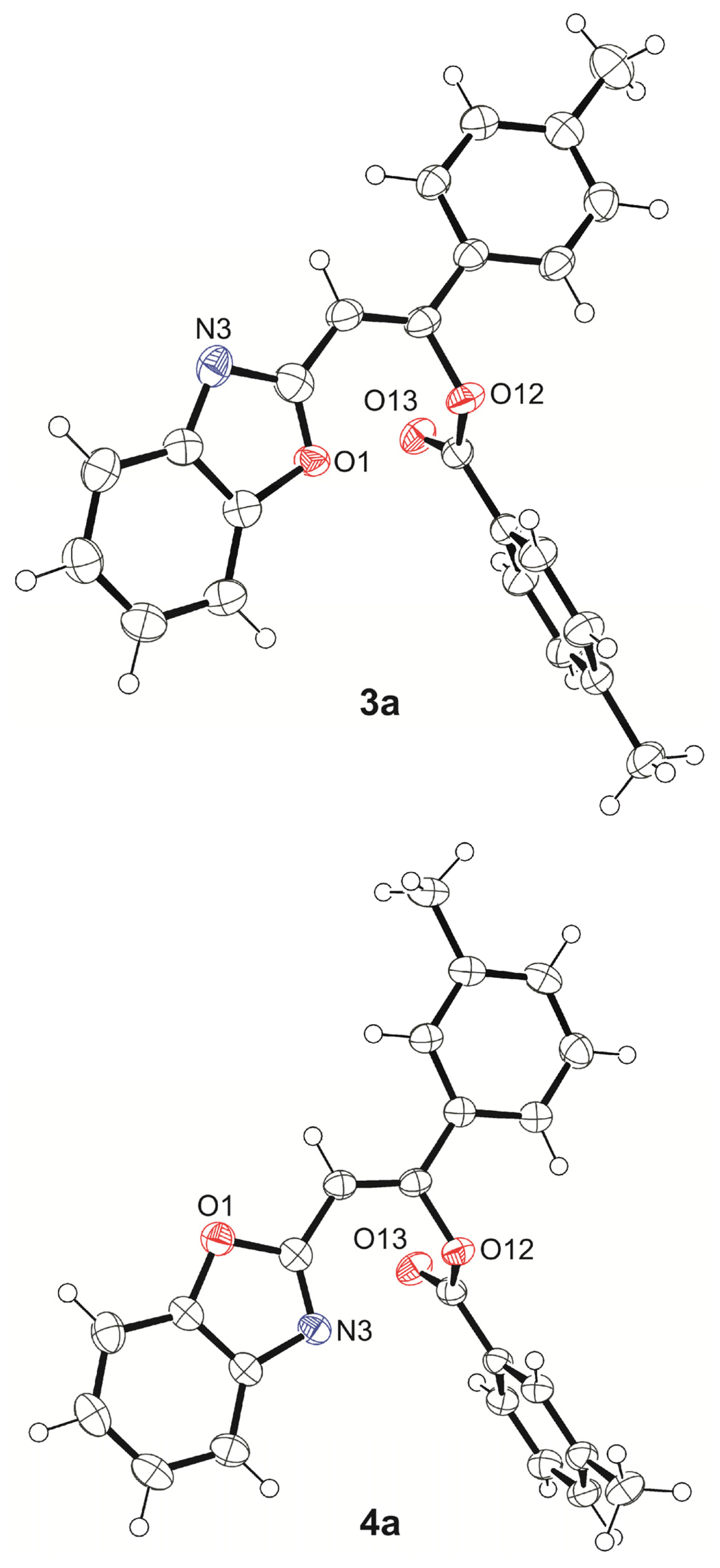 Share & Cite This Article
MDPI and ACS Style
Skotnicka, A.; Kolehmainen, E.; Czeleń, P.; Valkonen, A.; Gawinecki, R. Synthesis and Structural Characterization of Substituted 2-Phenacylbenzoxazoles. Int. J. Mol. Sci. 2013, 14, 4444-4460.
Related Articles
Comments
[Return to top]