Interplay between Hepatitis C Virus and Redox Cell Signaling
1
Department of Infectious, Parasitic and Immune Mediated Diseases, Italian National Institute of Health, 00161 Rome, Italy
2
Department of Public Health and Infectious Diseases, Institute Pasteur, Cenci-Bolognetti Foundation, "Sapienza" University of Rome, 00185 Rome, Italy
3
San Raffaele Pisana Scientific Institute for Research, Hospitalization and Health Care, 00163 Rome, Italy
†
These authors contributed equally to this work.
*
Author to whom correspondence should be addressed.
Received: 17 January 2013 / Revised: 13 February 2013 / Accepted: 17 February 2013 / Published: 26 February 2013
Abstract
Hepatitis C virus (HCV) infects approximately 3% of the world's population. Currently licensed treatment of HCV chronic infection with pegylated-interferon-α and ribavirin, is not fully effective against all HCV genotypes and is associated to severe side effects. Thus, development of novel therapeutics and identification of new targets for treatment of HCV infection is necessary. Current opinion is orienting to target antiviral drug discovery to the host cell pathways on which the virus relies, instead of against viral structures. Many intracellular signaling pathways manipulated by HCV for its own replication are finely regulated by the oxido-reductive (redox) state of the host cell. At the same time, HCV induces oxidative stress that has been found to affect both virus replication as well as progression and severity of HCV infection. A dual role, positive or negative, for the host cell oxidized conditions on HCV replication has been reported so far. This review examines current information about the effect of oxidative stress on HCV life cycle and the main redox-regulated intracellular pathways activated during HCV infection and involved in its replication.
View Full-Text
►

▼

Figures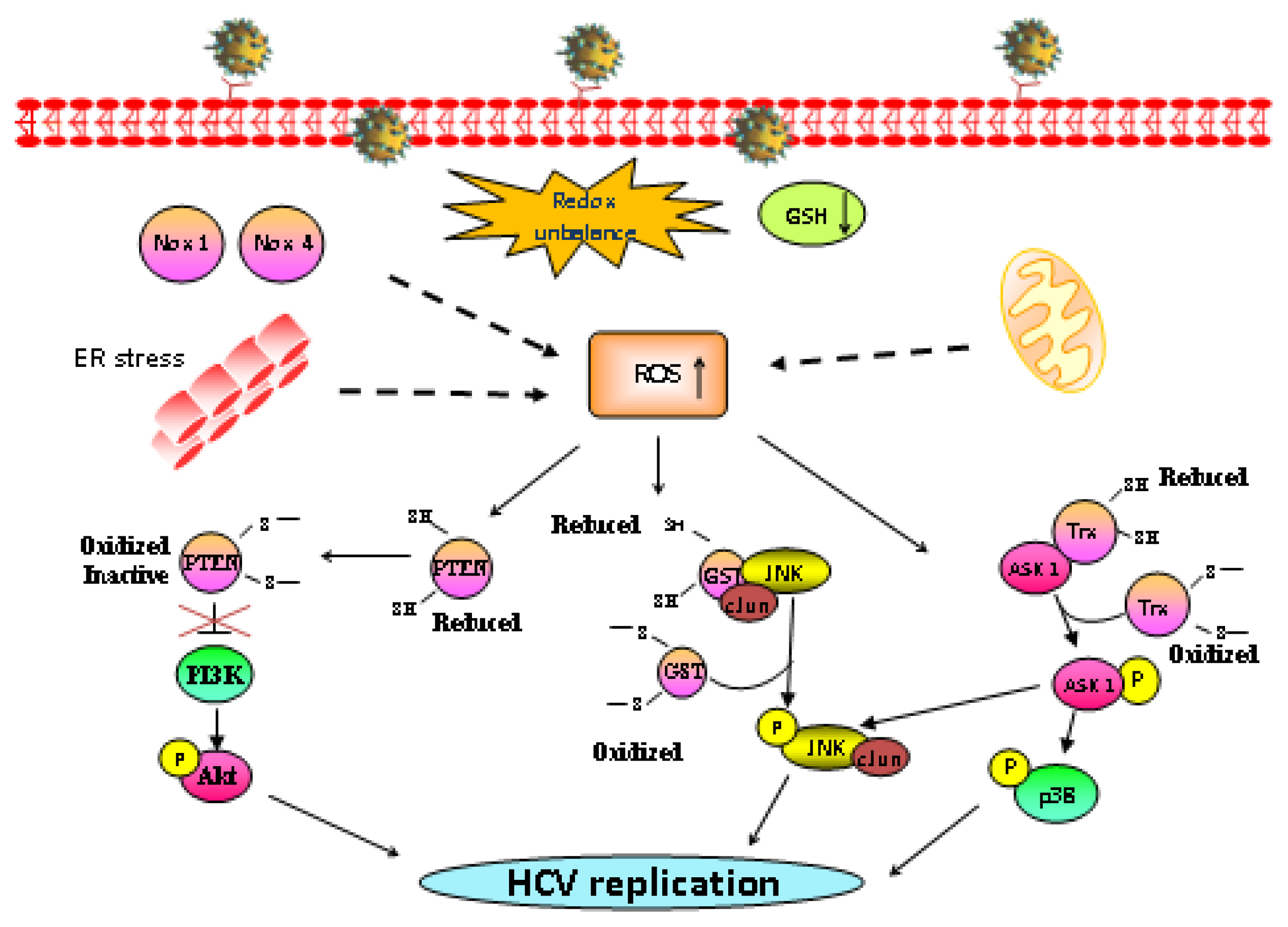 Share & Cite This Article
MDPI and ACS Style
Ruggieri, A.; Anticoli, S.; Nencioni, L.; Sgarbanti, R.; Garaci, E.; Palamara, A.T. Interplay between Hepatitis C Virus and Redox Cell Signaling. Int. J. Mol. Sci. 2013, 14, 4705-4721.
Related Articles
Comments
[Return to top]