Mirk/dyrk1B Kinase in Ovarian Cancer
Pathology Department, Upstate Medical University, 750 East Adams Street, Syracuse, NY 13210, USA
Received: 29 January 2013 / Revised: 28 February 2013 / Accepted: 1 March 2013 / Published: 8 March 2013
Abstract
Mirk/dyrk1B kinase is expressed in about 75% of resected human ovarian cancers and in most ovarian cancer cell lines with amplification in the OVCAR3 line. Mirk (minibrain-related kinase) is a member of the Minibrain/dyrk family of related serine/threonine kinases. Mirk maintains cells in a quiescent state by stabilizing the CDK inhibitor p27 and by inducing the breakdown of cyclin D isoforms. Mirk also stabilizes the DREAM complex, which maintains G0 quiescence by sequestering transcription factors needed to enter cycle. By entering a quiescent state, tumor cells can resist the nutrient deficiencies, hypoxic and acidic conditions within the tumor mass. Mirk maintains the viability of quiescent ovarian cancer cells by reducing intracellular levels of reactive oxygen species. CDKN2A-negative ovarian cancer cells treated with a Mirk kinase inhibitor escaped G0/G1 quiescence, entered cycle with high ROS levels and underwent apoptosis. The ROS scavenger N-acetyl cysteine reduced the extent of cancer cell loss. In contrast, the Mirk kinase inhibitor slightly reduced the fraction of G0 quiescent diploid epithelial cells and fibroblasts, and the majority of the cells pushed into cycle accumulated in G2 + M. Apoptotic sub-G0/G1 cells were not detected. Thus, normal cells were spared because of their expression of CDK inhibitors that blocked unregulated cycling and Mirk kinase inhibitor-treated normal diploid cells were about as viable as untreated controls.
View Full-Text
►

▼

Figures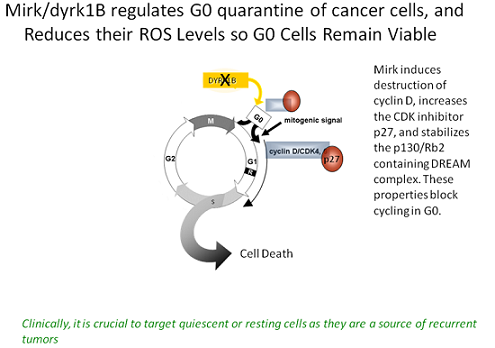 Share & Cite This Article
MDPI and ACS Style
Friedman, E. Mirk/dyrk1B Kinase in Ovarian Cancer. Int. J. Mol. Sci. 2013, 14, 5560-5575.
Related Articles
Comments
[Return to top]