Chronobiology of Melatonin beyond the Feedback to the Suprachiasmatic Nucleus—Consequences to Melatonin Dysfunction
Johann Friedrich Blumenbach Institute of Zoology and Anthropology, University of Göttingen, Berliner Str. 28, Göttingen D-37073, Germany
Received: 17 February 2013 / Revised: 1 March 2013 / Accepted: 4 March 2013 / Published: 12 March 2013
Abstract
The mammalian circadian system is composed of numerous oscillators, which gradually differ with regard to their dependence on the pacemaker, the suprachiasmatic nucleus (SCN). Actions of melatonin on extra-SCN oscillators represent an emerging field. Melatonin receptors are widely expressed in numerous peripheral and central nervous tissues. Therefore, the circadian rhythm of circulating, pineal-derived melatonin can have profound consequences for the temporal organization of almost all organs, without necessarily involving the melatonin feedback to the suprachiasmatic nucleus. Experiments with melatonin-deficient mouse strains, pinealectomized animals and melatonin receptor knockouts, as well as phase-shifting experiments with explants, reveal a chronobiological role of melatonin in various tissues. In addition to directly steering melatonin-regulated gene expression, the pineal hormone is required for the rhythmic expression of circadian oscillator genes in peripheral organs and to enhance the coupling of parallel oscillators within the same tissue. It exerts additional effects by modulating the secretion of other hormones. The importance of melatonin for numerous organs is underlined by the association of various diseases with gene polymorphisms concerning melatonin receptors and the melatonin biosynthetic pathway. The possibilities and limits of melatonergic treatment are discussed with regard to reductions of melatonin during aging and in various diseases.
View Full-Text
►

▼

Figures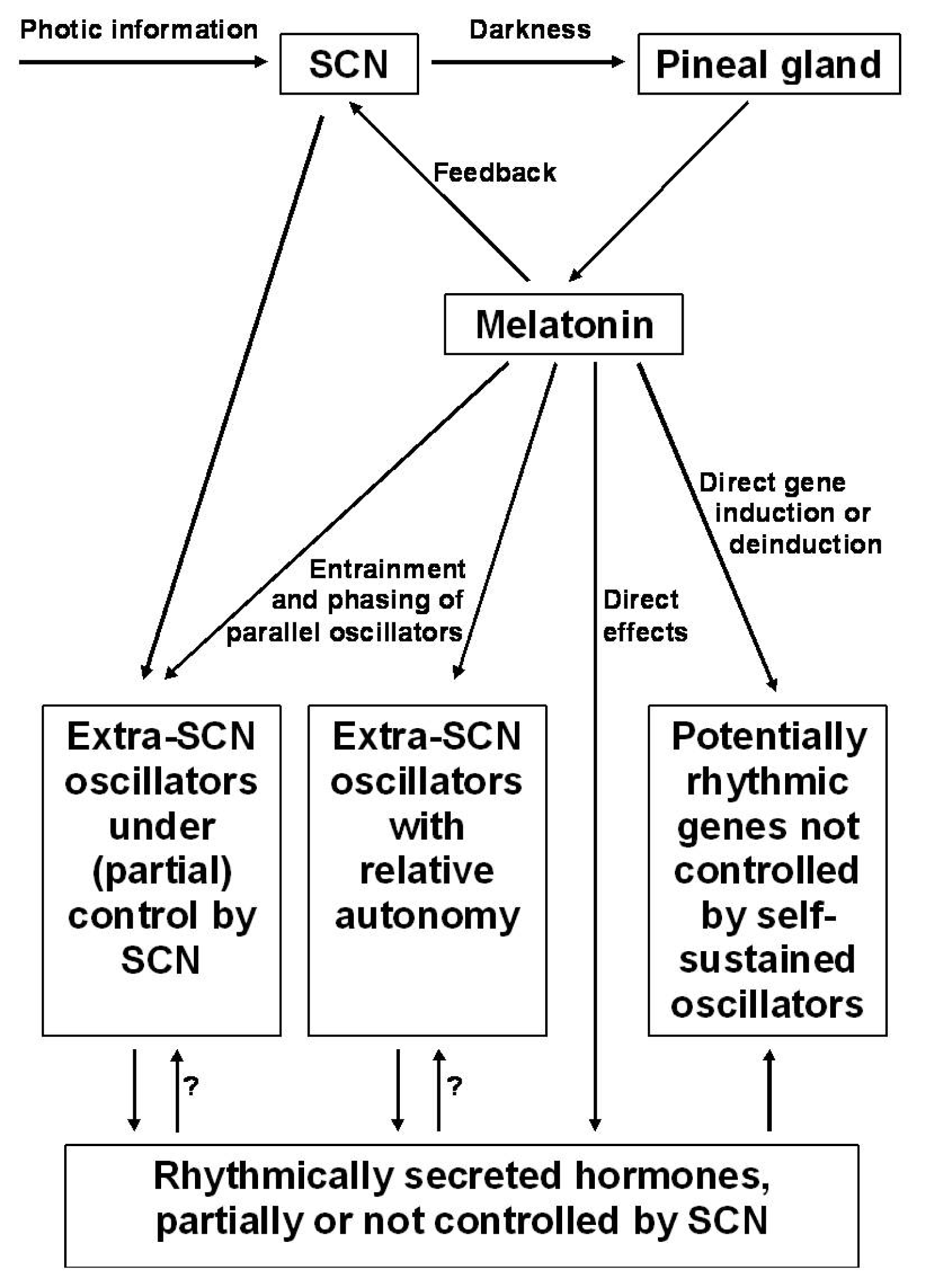 Share & Cite This Article
MDPI and ACS Style
Hardeland, R. Chronobiology of Melatonin beyond the Feedback to the Suprachiasmatic Nucleus—Consequences to Melatonin Dysfunction. Int. J. Mol. Sci. 2013, 14, 5817-5841.
Related Articles
Comments
[Return to top]