Regulation of Ovarian Cancer Stem Cells or Tumor-Initiating Cells
1
College of Pharmacy, Kyungpook National University, 80 Daehak-ro, Buk-gu, Daegu 702-701, Korea
2
Research Institute of Pharmaceutical Sciences, College of Pharmacy, Kyungpook National University, 80 Daehak-ro, Buk-gu, Daegu 702-701, Korea
3
Laboratory of Molecular Pathology and Cancer Genomics, College of Pharmacy, Seoul National University, 1 Gwanak-ro, Gwanak-gu, Seoul 151-742, Korea
4
Research Institute of Pharmaceutical Sciences, College of Pharmacy, Seoul National University, 1 Gwanak-ro, Gwanak-gu, Seoul 151-742, Korea
5
Advanced Institutes of Convergence Technology, Suwon, Gyeonggi-do 443-270, Korea
*
Authors to whom correspondence should be addressed.
Received: 16 February 2013 / Revised: 8 March 2013 / Accepted: 12 March 2013 / Published: 25 March 2013
Abstract
Cancer stem cells or tumor-initiating cells (CSC/TICs), which can undergo self-renewal and differentiation, are thought to play critical roles in tumorigenesis, therapy resistance, tumor recurrence and metastasis. Tumor recurrence and chemoresistance are major causes of poor survival rates of ovarian cancer patients, which may be due in part to the existence of CSC/TICs. Therefore, elucidating the molecular mechanisms responsible for the ovarian CSC/TICs is required to develop a cure for this malignancy. Recent studies have indicated that the properties of CSC/TICs can be regulated by microRNAs, genes and signaling pathways which also function in normal stem cells. Moreover, emerging evidence suggests that the tumor microenvironments surrounding CSC/TICs are crucial for the maintenance of these cells. Similarly, efforts are now being made to unravel the mechanism involved in the regulation of ovarian CSC/TICs, although much work is still needed. This review considers recent advances in identifying the genes and pathways involved in the regulation of ovarian CSC/TICs. Furthermore, current approaches targeting ovarian CSC/TICs are described. Targeting both CSC/TICs and bulk tumor cells is suggested as a more effective approach to eliminating ovarian tumors. Better understanding of the regulation of ovarian CSC/TICs might facilitate the development of improved therapeutic strategies for recurrent ovarian cancer.
View Full-Text
►

▼

Figures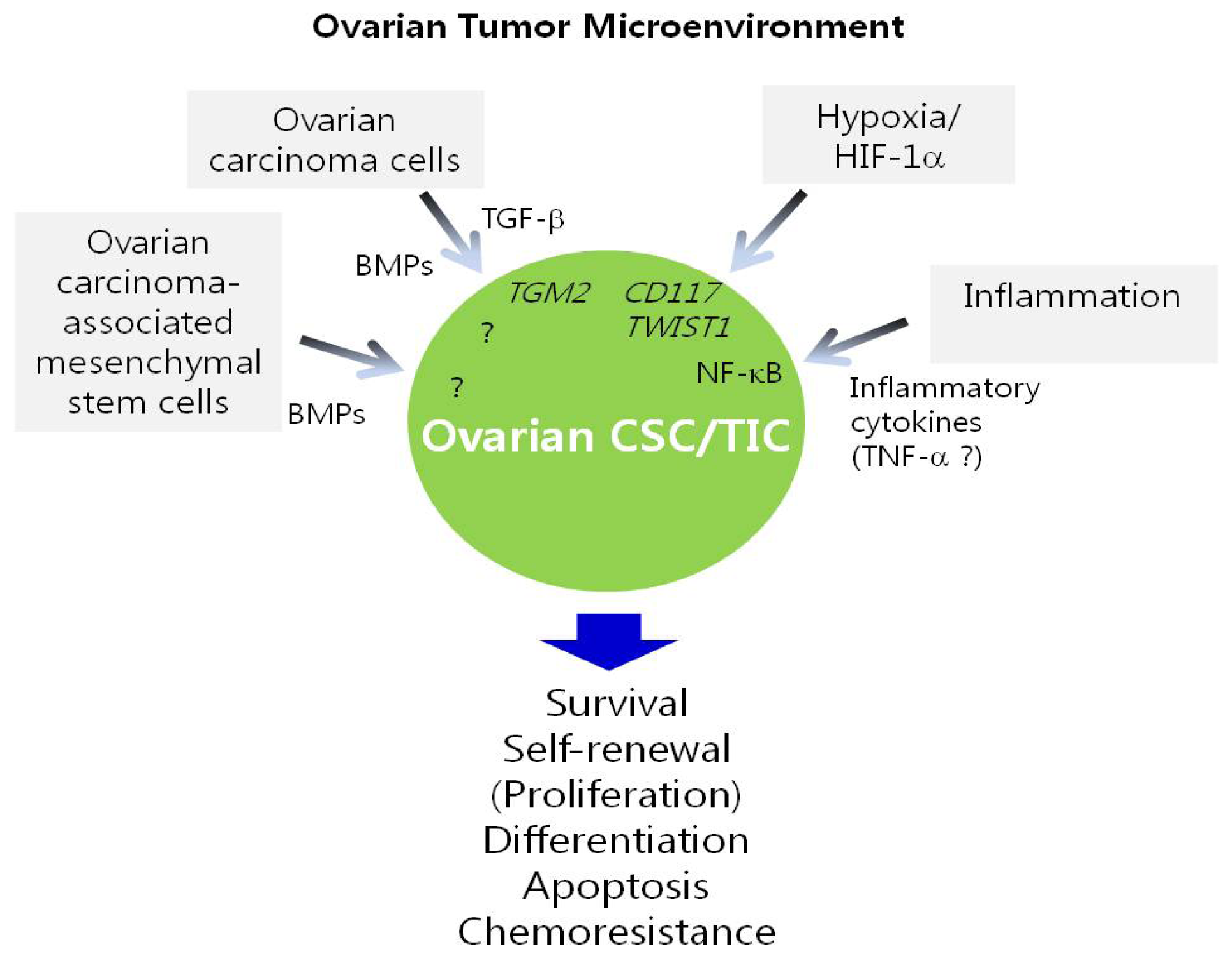 Share & Cite This Article
MDPI and ACS Style
Kwon, M.J.; Shin, Y.K. Regulation of Ovarian Cancer Stem Cells or Tumor-Initiating Cells. Int. J. Mol. Sci. 2013, 14, 6624-6648.
Related Articles
Comments
[Return to top]