Transcriptional Analysis of Drought-Induced Genes in the Roots of a Tolerant Genotype of the Common Bean (Phaseolus vulgaris L.)
1
Center of Nuclear Energy for Agriculture, Laboratory of Cellular and Molecular Biology, University of São Paulo, P.O. Box 96, Piracicaba 13400-970, SP, Brazil
2
Center for Molecular Biology and Genetic Engineering, Center of Plant Molecular Biology, University of Campinas, Campinas 13083-875, SP, Brazil
†
These authors contributed equally to this work.
*
Author to whom correspondence should be addressed.
Received: 1 January 2013 / Revised: 6 March 2013 / Accepted: 7 March 2013 / Published: 28 March 2013
Abstract
In Brazil, common bean (
Phaseolus vulgaris
L.) productivity is severely affected by drought stress due to low technology cultivation systems. Our purpose was to identify differentially expressed genes in roots of a genotype tolerant to water deficit (BAT 477) when submitted to an interruption of irrigation during its development. A SSH library was constructed taking as "driver" the genotype Carioca 80SH (susceptible to drought). After clustering and data mining, 1572 valid reads were obtained, resulting in 1120 ESTs (expressed sequence tags). We found sequences for transcription factors, carbohydrates metabolism, proline-rich proteins, aquaporins, chaperones and ubiquitins, all of them organized according to their biological processes. Our suppressive subtractive hybridization (SSH) library was validated through RT-qPCR experiment by assessing the expression patterns of 10 selected genes in both genotypes under stressed and control conditions. Finally, the expression patterns of 31 ESTs, putatively related to drought responses, were analyzed in a time-course experiment. Our results confirmed that such genes are more expressed in the tolerant genotype during stress; however, they are not exclusive, since different levels of these transcripts were also detected in the susceptible genotype. In addition, we observed a fluctuation in gene regulation over time for both the genotypes, which seem to adopt and adapt different strategies in order to develop tolerance against this stress.
View Full-Text
►

▼

Figures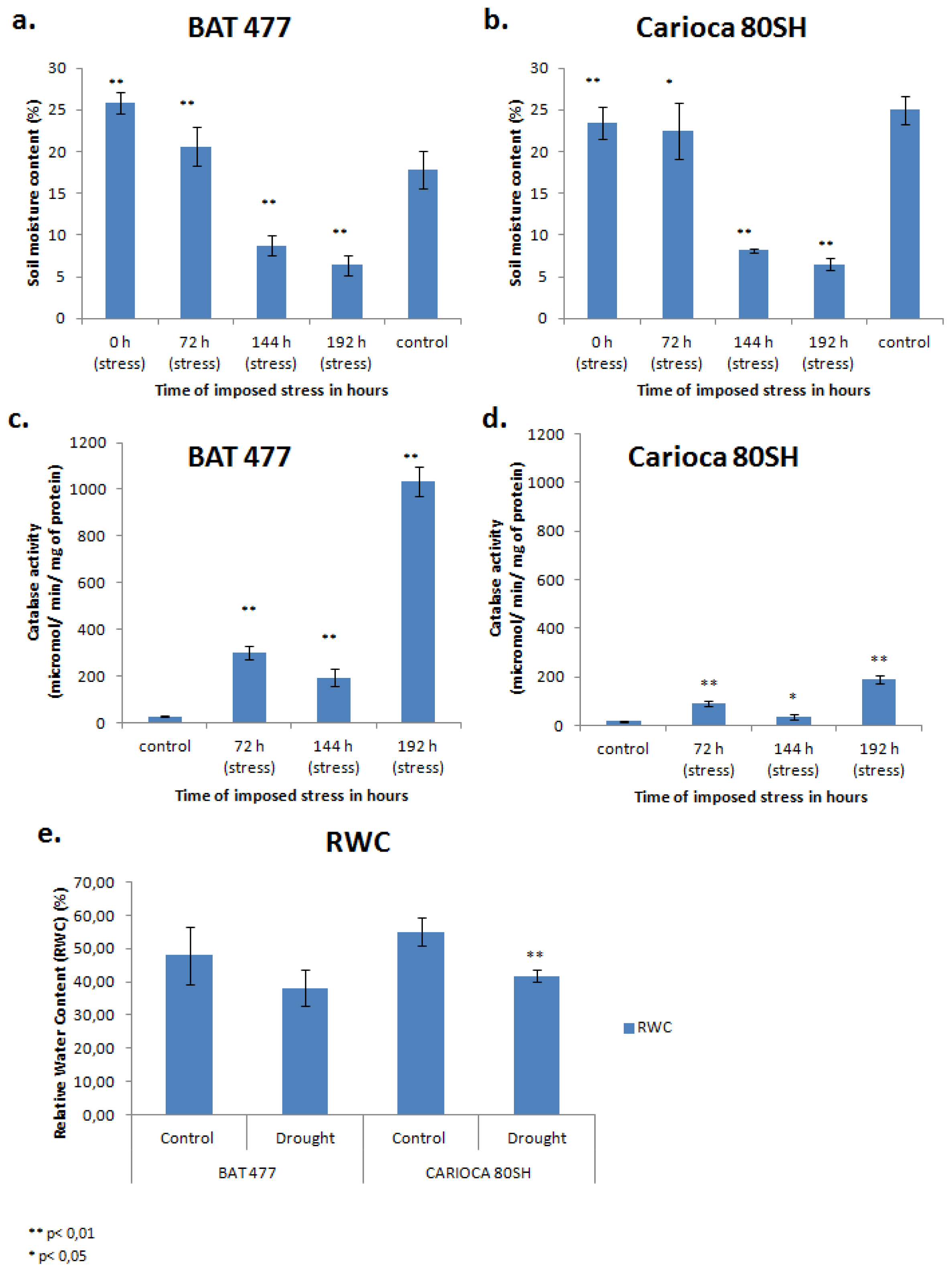 Share & Cite This Article
MDPI and ACS Style
Recchia, G.H.; Caldas, D.G.G.; Beraldo, A.L.A.; da Silva, M.J.; Tsai, S.M. Transcriptional Analysis of Drought-Induced Genes in the Roots of a Tolerant Genotype of the Common Bean (Phaseolus vulgaris L.). Int. J. Mol. Sci. 2013, 14, 7155-7179.
Related Articles
Comments
[Return to top]