Size-Controlled and Optical Properties of Monodispersed Silver Nanoparticles Synthesized by the Radiolytic Reduction Method
1
Physics Department, Universiti Putra Malaysia, UPM Serdang 43400, Selangor, Malaysia
2
Department of Science, Kerman branch, Islamic Azad University, Kerman 76351-31167, Iran
*
Author to whom correspondence should be addressed.
Received: 20 October 2012 / Revised: 21 March 2013 / Accepted: 22 March 2013 / Published: 11 April 2013
Abstract
Size-controlled and monodispersed silver nanoparticles were synthesized from an aqueous solution containing silver nitrate as a metal precursor, polyvinyl alcohol as a capping agent, isopropyl alcohol as hydrogen and hydroxyl radical scavengers, and deionized water as a solvent with a simple radiolytic method. The average particle size decreased with an increase in dose due to the domination of nucleation over ion association in the formation of the nanoparticles by gamma reduction. The silver nanoparticles exhibit a very sharp and strong absorption spectrum with the absorption maximum λ
max
blue shifting with an increased dose, owing to a decrease in particle size. The absorption spectra of silver nanoparticles of various particle sizes were also calculated using a quantum physics treatment and an agreement was obtained with the experimental absorption data. The results suggest that the absorption spectrum of silver nanoparticles possibly derived from the intra-band excitations of conduction electrons from the lowest energy state (
n
= 5,
l
= 0) to higher energy states (
n
≥ 6; Δ
l
= 0, ±1; Δ
s
= 0, ±1), allowed by the quantum numbers principle. This demonstrates that the absorption phenomenon of metal nanoparticles based on a quantum physics description could be exploited to be added into the fundamentals of metal nanoparticles and the related fields of nanoscience and nanotechnology.
View Full-Text
►

▼

Figures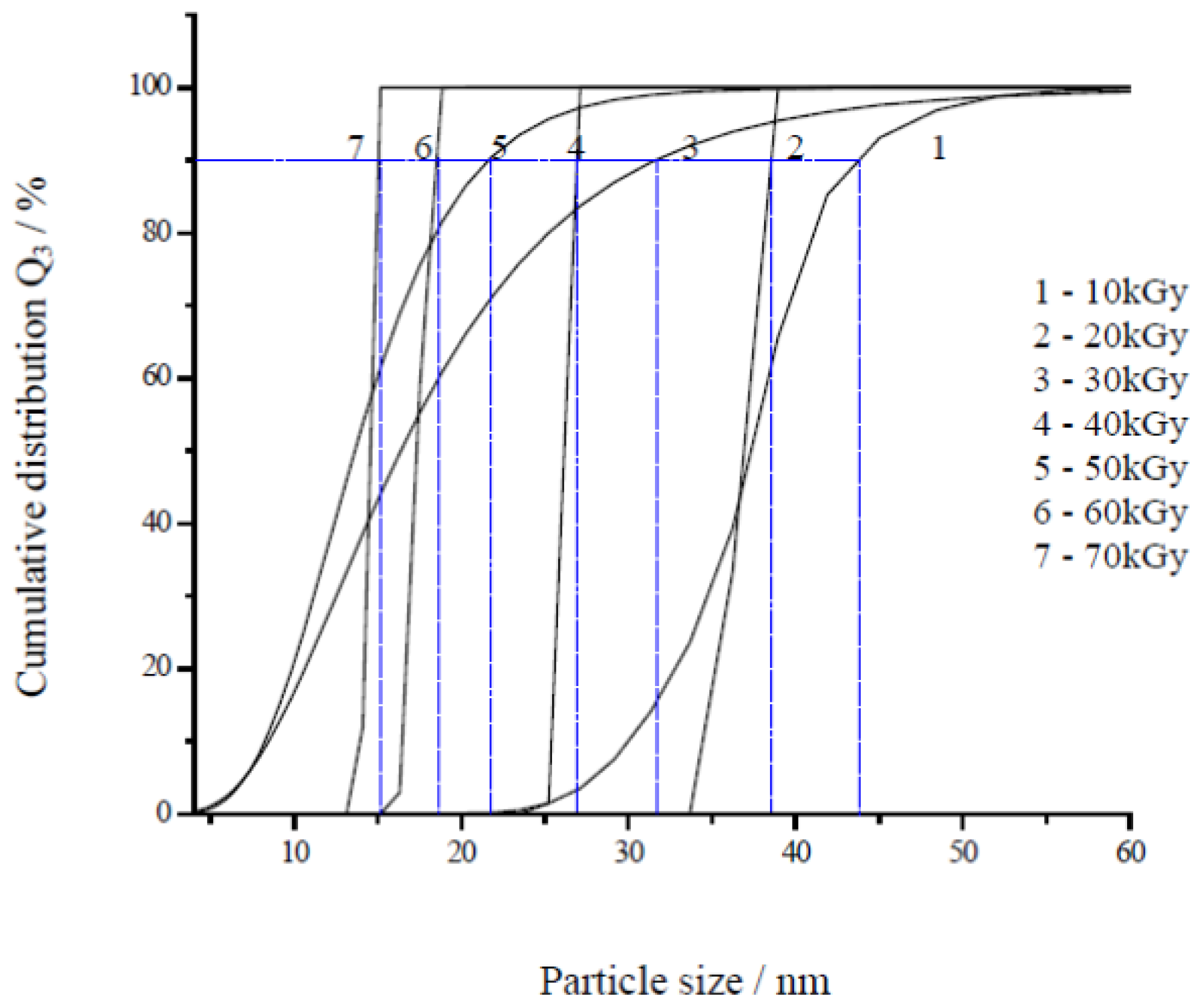 Share & Cite This Article
MDPI and ACS Style
Saion, E.; Gharibshahi, E.; Naghavi, K. Size-Controlled and Optical Properties of Monodispersed Silver Nanoparticles Synthesized by the Radiolytic Reduction Method. Int. J. Mol. Sci. 2013, 14, 7880-7896.
Related Articles
Comments
[Return to top]