Development of a Preclinical Therapeutic Model of Human Brain Metastasis with Chemoradiotherapy
1
Biological Clues of the Invasive and Metastatic Phenotype Group, Bellvitge Biomedical Research Institute (IDIBELL), L' Hospitalet de Llobregat, Barcelona 08907, Spain
2
Autonoma University of Barcelona (UAB), Faculty of Biosciences, Campus Bellaterra, Building C, Cerdanyola del Vallés, Barcelona 08193, Spain
3
Medical Physics Service, Oncology Catalan Institut, Duran I Reynals Hospital, L'Hospitalet de Llobregat, Barcelona 08907, Spain
*
Author to whom correspondence should be addressed.
Received: 30 November 2012 / Revised: 16 March 2013 / Accepted: 26 March 2013 / Published: 16 April 2013
Abstract
Currently, survival of breast cancer patients with brain metastasis ranges from 2 to 16 months. In experimental brain metastasis studies, only 10% of lesions with the highest permeability exhibited cytotoxic responses to paclitaxel or doxorubicin. Therefore, radiation is the most frequently used treatment, and sensitizing agents, which synergize with radiation, can improve the efficacy of the therapy. In this study we used 435-Br1 cells containing the fluorescent protein (
eGFP
) gene and the photinus luciferase (
PLuc
) gene to develop a new brain metastatic cell model in mice through five
in vivo
/
in vitro
rounds. BR-eGFP-CMV/Luc-V5 brain metastatic cells induce parenchymal brain metastasis within 60.8 ± 13.8 days of intracarotid injection in all mice. We used this model to standardize a preclinical chemoradiotherapy protocol comprising three 5.5 Gy fractions delivered on consecutive days (overall dose of 16.5 Gy) which improved survival with regard to controls (60.29 ± 8.65
vs.
47.20 ± 11.14). Moreover, the combination of radiotherapy with temozolomide, 60 mg/Kg/day orally for five consecutive days doubled survival time of the mice 121.56 ± 52.53 days (Kaplan-Meier Curve,
p
< 0.001). This new preclinical chemoradiotherapy protocol proved useful for the study of radiation response/resistance in brain metastasis, either alone or in combination with new sensitizing agents.
View Full-Text
►

▼

Figures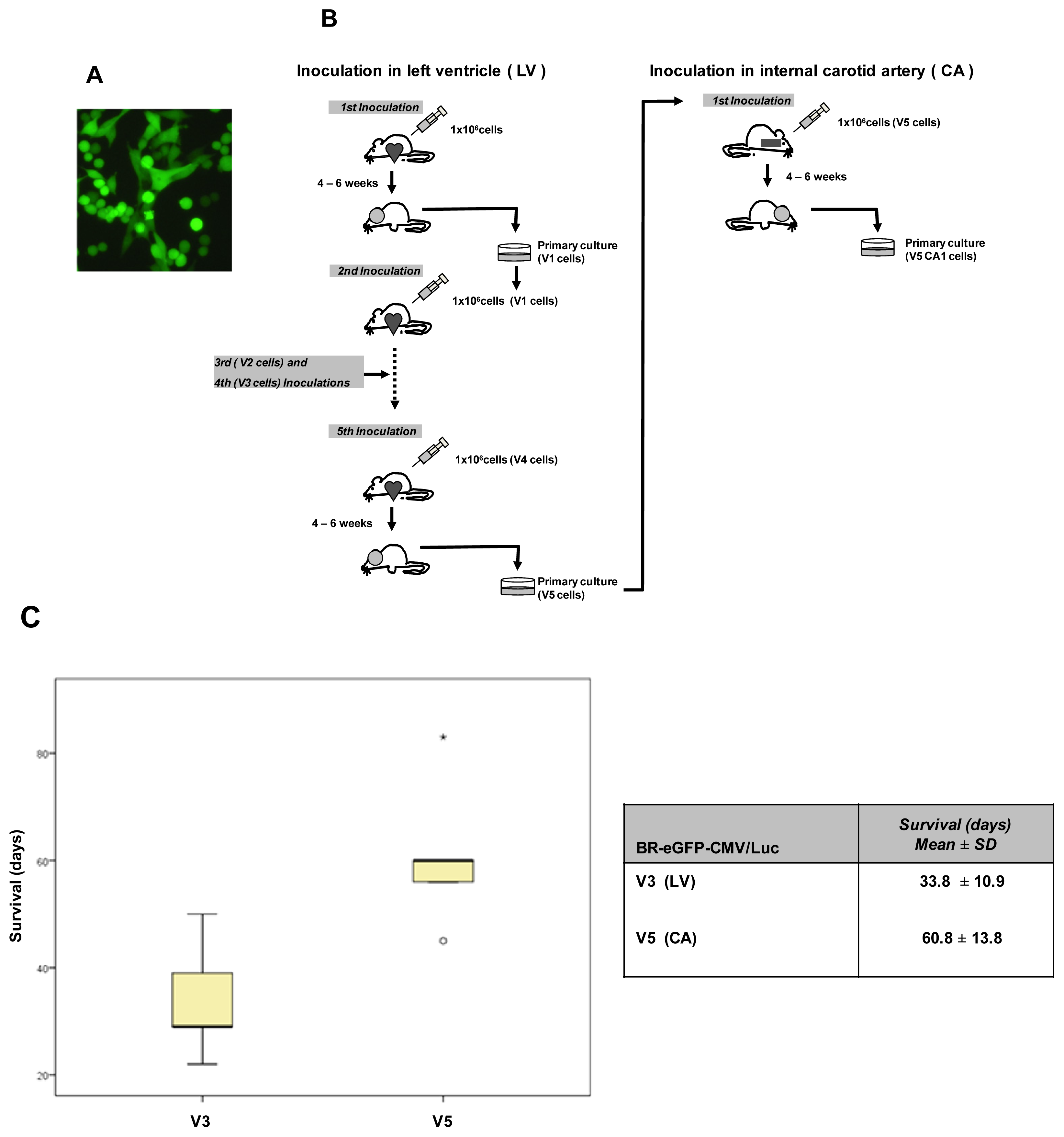 Share & Cite This Article
MDPI and ACS Style
Martínez-Aranda, A.; Hernández, V.; Picón, C.; Modolell, I.; Sierra, A. Development of a Preclinical Therapeutic Model of Human Brain Metastasis with Chemoradiotherapy. Int. J. Mol. Sci. 2013, 14, 8306-8327.
Related Articles
Comments
[Return to top]