Ultraviolet (UV) and Hydrogen Peroxide Activate Ceramide-ER Stress-AMPK Signaling Axis to Promote Retinal Pigment Epithelium (RPE) Cell Apoptosis
1
The Affiliated Eye Hospital of Nanjing Medical University, Nanjing 210029, China
2
Eye Department, Li-Yang City Hospital of Traditional Chinese Medicine, Li-Yang City 213300, China
†
These authors contributed equally to this work.
*
Authors to whom correspondence should be addressed.
Received: 24 November 2012 / Revised: 15 April 2013 / Accepted: 2 May 2013 / Published: 17 May 2013
Abstract
Ultraviolet (UV) radiation and reactive oxygen species (ROS) impair the physiological functions of retinal pigment epithelium (RPE) cells by inducing cell apoptosis, which is the main cause of age-related macular degeneration (AMD). The mechanism by which UV/ROS induces RPE cell death is not fully addressed. Here, we observed the activation of a ceramide-endoplasmic reticulum (ER) stress-AMP activated protein kinase (AMPK) signaling axis in UV and hydrogen peroxide (H
2
O
2
)-treated RPE cells. UV and H
2
O
2
induced an early ceramide production, profound ER stress and AMPK activation. Pharmacological inhibitors against ER stress (salubrinal), ceramide production (fumonisin B1) and AMPK activation (compound C) suppressed UV- and H
2
O
2
-induced RPE cell apoptosis. Conversely, cell permeable short-chain C6 ceramide and AMPK activator AICAR (5-amino-1-β-D-ribofuranosyl-imidazole-4-carboxamide) mimicked UV and H
2
O
2
's effects and promoted RPE cell apoptosis. Together, these results suggest that UV/H
2
O
2
activates the ceramide-ER stress-AMPK signaling axis to promote RPE cell apoptosis.
View Full-Text
►

▼

Figures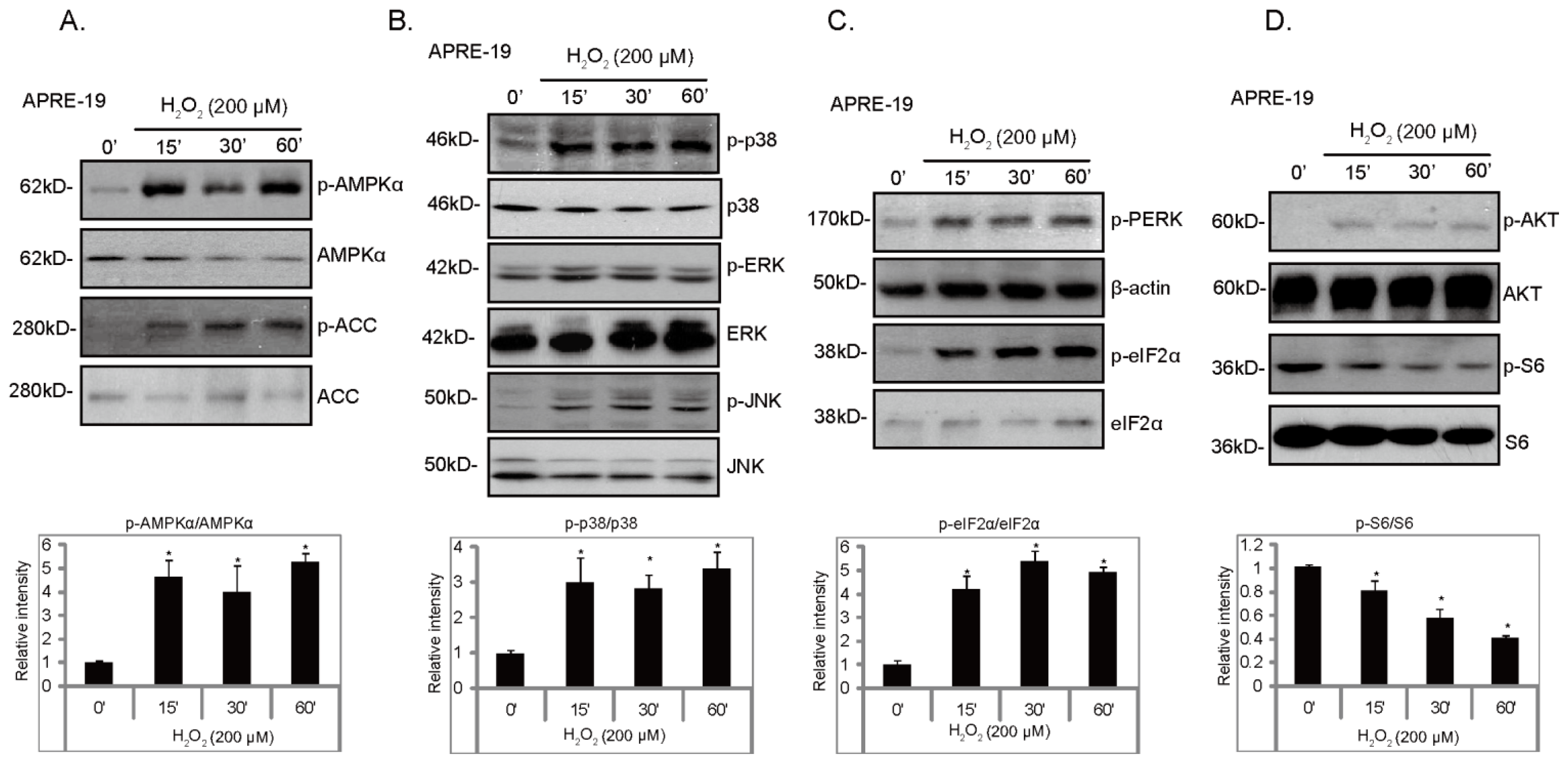 Share & Cite This Article
MDPI and ACS Style
Yao, J.; Bi, H.-E.; Sheng, Y.; Cheng, L.-B.; Wendu, R.-L.; Wang, C.-H.; Cao, G.-F.; Jiang, Q. Ultraviolet (UV) and Hydrogen Peroxide Activate Ceramide-ER Stress-AMPK Signaling Axis to Promote Retinal Pigment Epithelium (RPE) Cell Apoptosis. Int. J. Mol. Sci. 2013, 14, 10355-10368.
Related Articles
Comments
[Return to top]