The Influence of Polyunsaturated Fatty Acids on the Phospholipase D Isoforms Trafficking and Activity in Mast Cells
1
Institute of Physiological Chemistry, Faculty of Veterinary Medicine, University of Leipzig, Leipzig, An den Tierkliniken 1, 04103 Leipzig, Germany
2
Department of Clinical Pathology, Faculty of Veterinary Medicine, Benha University, Moshtohor, Toukh, 13736 Qalioubeya, Egypt
*
Author to whom correspondence should be addressed.
Received: 26 March 2013 / Revised: 15 April 2013 / Accepted: 18 April 2013 / Published: 25 April 2013
Abstract
The impact of polyunsaturated fatty acid (PUFA) supplementation on phospholipase D (PLD) trafficking and activity in mast cells was investigated. The enrichment of mast cells with different PUFA including α-linolenic acid (LNA), eicosapentaenoic acid (EPA), docosahexaenoic acid (DHA), linoleic acid (LA) or arachidonic acid (AA) revealed a PUFA-mediated modulation of the mastoparan-stimulated PLD trafficking and activity. All PUFA examined, except AA, prevented the migration of the PLD1 to the plasma membrane. For PLD2 no PUFA effects on trafficking could be observed. Moreover, PUFA supplementation resulted in an increase of mastoparan-stimulated total PLD activity, which correlated with the number of double bonds of the supplemented fatty acids. To investigate, which PLD isoform was affected by PUFA, stimulated mast cells were supplemented with DHA or AA in the presence of specific PLD-isoform inhibitors. It was found that both DHA and AA diminished the inhibition of PLD activity in the presence of a PLD1 inhibitor. By contrast, only AA diminished the inhibition of PLD activity in the presence of a PLD2 inhibitor. Thus, PUFA modulate the trafficking and activity of PLD isoforms in mast cells differently. This may, in part, account for the immunomodulatory effect of unsaturated fatty acids and contributes to our understanding of the modulation of mast cell activity by PUFA.
View Full-Text
►

▼

Figures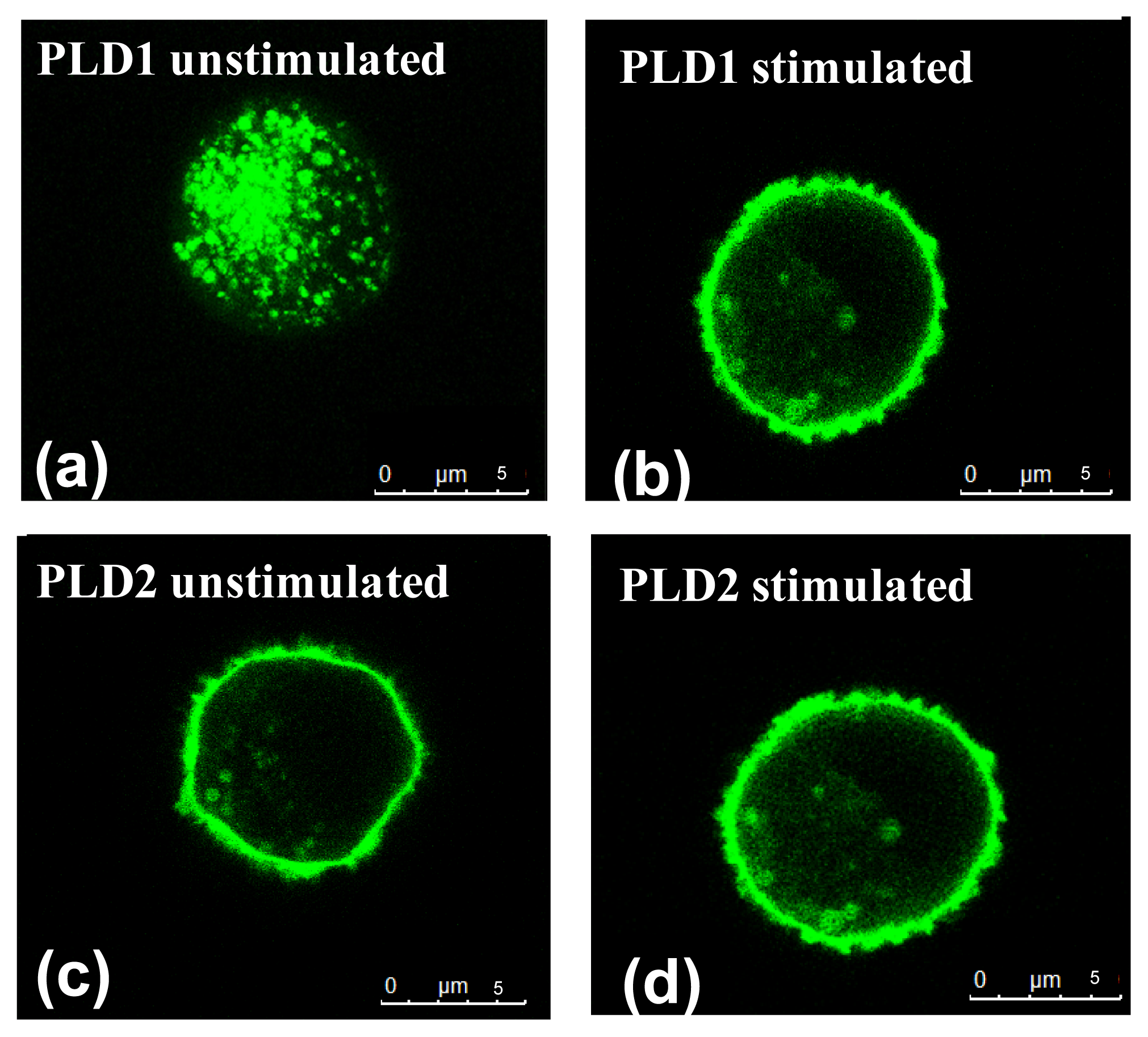 Share & Cite This Article
MDPI and ACS Style
Basiouni, S.; Fuhrmann, H.; Schumann, J. The Influence of Polyunsaturated Fatty Acids on the Phospholipase D Isoforms Trafficking and Activity in Mast Cells. Int. J. Mol. Sci. 2013, 14, 9005-9017.
Related Articles
Comments
[Return to top]