Physiological, Biochemical, and Molecular Mechanisms of Heat Stress Tolerance in Plants
1
Department of Agronomy, Faculty of Agriculture, Sher-e-Bangla Agricultural University, Dhaka 1207, Bangladesh
2
Laboratory of Plant Stress Responses, Department of Applied Biological Science, Faculty of Agriculture, Kagawa University, Miki-cho, Kita-gun, Kagawa 761-0795, Japan
3
Department of Agricultural Botany, Faculty of Agriculture, Sher-e-Bangla Agricultural University, Sher-e-Bangla Nagar, Dhaka 1207, Bangladesh
4
Department of Biotechnology, Visva-Bharati University, Santiniketan 731235, West Bengal, India
*
Authors to whom correspondence should be addressed.
Received: 1 February 2013 / Revised: 16 April 2013 / Accepted: 19 April 2013 / Published: 3 May 2013
Abstract
High temperature (HT) stress is a major environmental stress that limits plant growth, metabolism, and productivity worldwide. Plant growth and development involve numerous biochemical reactions that are sensitive to temperature. Plant responses to HT vary with the degree and duration of HT and the plant type. HT is now a major concern for crop production and approaches for sustaining high yields of crop plants under HT stress are important agricultural goals. Plants possess a number of adaptive, avoidance, or acclimation mechanisms to cope with HT situations. In addition, major tolerance mechanisms that employ ion transporters, proteins, osmoprotectants, antioxidants, and other factors involved in signaling cascades and transcriptional control are activated to offset stress-induced biochemical and physiological alterations. Plant survival under HT stress depends on the ability to perceive the HT stimulus, generate and transmit the signal, and initiate appropriate physiological and biochemical changes. HT-induced gene expression and metabolite synthesis also substantially improve tolerance. The physiological and biochemical responses to heat stress are active research areas, and the molecular approaches are being adopted for developing HT tolerance in plants.
This article reviews the
recent findings on responses, adaptation, and tolerance to HT at the cellular, organellar, and whole plant levels and describes various approaches being taken to enhance thermotolerance in plants.
View Full-Text
►

▼

Figures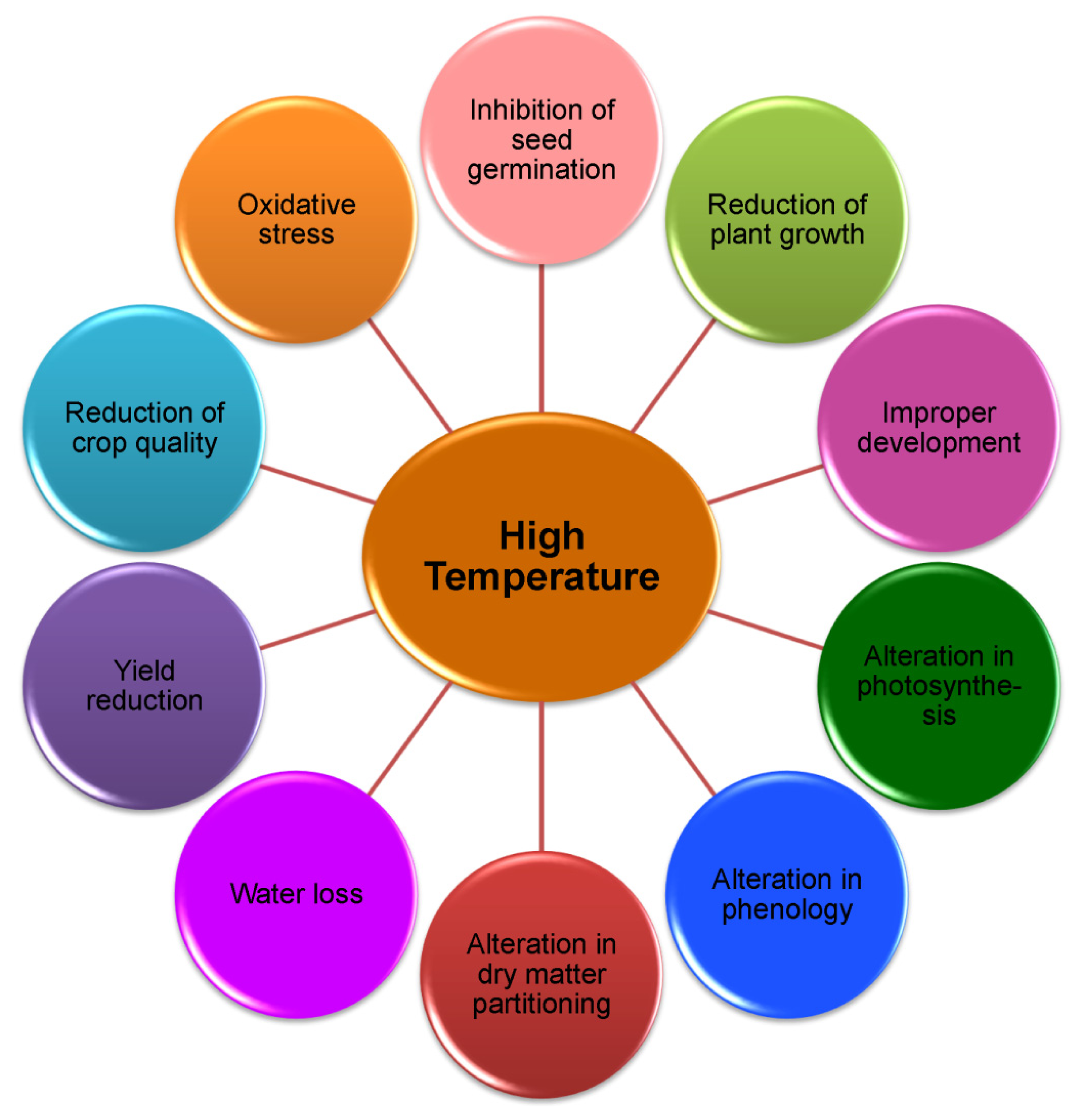 Share & Cite This Article
MDPI and ACS Style
Hasanuzzaman, M.; Nahar, K.; Alam, M.M.; Roychowdhury, R.; Fujita, M. Physiological, Biochemical, and Molecular Mechanisms of Heat Stress Tolerance in Plants. Int. J. Mol. Sci. 2013, 14, 9643-9684.
Related Articles
Comments
[Return to top]