The Genomic Landscape of Prostate Cancer
1
Molecular Endocrinology Laboratory, Department of Cellular and Molecular Medicine, University of Leuven, Campus Gasthuisberg, Herestraat 49, P.O. Box 901, 3000 Leuven, Belgium
2
Division of Clinical and Experimental Endocrinology, Department of Clinical and Experimental Medicine, University of Leuven, Campus Gasthuisberg, Herestraat 49, P.O. Box 902, 3000 Leuven, Belgium
3
Division of Gerontology and Geriatrics, Department of Clinical and Experimental Medicine, University of Leuven, Campus Gasthuisberg, Herestraat 49, P.O. Box 7003, 3000 Leuven, Belgium
4
Division of Translational Cell and Tissue Research, Department of Imaging and Pathology, University of Leuven, Minderbroedersstraat 12 blok q, P.O. Box 1032, 3000 Leuven, Belgium
5
Division of Screening, Diagnostics and Biomarkers, Department of Development and Regeneration, University Hospitals Leuven, Campus Gasthuisberg, Herestraat 49, P.O. Box 7003, 3000 Leuven, Belgium
*
Author to whom correspondence should be addressed.
Received: 7 April 2013 / Revised: 6 May 2013 / Accepted: 9 May 2013 / Published: 24 May 2013
Abstract
By the age of 80, approximately 80% of men will manifest some cancerous cells within their prostate, indicating that prostate cancer constitutes a major health burden. While this disease is clinically insignificant in most men, it can become lethal in others. The most challenging task for clinicians is developing a patient-tailored treatment in the knowledge that this disease is highly heterogeneous and that relatively little adequate prognostic tools are available to distinguish aggressive from indolent disease. Next-generation sequencing allows a description of the cancer at an unprecedented level of detail and at different levels, going from whole genome or exome sequencing to transcriptome analysis and methylation-specific immunoprecipitation, followed by sequencing. Integration of all these data is leading to a better understanding of the initiation, progression and metastatic processes of prostate cancer. Ultimately, these insights will result in a better and more personalized treatment of patients suffering from prostate cancer. The present review summarizes current knowledge on copy number changes, gene fusions, single nucleotide mutations and polymorphisms, methylation, microRNAs and long non-coding RNAs obtained from high-throughput studies.
View Full-Text
►

▼

Figures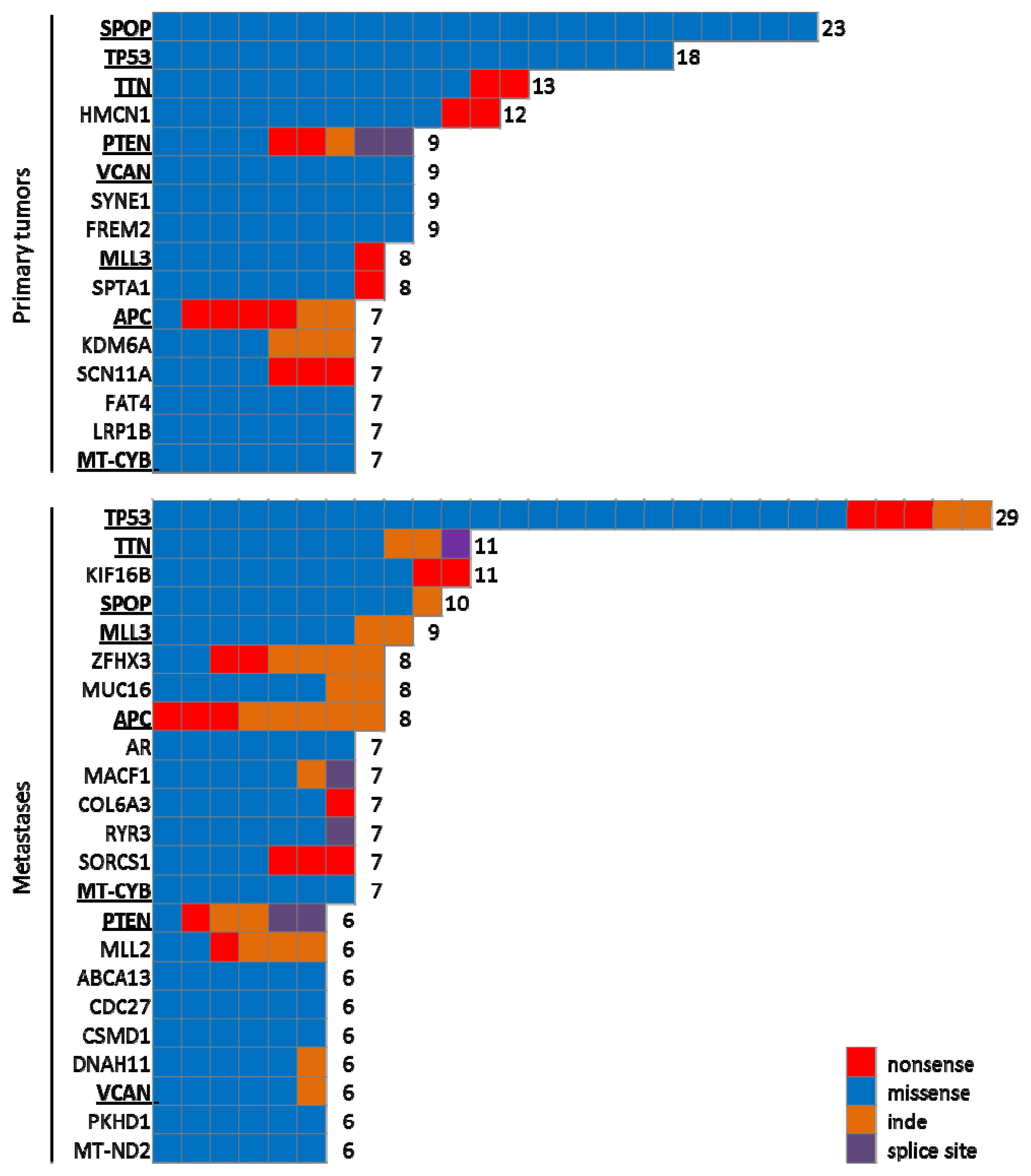 Share & Cite This Article
MDPI and ACS Style
Spans, L.; Clinckemalie, L.; Helsen, C.; Vanderschueren, D.; Boonen, S.; Lerut, E.; Joniau, S.; Claessens, F. The Genomic Landscape of Prostate Cancer. Int. J. Mol. Sci. 2013, 14, 10822-10851.
Related Articles
Comments
[Return to top]