Mechanisms by Which Licochalcone E Exhibits Potent Anti-Inflammatory Properties: Studies with Phorbol Ester-Treated Mouse Skin and Lipopolysaccharide-Stimulated Murine Macrophages
1
Department of Food Science and Nutrition, Hallym University, Chuncheon 200-702, Korea
2
WCU Biomodulation Major, Department of Agricultural Biotechnology and Center for Food and Bioconvergence, Seoul National University, Seoul 151-921, Korea
3
Advanced Institutes of Convergence Technology, Seoul National University, Suwon, Gyonggi-do 443-270, Korea
*
Author to whom correspondence should be addressed.
Received: 29 March 2013 / Revised: 15 May 2013 / Accepted: 15 May 2013 / Published: 24 May 2013
Abstract
In this study we found that licochalcone E (LicE), a recently isolated retrochalcone from
Glycyrrhiza inflata
, exhibits potent anti-inflammatory effects in 12-
O
-tetradecanoylphorbol-13-acetate (TPA)-induced mouse ear edema and lipopolysaccharide (LPS)-stimulated RAW 264.7 murine macrophage models. Topical application of LicE (0.5–2 mg) effectively inhibited TPA-induced (1) ear edema formation; (2) phosphorylation of stress-activated protein kinase/c-Jun-
N
-terminal kinase (SAPK/JNK), c-Jun, and extracellular signal regulated kinase 1/2; and (3) expression of inducible nitric oxide synthase (iNOS) and cyclooxygenase (COX)-2 proteins in mouse skin. The treatment of RAW 264.7 cells with LicE (2.5–7.5 μmol/L) induced a profound reduction in LPS-induced (1) release of NO and prostaglandin E
2
; (2) mRNA expression and secretion of interleukin (IL)-6, IL-1β and tumor necrosis factor-α; (3) promoter activity of
iNOS
and
COX-2
and expression of their corresponding mRNAs and proteins; (4) activation of AKT, p38 mitogen activated protein kinase (MAPK), SAPK/JNK and c-Jun; (5) phosphorylation of inhibitor of κB (IκB) kinase-αβ and IκBα, degradation of IκBα, translocation of p65 (RelA) to the nucleus and transcriptional activity of nuclear factor (NF)-κB; and (6) transcriptional activity of activator protein (AP)-1. These results indicate that the LicE inhibition of NF-κB and AP-1 transcriptional activity through the inhibition of AKT and MAPK activation contributes to decreases in the expression of pro-inflammatory cytokines and the inducible enzymes iNOS and COX-2.
View Full-Text
►

▼

Figures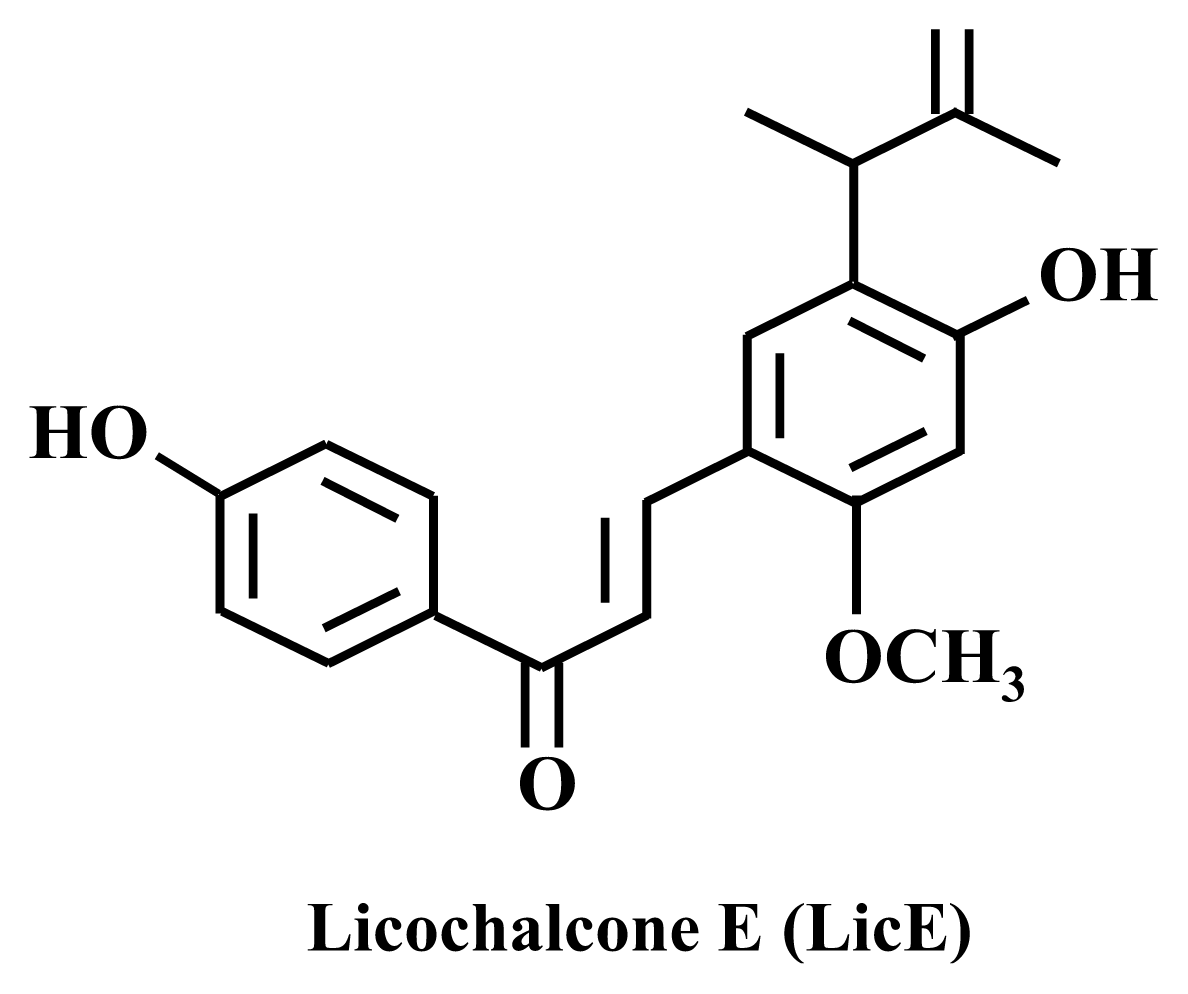 Share & Cite This Article
MDPI and ACS Style
Lee, H.N.; Cho, H.J.; Lim, D.Y.; Kang, Y.-H.; Lee, K.W.; Park, J.H.Y. Mechanisms by Which Licochalcone E Exhibits Potent Anti-Inflammatory Properties: Studies with Phorbol Ester-Treated Mouse Skin and Lipopolysaccharide-Stimulated Murine Macrophages. Int. J. Mol. Sci. 2013, 14, 10926-10943.
Related Articles
Comments
[Return to top]