Immune-Pineal Axis: Nuclear Factor κB (NF-kB) Mediates the Shift in the Melatonin Source from Pinealocytes to Immune Competent Cells
Laboratory of Chronopharmacology, Department of Physiology, Institute of Bioscience, University of São Paulo, São Paulo 05508-900, Brazil
†
These authors contributed equally to this work.
*
Author to whom correspondence should be addressed.
Received: 14 March 2013 / Revised: 3 May 2013 / Accepted: 13 May 2013 / Published: 24 May 2013
Abstract
Pineal gland melatonin is the darkness hormone, while extra-pineal melatonin produced by the gonads, gut, retina, and immune competent cells acts as a paracrine or autocrine mediator. The well-known immunomodulatory effect of melatonin is observed either as an endocrine, a paracrine or an autocrine response. In mammals, nuclear translocation of nuclear factor κ-light-chain-enhancer of activated B cells (NF-κB) blocks noradrenaline-induced melatonin synthesis in pinealocytes, which induces melatonin synthesis in macrophages. In addition, melatonin reduces NF-κB activation in pinealocytes and immune competent cells. Therefore, pathogen- or danger-associated molecular patterns transiently switch the synthesis of melatonin from pinealocytes to immune competent cells, and as the response progresses melatonin inhibition of NF-κB activity leads these cells to a more quiescent state. The opposite effect of NF-κB in pinealocytes and immune competent cells is due to different NF-κB dimers recruited in each phase of the defense response. This coordinated shift of the source of melatonin driven by NF-κB is called the immune-pineal axis. Finally, we discuss how this concept might be relevant to a better understanding of pathological conditions with impaired melatonin rhythms and hope it opens new horizons for the research of side effects of melatonin-based therapies.
View Full-Text
►

▼

Figures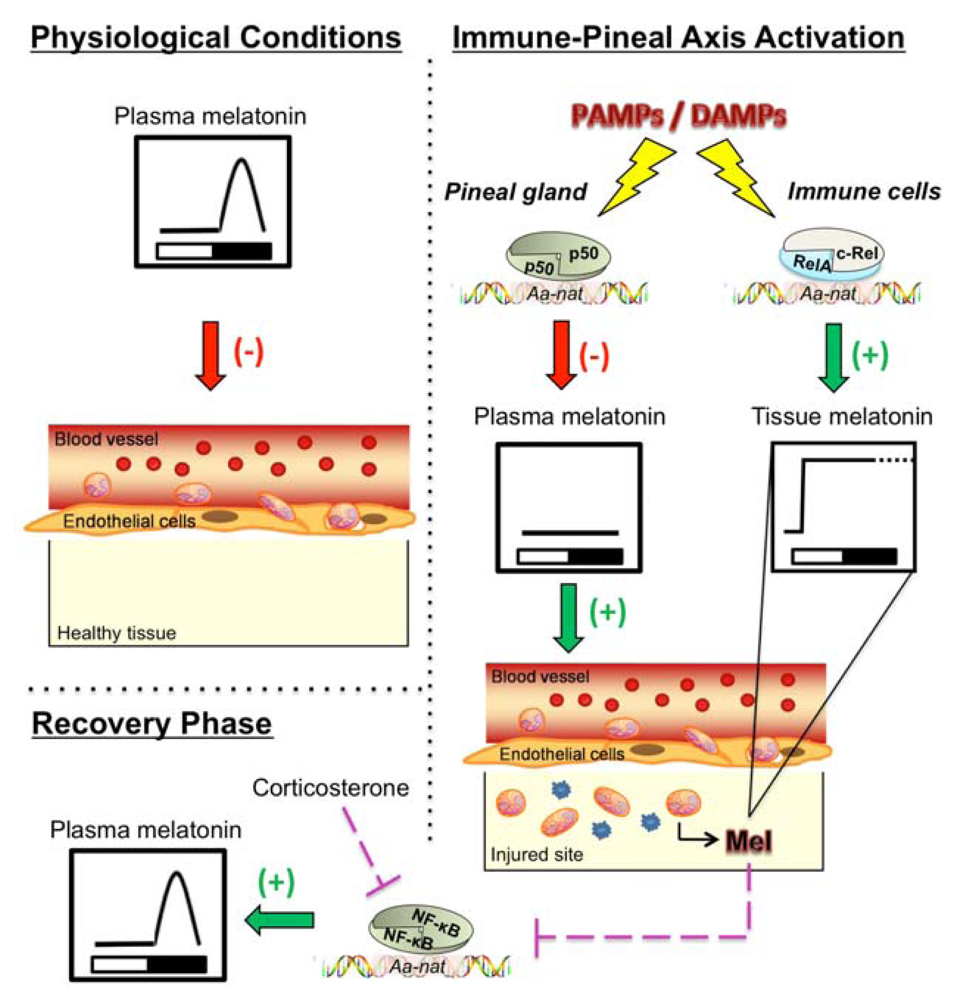 Share & Cite This Article
MDPI and ACS Style
Markus, R.P.; Cecon, E.; Pires-Lapa, M.A. Immune-Pineal Axis: Nuclear Factor κB (NF-kB) Mediates the Shift in the Melatonin Source from Pinealocytes to Immune Competent Cells. Int. J. Mol. Sci. 2013, 14, 10979-10997.
Related Articles
Comments
[Return to top]