Ubiquitin-Conjugating Enzyme 9 Promotes Epithelial Ovarian Cancer Cell Proliferation in Vitro
Department of Gynecology, the First Affiliated Hospital of China Medical University, Shenyang 110001, Liaoning, China
*
Authors to whom correspondence should be addressed.
Received: 23 April 2013 / Revised: 11 May 2013 / Accepted: 14 May 2013 / Published: 24 May 2013
Abstract
Epithelial ovarian cancer (EOC) is one of the leading causes of cancer deaths in women worldwide. Ubiquitin-conjugating enzyme 9 (Ubc9), the sole conjugating enzyme for sumoylation, regulates protein function and plays an important role in sumoylation-mediated cellular pathways. Although sumoylation plays a key role in DNA repair and tumorgenesis, whether Ubc9 is involved in EOC progression remains unknown. In the present study, we constructed Ubc-9 expressed recombined plasmid pEGFP-N1-Ubc9. The mRNA levels of Ubc9 were confirmed in human ovarian cell lines before and after transfection with pEGFP-N1-Ubc9 or small interfering RNA (siRNA) targeted Ubc9 by real-time polymerase chain reaction (PCR). The MTT (3-(4,5-dimethylthiazol-2-yl)-2,5-diphenyltetrazolium bromide) assay was used to observe the effect of Ubc9 on cell proliferation. The protein levels of Ubc9, and proliferation-related signals Akt and physphorylated Akt were determined by Western blot. Our results showed that proliferation of EOC cells increased significantly in Ubc9 overexpressing cells, but decreased in Ubc9 knockdown cells. The physphorylation of Akt showed similar trends. In addition, the inhibitor of PI3K/Akt signaling pathway, LY294002, dramatically inhibited the growth of Ubc9 overexpressing cells. Therefore, Ubc9 gene plays an important role in cell proliferation in EOC through PI3K/Akt signaling pathway.
View Full-Text
►

▼

Figures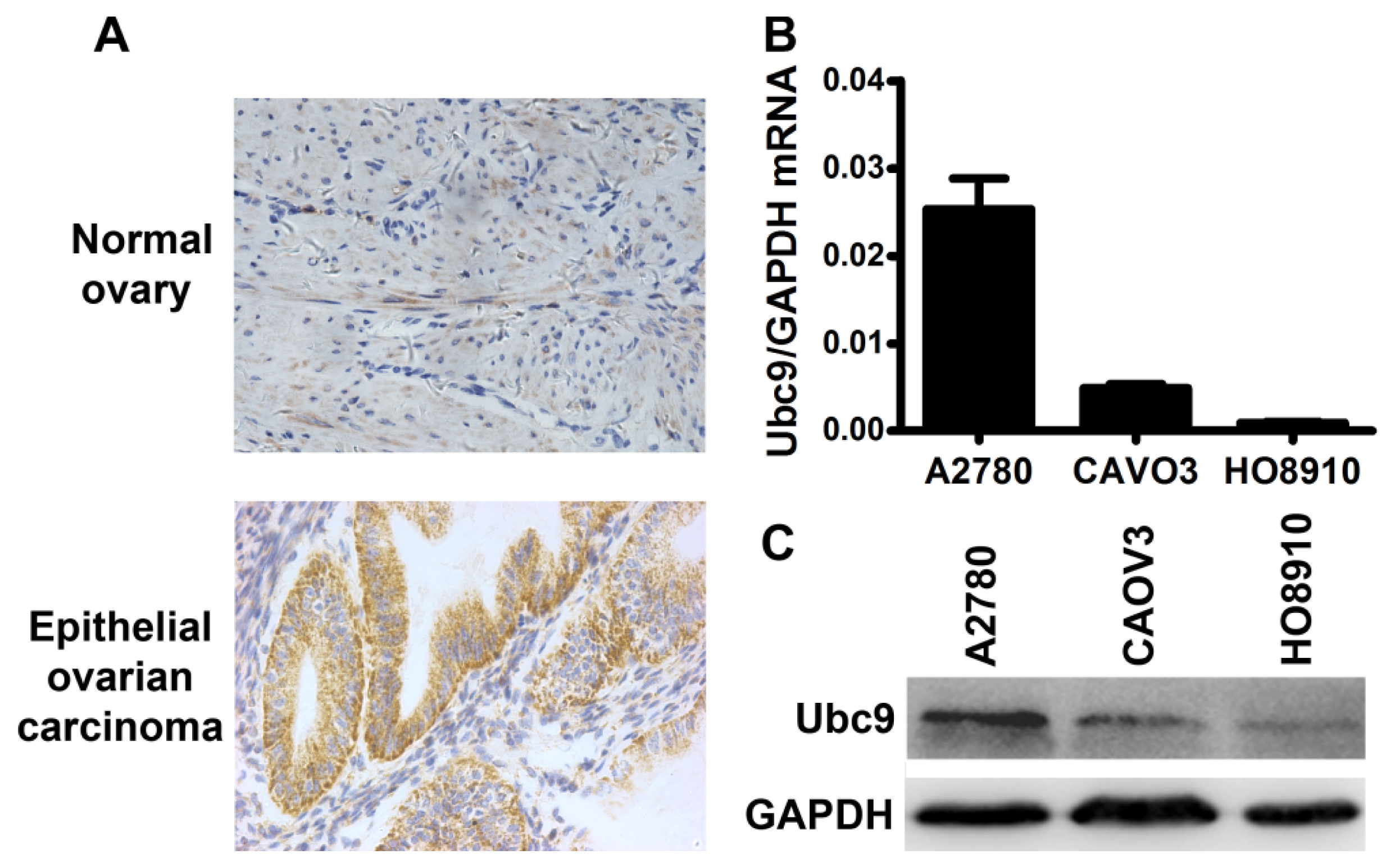 Share & Cite This Article
MDPI and ACS Style
Dong, M.; Pang, X.; Xu, Y.; Wen, F.; Zhang, Y. Ubiquitin-Conjugating Enzyme 9 Promotes Epithelial Ovarian Cancer Cell Proliferation in Vitro. Int. J. Mol. Sci. 2013, 14, 11061-11071.
Related Articles
Comments
[Return to top]