Short-Term Chromium-Stress-Induced Alterations in the Maize Leaf Proteome
1
College of Life Science, Fuyang Teachers College, Fuyang 236037, China
2
College of Life and Environmental Sciences, Minzu University of China, Beijing 100081, China
3
Biotechnology Research Institute, Chinese Academy of Agricultural Sciences, Beijing 100081, China
†
These authors contributed equally to this work.
*
Authors to whom correspondence should be addressed.
Received: 4 March 2013 / Revised: 25 April 2013 / Accepted: 15 May 2013 / Published: 27 May 2013
Abstract
Soil contamination by chromium (Cr) has become an increasing problem worldwide as a result of extensive industrial activities. Chromium, especially hexavalent Cr, impairs the growth and productivity of plants. Although it has been proposed that plants could modify their metabolism to adapt to Cr stress by reprogramming the expression of genes, especially those related to the antioxidant system, damage response, and electron transport chain, evidence at the protein expression level is lacking. To better understand the precise mechanisms underlying Cr phytoxicity and the plant response to Cr exposure, the time-course of changes in the protein expression profile induced by short-term hexavalent Cr exposure (1, 6 and 24 h) were analyzed in maize leaves. Among the over 1200 protein spots detected reproducibly by two-dimensional electrophoresis (2-DE), 60 were found to be differentially accumulated during Cr stress treatment. Of the Cr-regulated proteins, 58 were identified using tandem mass spectrometry (MS/MS). The Cr-regulated proteins identified were mainly involved in ROS detoxification and defense responses (26%), photosynthesis and chloroplast organization (22%), post-transcriptional processing of mRNA and rRNA (12%), protein synthesis and folding (10%), the DNA damage response (5%), and the cytoskeleton (3%). The possible involvement of these Cr stress-responsive proteins in Cr phytoxicity and the plant response to Cr exposure in maize is discussed, taking into consideration the information available from other plant models. Our results provide preliminary evidence that will facilitate understanding the molecular mechanisms underlying Cr toxicity in maize.
View Full-Text
►

▼

Figures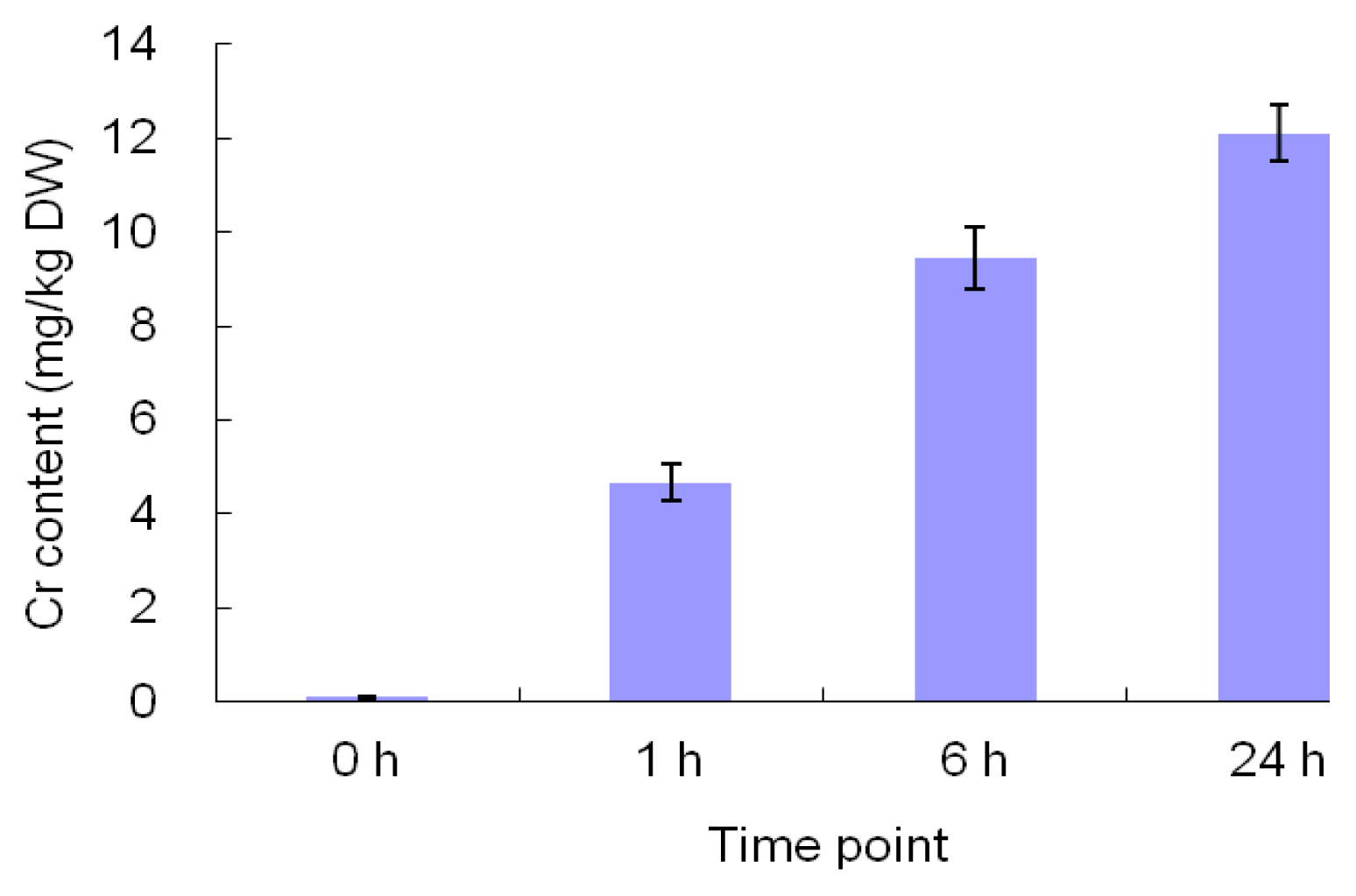 Share & Cite This Article
MDPI and ACS Style
Wang, R.; Gao, F.; Guo, B.-Q.; Huang, J.-C.; Wang, L.; Zhou, Y.-J. Short-Term Chromium-Stress-Induced Alterations in the Maize Leaf Proteome. Int. J. Mol. Sci. 2013, 14, 11125-11144.
Related Articles
Comments
[Return to top]