Angiotensin II Regulates microRNA-132/-212 in Hypertensive Rats and Humans
1
Department of Cardiovascular and Renal Research, Institute of Molecular Medicine, University of Southern Denmark, DK-5000 Odense, Denmark
2
Department of Clinical Biochemistry and Pharmacology, Odense University Hospital, Sdr. Boulevard 29, DK-5000 Odense, Denmark
3
Department of Vascular Surgery, Einthoven Laboratory for Experimental Vascular Medicine, Leiden University Medical Center, 2333 ZA Leiden, The Netherlands
4
Department of Cardiac and Thoracic Surgery, Odense University Hospital, Sdr. Boulevard 29, DK-5000 Odense, Denmark
5
Department of Pathology, University of Southern Denmark, DK-5000 Odense, Denmark
†
These authors contributed equally to this work.
*
Author to whom correspondence should be addressed.
Received: 21 March 2013 / Revised: 25 April 2013 / Accepted: 15 May 2013 / Published: 27 May 2013
Abstract
MicroRNAs (miRNAs), a group of small non-coding RNAs that fine tune translation of multiple target mRNAs, are emerging as key regulators in cardiovascular development and disease. MiRNAs are involved in cardiac hypertrophy, heart failure and remodeling following cardiac infarction; however, miRNAs involved in hypertension have not been thoroughly investigated. We have recently reported that specific miRNAs play an integral role in Angiotensin II receptor (AT
1
R) signaling, especially after activation of the Gαq signaling pathway. Since AT
1
R blockers are widely used to treat hypertension, we undertook a detailed analysis of potential miRNAs involved in Angiotensin II (AngII) mediated hypertension in rats and hypertensive patients, using miRNA microarray and qPCR analysis. The miR-132 and miR-212 are highly increased in the heart, aortic wall and kidney of rats with hypertension (159 ± 12 mm Hg) and cardiac hypertrophy following chronic AngII infusion. In addition, activation of the endothelin receptor, another Gαq coupled receptor, also increased miR-132 and miR-212. We sought to extend these observations using human samples by reasoning that AT
1
R blockers may decrease miR-132 and miR-212. We analyzed tissue samples of mammary artery obtained from surplus arterial tissue after coronary bypass operations. Indeed, we found a decrease in expression levels of miR-132 and miR-212 in human arteries from bypass-operated patients treated with AT
1
R blockers, whereas treatment with β-blockers had no effect. Taken together, these data suggest that miR-132 and miR-212 are involved in AngII induced hypertension, providing a new perspective in hypertensive disease mechanisms.
View Full-Text
►

▼

Figures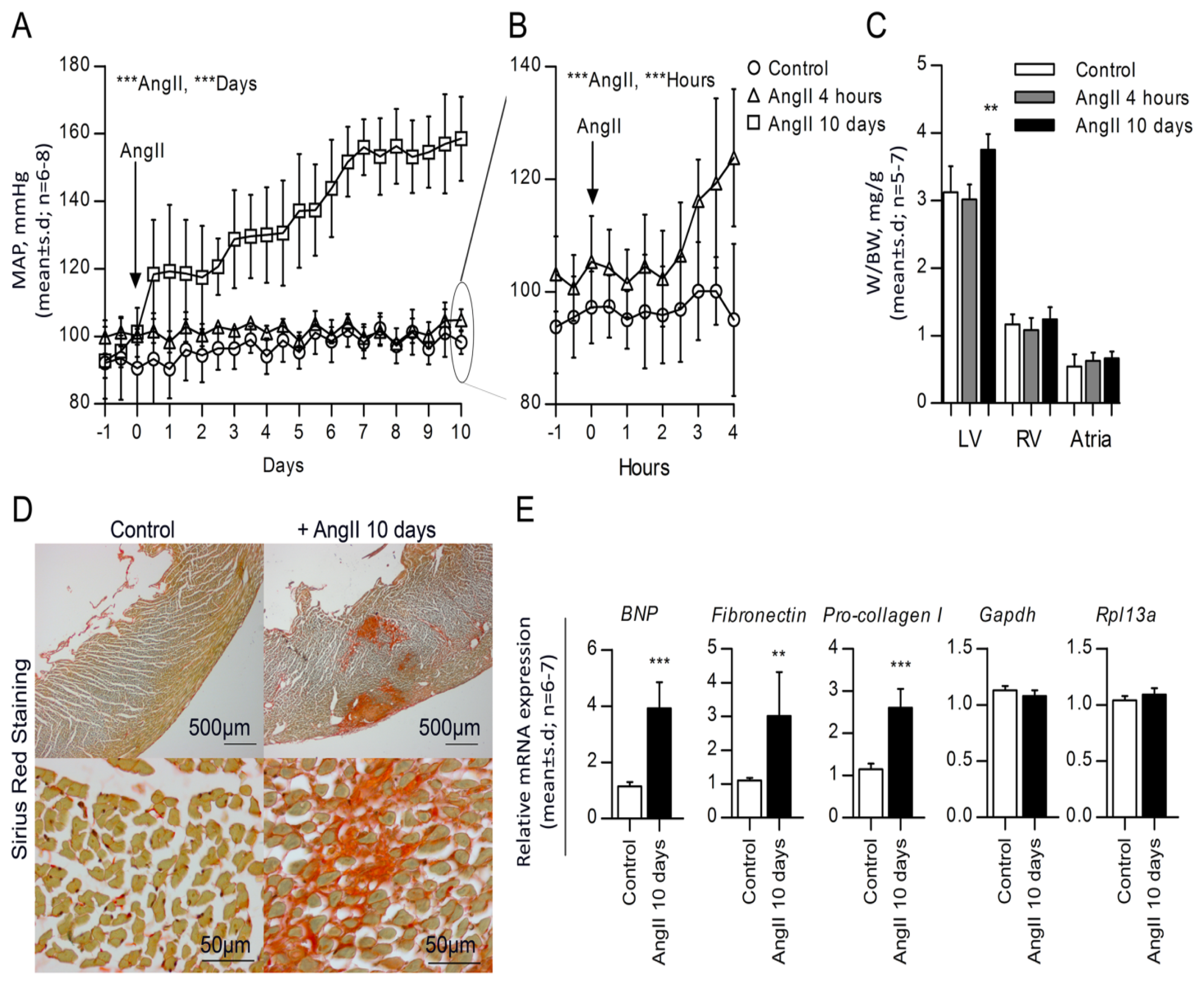 Share & Cite This Article
MDPI and ACS Style
Eskildsen, T.V.; Jeppesen, P.L.; Schneider, M.; Nossent, A.Y.; Sandberg, M.B.; Hansen, P.B.L.; Jensen, C.H.; Hansen, M.L.; Marcussen, N.; Rasmussen, L.M.; Bie, P.; Andersen, D.C.; Sheikh, S.P. Angiotensin II Regulates microRNA-132/-212 in Hypertensive Rats and Humans. Int. J. Mol. Sci. 2013, 14, 11190-11207.
Related Articles
Comments
[Return to top]