A High Molecular-Mass Anoxybacillus sp. SK3-4 Amylopullulanase: Characterization and Its Relationship in Carbohydrate Utilization
1
Faculty of Biosciences and Medical Engineering (formerly the Faculty of Biosciences and Bioengineering), Universiti Teknologi Malaysia, 81310 Skudai, Johor, Malaysia
2
Division of Genetics and Molecular Biology, Institute of Biological Sciences, Faculty of Science, University of Malaya, 50603 Kuala Lumpur, Malaysia
*
Author to whom correspondence should be addressed.
Received: 9 April 2013 / Revised: 3 May 2013 / Accepted: 14 May 2013 / Published: 28 May 2013
Abstract
An amylopullulanase of the thermophilic
Anoxybacillus
sp. SK3-4 (ApuASK) was purified to homogeneity and characterized. Though amylopullulanases larger than 200 kDa are rare, the molecular mass of purified ApuASK appears to be approximately 225 kDa, on both SDS-PAGE analyses and native-PAGE analyses. ApuASK was stable between pH 6.0 and pH 8.0 and exhibited optimal activity at pH 7.5. The optimal temperature for ApuASK enzyme activity was 60 °C, and it retained 54% of its total activity for 240 min at 65 °C. ApuASK reacts with pullulan, starch, glycogen, and dextrin, yielding glucose, maltose, and maltotriose. Interestingly, most of the previously described amylopullulanases are unable to produce glucose and maltose from these substrates. Thus, ApuASK is a novel, high molecular-mass amylopullulanase able to produce glucose, maltose, and maltotriose from pullulan and starch. Based on whole genome sequencing data, ApuASK appeared to be the largest protein present in
Anoxybacillus
sp. SK3-4. The α-amylase catalytic domain present in all of the amylase superfamily members is present in ApuASK, located between the cyclodextrin (CD)-pullulan-degrading N-terminus and the α-amylase catalytic
C
-terminus (amyC) domains. In addition, the existence of a S-layer homology (SLH) domain indicates that ApuASK might function as a cell-anchoring enzyme and be important for carbohydrate utilization in a streaming hot spring.
View Full-Text
►

▼

Figures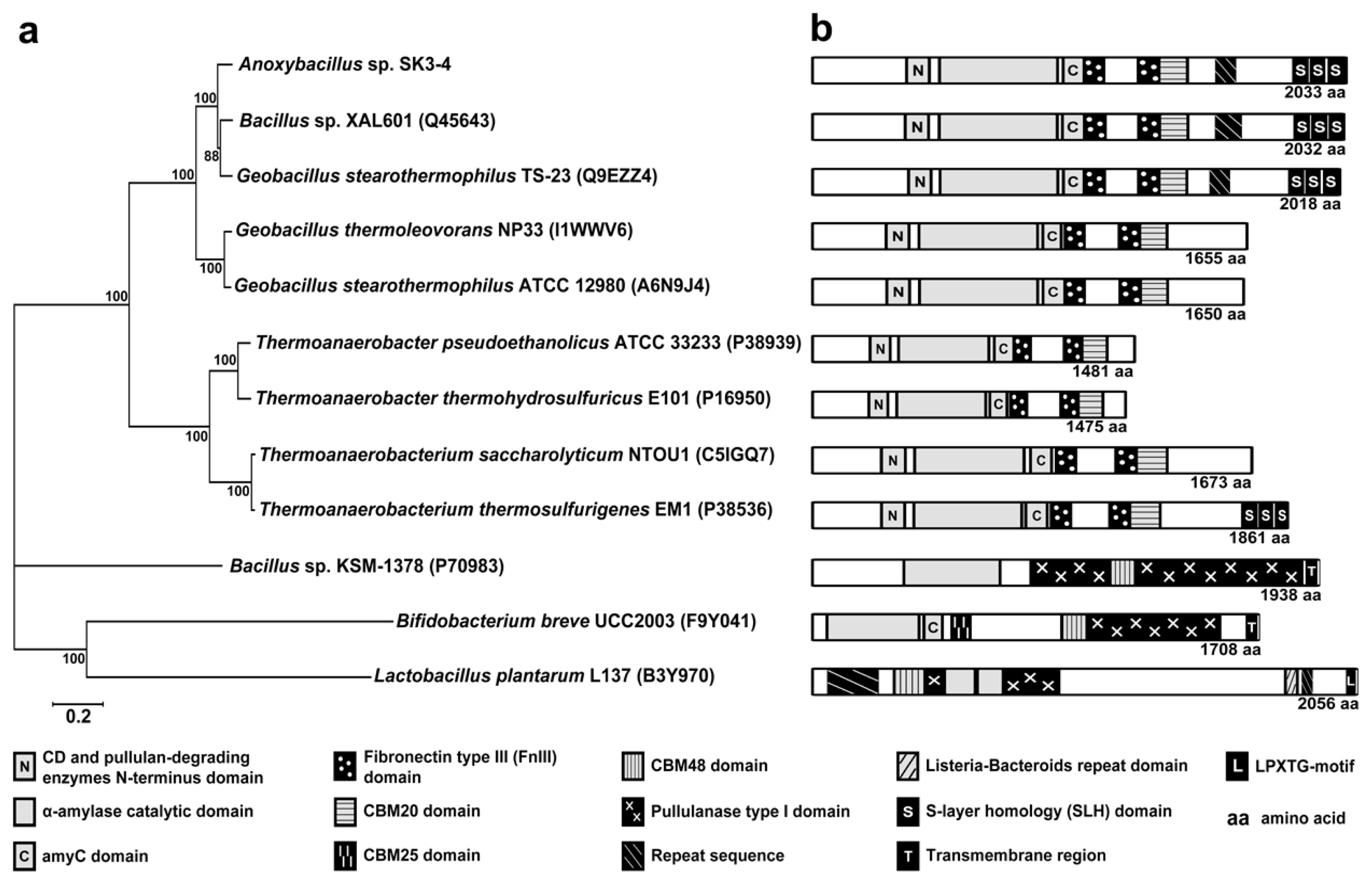 Share & Cite This Article
MDPI and ACS Style
Kahar, U.M.; Chan, K.-G.; Salleh, M.M.; Hii, S.M.; Goh, K.M. A High Molecular-Mass Anoxybacillus sp. SK3-4 Amylopullulanase: Characterization and Its Relationship in Carbohydrate Utilization. Int. J. Mol. Sci. 2013, 14, 11302-11318.
Related Articles
Comments
[Return to top]