MicroRNA-Regulated Protein-Protein Interaction Networks and Their Functions in Breast Cancer
1
Graduate Institute of Biomedical Electronics and Bioinformatics, National Taiwan University, Taipei 106, Taiwan
2
Department of Physiology, College of Medicine, National Taiwan University, Taipei 100, Taiwan
3
Institute of Biomedical Informatics and Center for Systems and Synthetic Biology, National Yang-Ming University, Taipei 112, Taiwan
4
Institute of Molecular and Cellular Biology and Department of Life Science, National Taiwan University, Taipei 106, Taiwan
†
These authors contributed equally to this work.
*
Authors to whom correspondence should be addressed.
Received: 17 April 2013 / Revised: 21 May 2013 / Accepted: 22 May 2013 / Published: 30 May 2013
Abstract
MicroRNAs, which are small endogenous RNA regulators, have been associated with various types of cancer. Breast cancer is a major health threat for women worldwide. Many miRNAs were reported to be associated with the progression and carcinogenesis of breast cancer. In this study, we aimed to discover novel breast cancer-related miRNAs and to elucidate their functions. First, we identified confident miRNA-target pairs by combining data from miRNA target prediction databases and expression profiles of miRNA and mRNA. Then, miRNA-regulated protein interaction networks (PINs) were constructed with confident pairs and known interaction data in the human protein reference database (HPRD). Finally, the functions of miRNA-regulated PINs were elucidated by functional enrichment analysis. From the results, we identified some previously reported breast cancer-related miRNAs and functions of the PINs, e.g., miR-125b, miR-125a, miR-21, and miR-497. Some novel miRNAs without known association to breast cancer were also found, and the putative functions of their PINs were also elucidated. These include miR-139 and miR-383. Furthermore, we validated our results by receiver operating characteristic (ROC) curve analysis using our miRNA expression profile data, gene expression-based outcome for breast cancer online (GOBO) survival analysis, and a literature search. Our results may provide new insights for research in breast cancer-associated miRNAs.
View Full-Text
►

▼

Figures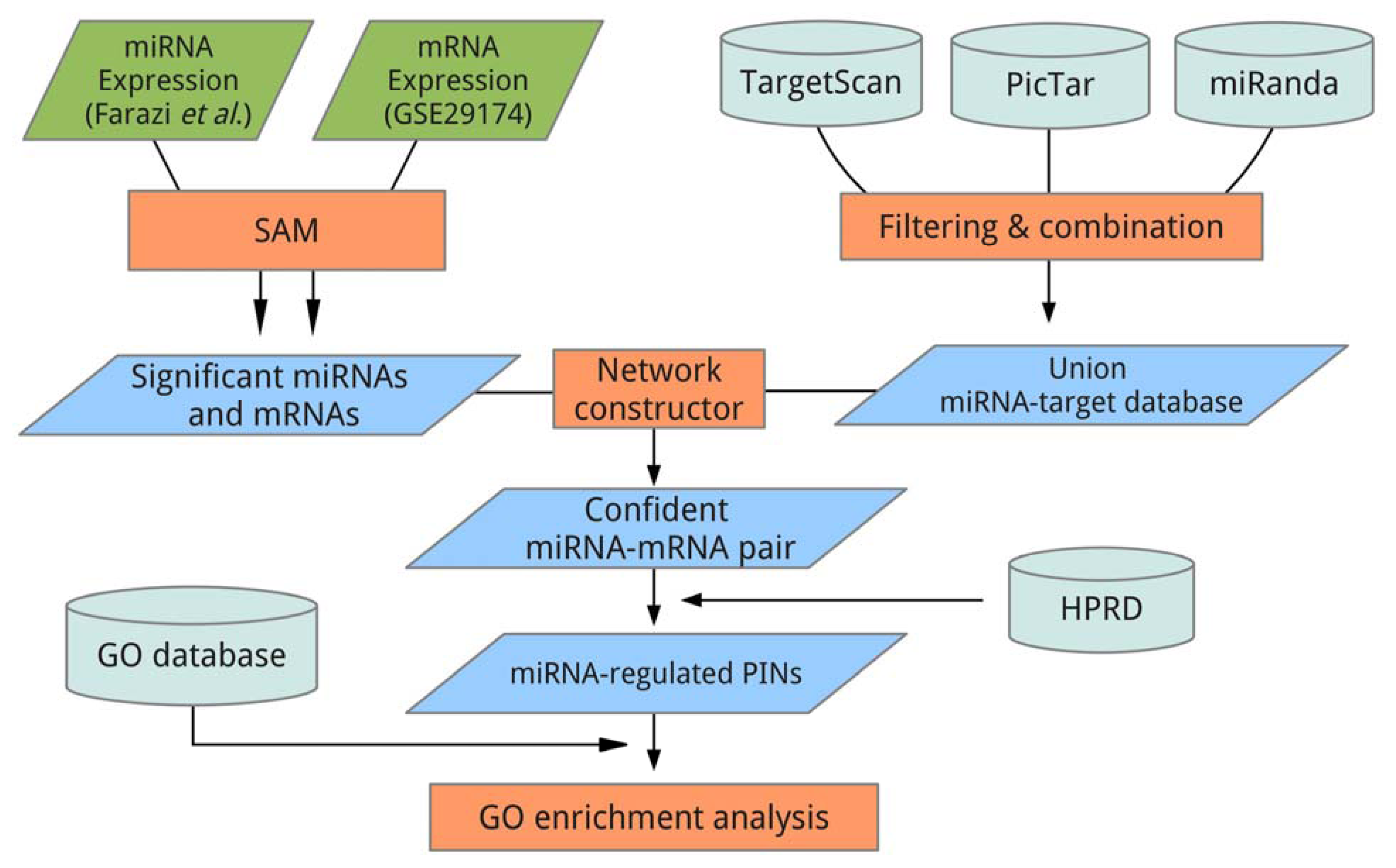 Share & Cite This Article
MDPI and ACS Style
Lee, C.-H.; Kuo, W.-H.; Lin, C.-C.; Oyang, Y.-J.; Huang, H.-C.; Juan, H.-F. MicroRNA-Regulated Protein-Protein Interaction Networks and Their Functions in Breast Cancer. Int. J. Mol. Sci. 2013, 14, 11560-11606.
Related Articles
Comments
[Return to top]