Individual and Joint Impacts of Ethanol Use, BMI, Age and Gender on Serum Gamma-Glutamyltransferase Levels in Healthy Volunteers
1
Department of Laboratory Medicine and Medical Research Unit, Seinäjoki Central Hospital, and University of Tampere, Seinäjoki 60220, Finland
2
National Institute for Health and Welfare (THL), Helsinki 00271, Finland
3
The Institute of Public Health and Clinical Nutrition, University of Eastern Finland, Kuopio 70211, Finland
4
Hospital District of North Karelia, Joensuu 80210, Finland
5
Department of Psychiatry, Seinäjoki Central Hospital, Seinäjoki 60220, Finland
*
Author to whom correspondence should be addressed.
Received: 23 April 2013 / Revised: 20 May 2013 / Accepted: 22 May 2013 / Published: 4 June 2013
Abstract
Excessive ethanol consumption, obesity and increasing age may all lead to increased serum levels of gamma-glutamyltransferase (GGT) enzyme, which plays a key role in the metabolism of extracellular reduced glutathione. However, as yet, the interactions between the various modulators of GGT activities have remained poorly defined. We analyzed data from 15,617 apparently healthy individuals (7254 men and 8363 women, mean age 46 ± 13 years, range 25–74 years) who participated in a national cross-sectional health survey in Finland between 1997 and 2007. All subjects underwent detailed clinical examinations and interviews, including the amount of ethanol use and smoking habits. GGT levels were measured from all participants, and the individual and joint impacts of the different study variables on GGT levels were assessed. Significant individual effects were noted for ethanol use (
p
< 0.001), body mass index (BMI) (
p
< 0.001), age (
p
< 0.001) and smoking (
p
< 0.001). In men, significant two-factor interactions occurred between ethanol use and age (
p
< 0.020). Among those over 40 years of age, ethanol consumption was found to be a stronger determinant of increased GGT levels than in men below 40 years, whereas in the latter age group, BMI was found to predominate. In women, a significant two-factor interaction occurred between ethanol and BMI (
p =
0.010), whereas it did not with ethanol use and age. The data underscores the role of ethanol consumption and age as major determinants of increased GGT levels in men, whereas in women, a relatively stronger impact was noted for ethanol intake and BMI. In light of the ability of GGT enzyme to modulate crucial redox-sensitive functions, the present findings also support the use of GGT as a biomarker of oxidative stress.
View Full-Text
►

▼

Figures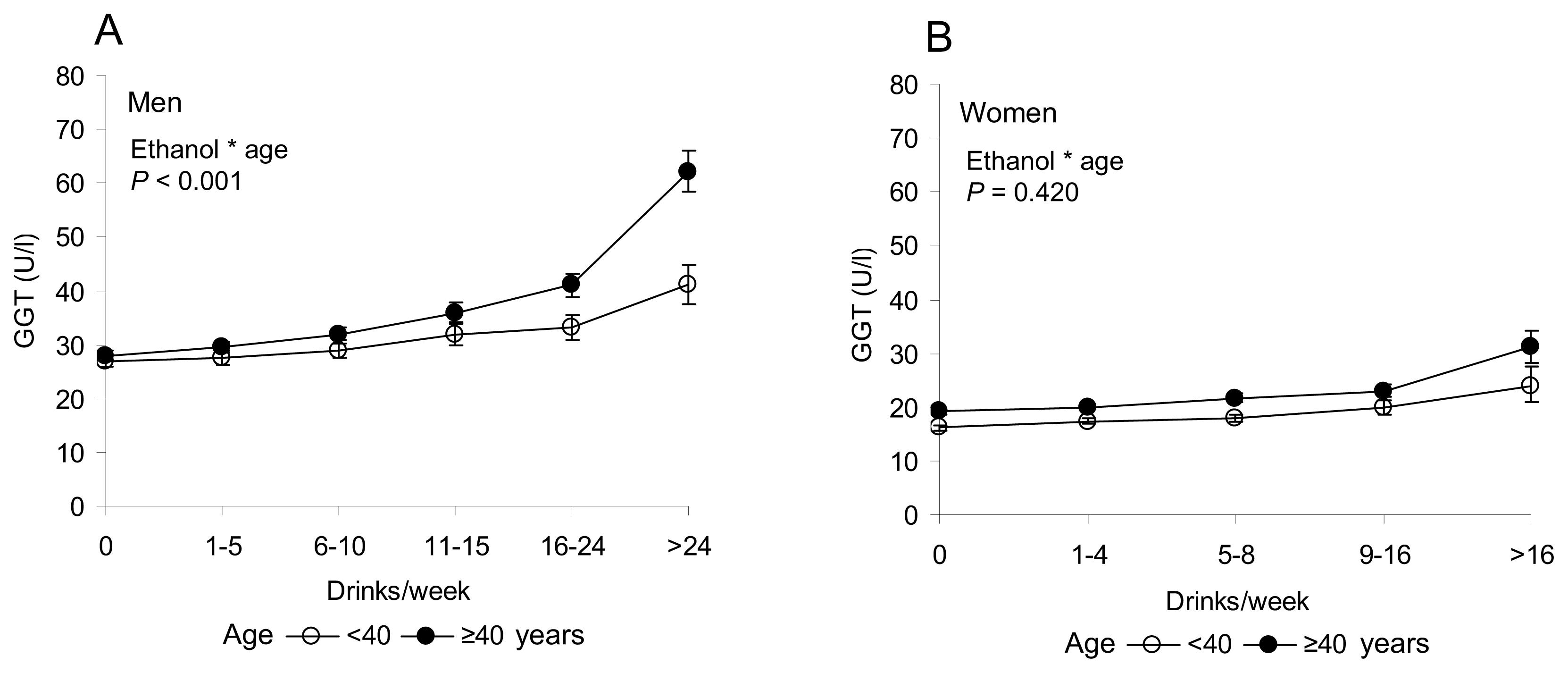 Share & Cite This Article
MDPI and ACS Style
Danielsson, J.; Kangastupa, P.; Laatikainen, T.; Aalto, M.; Niemelä, O. Individual and Joint Impacts of Ethanol Use, BMI, Age and Gender on Serum Gamma-Glutamyltransferase Levels in Healthy Volunteers. Int. J. Mol. Sci. 2013, 14, 11929-11941.
Related Articles
Comments
[Return to top]