Eviprostat Activates cAMP Signaling Pathway and Suppresses Bladder Smooth Muscle Cell Proliferation
1
Department of Oncology, First Affiliated Hospital, China Medical University, Shenyang 110001, China
2
Department of Molecular Signaling, Interdisciplinary Graduate School of Medicine and Engineering, University of Yamanashi, Chuo, Yamanashi 409-3898, Japan
3
Department of Urology, Interdisciplinary Graduate School of Medicine and Engineering, University of Yamanashi, Chuo, Yamanashi 409-3898, Japan
4
Department of Urology, Shiga University of Medical Science, Ohtsu, Shiga 520-2192, Japan
*
Authors to whom correspondence should be addressed.
Received: 15 April 2013 / Revised: 7 May 2013 / Accepted: 13 May 2013 / Published: 6 June 2013
Abstract
Eviprostat is a popular phytotherapeutic agent for the treatment of lower urinary tract symptoms (LUTS). At present, the signaling mechanisms underlying its therapeutic effects are still poorly understood. Given that cAMP has been reported to suppress cell hyperplasia and hypertrophy in various pathological situations, we asked whether the effect of Eviprostat could be ascribed to the activation of the cAMP signaling pathway. In the study, exposure of cAMP response element (CRE)-secreted alkaline phosphatase (SEAP) (CRE-SEAP)-reporter cells to Eviprostat elevated SEAP secretion, which was associated with an increased phosphorylation of vasodilator-stimulated phosphoprotein (VASP) and cAMP-response element-binding protein (CREB), as well as enhanced expression of CRE-regulated protein connexin43, indicating an activation of the cAMP signaling pathway. Consistent with these observations, Eviprostat-induced expression of Cx43 was abolished in the presence of adenylyl cyclase inhibitor SQ22536 or PKA inhibitor H89, whereas it was mimicked by adenylyl cyclase activator, forskolin. Further analysis demonstrated that Eviprostat significantly potentiated the effect of phosphodiesterase 3 (PDE3) inhibitor, but not that of PDE4 inhibitor, on CRE activation. Moreover, Eviprostat suppressed PDGF-induced activation of ERK and Akt and inhibited cell proliferation and hillock formation in both mesangial cells and bladder smooth muscle cells. Collectively, activation of the cAMP signaling pathway could be an important mechanism by which Eviprostat exerts its therapeutic effects for LUTS.
View Full-Text
►

▼

Figures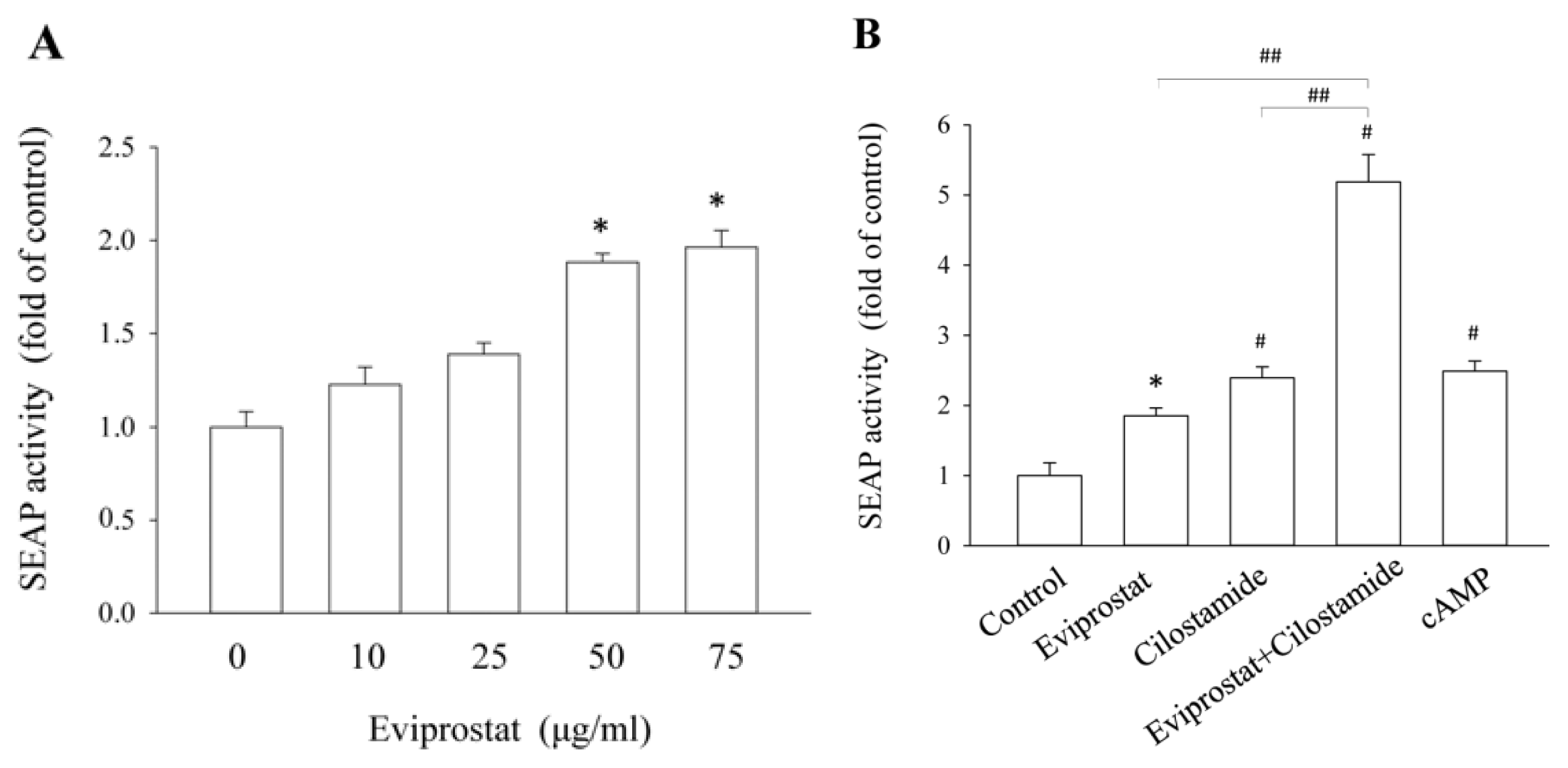 Share & Cite This Article
MDPI and ACS Style
Li, K.; Yao, J.; Chi, Y.; Sawada, N.; Araki, I.; Kitamura, M.; Takeda, M. Eviprostat Activates cAMP Signaling Pathway and Suppresses Bladder Smooth Muscle Cell Proliferation. Int. J. Mol. Sci. 2013, 14, 12107-12122.
Related Articles
Comments
[Return to top]