Overexpression of Arachis hypogaea AREB1 Gene Enhances Drought Tolerance by Modulating ROS Scavenging and Maintaining Endogenous ABA Content
1
Guangdong Provincial Key Lab of Biotechnology for Plant Development, College of Life Science, South China Normal University, Guangzhou 510631, China
2
Molecular Analysis and Genetic Improvement Center, South China Botanical Garden, Chinese Academy of Science, Guangzhou 510650, China
*
Author to whom correspondence should be addressed.
Received: 24 April 2013 / Revised: 21 May 2013 / Accepted: 31 May 2013 / Published: 19 June 2013
Abstract
AhAREB1
(
Arachis hypogaea
Abscisic-acid Response Element Binding Protein 1) is a member of the basic domain leucine zipper (bZIP)-type transcription factor in peanut
.
Previously,
we found that expression of
AhAREB1
was specifically induced by abscisic acid (ABA), dehydration and drought. To understand the drought defense mechanism regulated by AhAREB1, transgenic
Arabidopsis
overexpressing
AhAREB1
was conducted in wild-type (WT), and a complementation experiment was employed to ABA non-sensitivity mutant
abi5
(abscisic acid-insensitive 5)
.
Constitutive expression of
AhAREB1
confers water stress tolerance and is highly sensitive to exogenous ABA. Microarray and further real-time PCR analysis revealed that drought stress, reactive oxygen species (ROS) scavenging, ABA synthesis/metabolism-related genes and others were regulated in transgenic
Arabidopsis
overexpressing
AhAREB1
. Accordingly, low level of ROS, but higher ABA content was detected in the transgenic
Arabidopsis
plants' overexpression of
AhAREB1
. Taken together, it was concluded that AhAREB1 modulates ROS accumulation and endogenous ABA level to improve drought tolerance in transgenic
Arabidopsis
.
View Full-Text
►

▼

Figures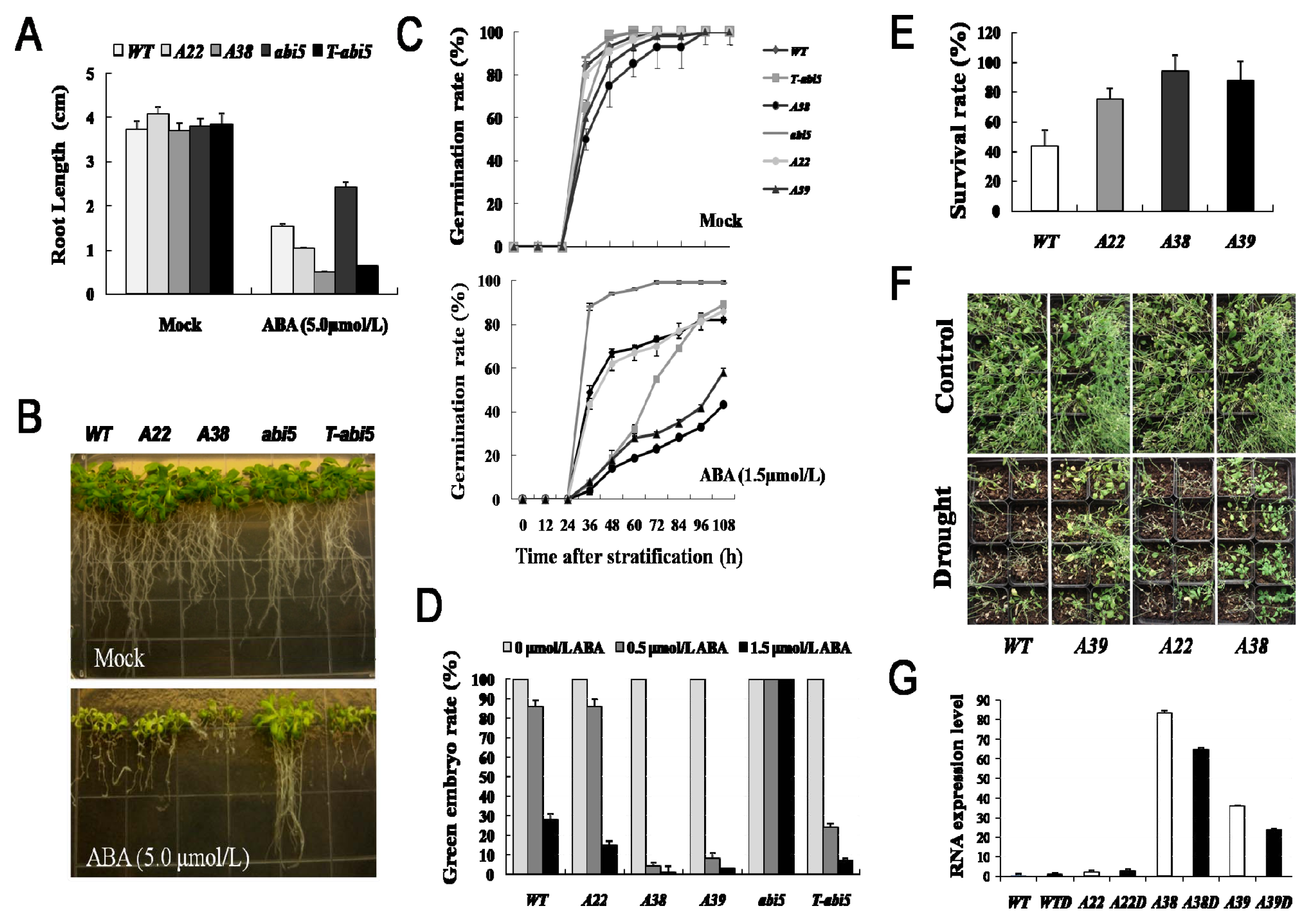 Share & Cite This Article
MDPI and ACS Style
Li, X.-Y.; Liu, X.; Yao, Y.; Li, Y.-H.; Liu, S.; He, C.-Y.; Li, J.-M.; Lin, Y.-Y.; Li, L. Overexpression of Arachis hypogaea AREB1 Gene Enhances Drought Tolerance by Modulating ROS Scavenging and Maintaining Endogenous ABA Content. Int. J. Mol. Sci. 2013, 14, 12827-12842.
Related Articles
Comments
[Return to top]