The Tumor Suppressor Roles of miR-433 and miR-127 in Gastric Cancer
1
School of Computer and Information Technology, College of Life Sciences and Bioengineering, Beijing Jiaotong University, 3 Shangyuan Residence, Haidian District, Beijing 100044, China
2
Department of Critical Care Medicine (CCM), Peking University People's Hospital, Beijing 100044, China
3
Institute of Basic Medical Sciences, Peking Union Medical College & Chinese Academy of Medical Sciences, Beijing 100005, China
*
Authors to whom correspondence should be addressed.
Received: 1 April 2013 / Revised: 26 June 2013 / Accepted: 27 June 2013 / Published: 8 July 2013
Abstract
The discovery of microRNAs (miRNAs) provides a new and powerful tool for studying the mechanism, diagnosis and treatment of human cancers. Currently, the methylation epigenetic silencing of miRNAs with tumor suppressor features by CpG island hypermethylation is emerging as a common hallmark of different tumors. Here we showed that miR-433 and miR-127 were significantly down-regulated in gastric cancer (GC) tissues compared with the adjacent normal regions in 86 paired samples. Moreover, the lower level of miR-433 and miR-127 was associated with pM or pTNM stage in clinical gastric cancer patients. The restored expression of miR-433 and miR-127 in GC cells upon 5-Aza-CdR and TSA treatment suggested the loss of miR-433 and miR-127 was at least partly regulated by epigenetic modification in GC. Furthermore, the ectopic expression of miR-433 and miR-127 in gastric cancer cell lines HGC-27 inhibits cell proliferation, cell cycle progression, cell migration and invasion by directly interacting with the mRNA encoding oncogenic factors KRAS and MAPK4 respectively. Taken together, our results showed that miR-433 and miR-127 might act as tumor suppressors in GC, and it may provide novel diagnostic and therapeutic options for human GC clinical operation in the near future.
View Full-Text
►

▼

Figures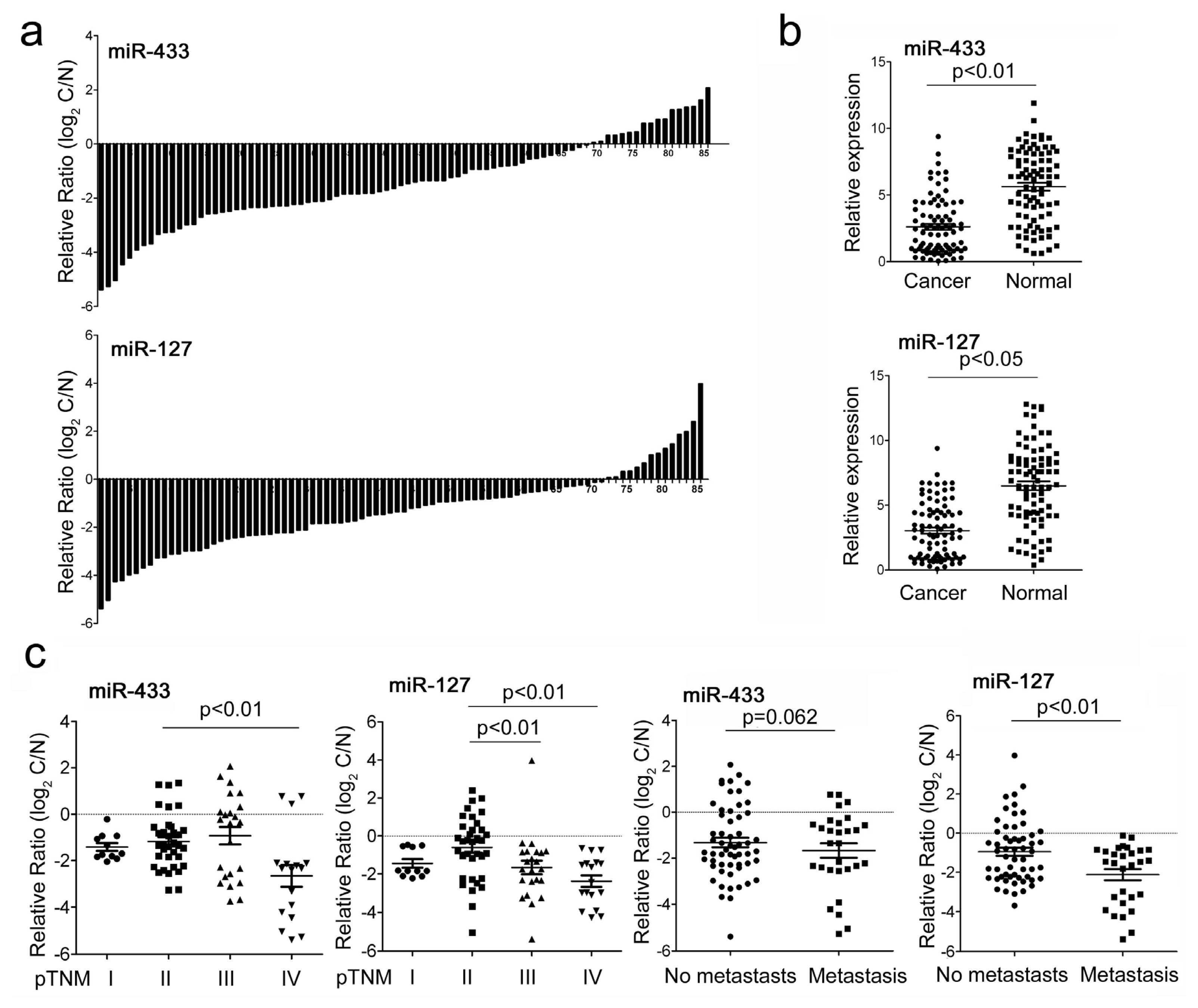 Share & Cite This Article
MDPI and ACS Style
Guo, L.-H.; Li, H.; Wang, F.; Yu, J.; He, J.-S. The Tumor Suppressor Roles of miR-433 and miR-127 in Gastric Cancer. Int. J. Mol. Sci. 2013, 14, 14171-14184.
Related Articles
Comments
[Return to top]