Thrombospondin-1 Is a Putative Target Gene of Runx2 and Runx3
1
Institute of Genetics and Cell Biology, Northeast Normal University, Changchun 130024, China
2
Division of Surgery, Indian Veterinary Research Institute, Izatnagar 243122, India
3
School of Dentistry, Nagasaki University, 1-7-1 Sakamoto, Nagasaki 852-8588, Japan
4
Key Laboratory of Molecular Epigenetics of Ministry of Education of China, Northeast Normal University, Changchun 130024, China
†
These authors contributed equally to this work.
*
Author to whom correspondence should be addressed.
Received: 22 May 2013 / Accepted: 26 June 2013 / Published: 10 July 2013
Abstract
Thrombospondin-1 (TSP-1), a matricellular protein widely acclaimed to be involved in the inhibition of angiogenesis and tumorigenesis, is synthesized and secreted by many cell types, including osteoblast and cancer cells. TSP-1 is highly upregulated during early stage of osteogenesis, whereas it inhibits terminal osteoblast differentiation. Expression of TSP-1 is downregulated in cancer cells, and its ectopic expression has been shown to restrain tumor growth. Transcriptional regulation of TSP-1 in osteogenesis and cancer is poorly understood; this prompted us to study its regulation by the two key regulators of the aforementioned processes: Runx2 and Runx3. Through a PCR-based cDNA subtraction technique, we identified and cloned a cDNA fragment for mouse TSP-1, whose expression was dramatically upregulated in response to Runx2 expression in mesenchymal stem cells. Moreover, TSP-1 expression was considerably reduced in the lung of Runx2 knockout mouse. On the other hand, TSP-1 gene expression drastically increased at both the transcriptional and translational levels in response to Runx3 expression in B16-F10 melanoma cells. In line with this, Runx2 and Runx3 bound to the TSP-1 promoter and stimulated its activity. Hence, these results provide first line of evidence that TSP-1 is a transcriptional target gene of Runx2 and Runx3.
View Full-Text
►

▼

Figures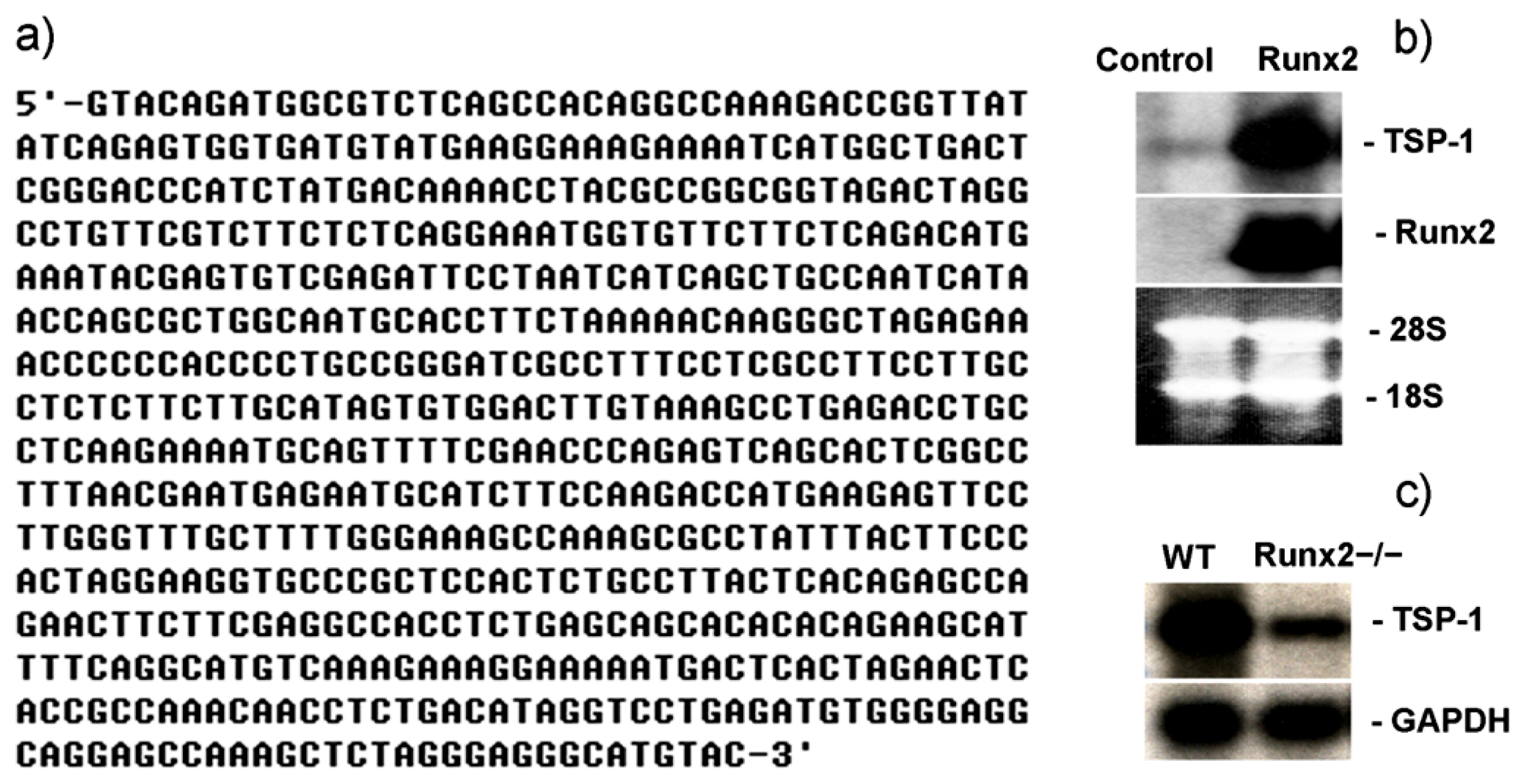 Share & Cite This Article
MDPI and ACS Style
Shi, X.; Deepak, V.; Wang, L.; Ba, X.; Komori, T.; Zeng, X.; Liu, W. Thrombospondin-1 Is a Putative Target Gene of Runx2 and Runx3. Int. J. Mol. Sci. 2013, 14, 14321-14332.
Related Articles
Comments
[Return to top]