Experimental Models of Status Epilepticus and Neuronal Injury for Evaluation of Therapeutic Interventions
Department of Neuroscience and Experimental Therapeutics, College of Medicine, Texas A&M University Health Science Center, 8447 State Highway 47, MREB Building, Bryan, TX 77807, USA
*
Author to whom correspondence should be addressed.
Received: 3 July 2013 / Revised: 31 July 2013 / Accepted: 9 August 2013 / Published: 5 September 2013
Abstract
This article describes current experimental models of status epilepticus (SE) and neuronal injury for use in the screening of new therapeutic agents. Epilepsy is a common neurological disorder characterized by recurrent unprovoked seizures. SE is an emergency condition associated with continuous seizures lasting more than 30 min. It causes significant mortality and morbidity. SE can cause devastating damage to the brain leading to cognitive impairment and increased risk of epilepsy. Benzodiazepines are the first-line drugs for the treatment of SE, however, many people exhibit partial or complete resistance due to a breakdown of GABA inhibition. Therefore, new drugs with neuroprotective effects against the SE-induced neuronal injury and degeneration are desirable. Animal models are used to study the pathophysiology of SE and for the discovery of newer anticonvulsants. In SE paradigms, seizures are induced in rodents by chemical agents or by electrical stimulation of brain structures. Electrical stimulation includes perforant path and self-sustaining stimulation models. Pharmacological models include kainic acid, pilocarpine, flurothyl, organophosphates and other convulsants that induce SE in rodents. Neuronal injury occurs within the initial SE episode, and animals exhibit cognitive dysfunction and spontaneous seizures several weeks after this precipitating event. Current SE models have potential applications but have some limitations. In general, the experimental SE model should be analogous to the human seizure state and it should share very similar neuropathological mechanisms. The pilocarpine and diisopropylfluorophosphate models are associated with prolonged, diazepam-insensitive seizures and neurodegeneration and therefore represent paradigms of refractory SE. Novel mechanism-based or clinically relevant models are essential to identify new therapies for SE and neuroprotective interventions.
View Full-Text
►

▼

Figures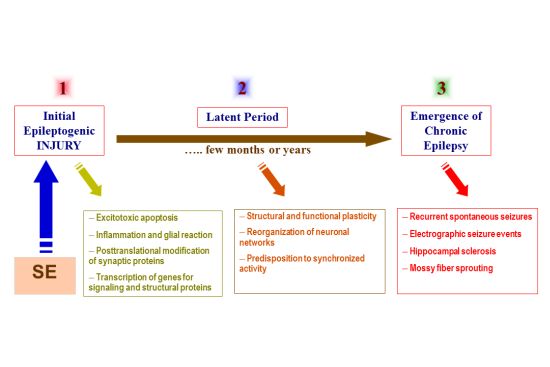 Share & Cite This Article
MDPI and ACS Style
Reddy, D.S.; Kuruba, R. Experimental Models of Status Epilepticus and Neuronal Injury for Evaluation of Therapeutic Interventions. Int. J. Mol. Sci. 2013, 14, 18284-18318.
Related Articles
Comments
[Return to top]