Flavonoids from Orostachys japonicus A. Berger Inhibit the Invasion of LnCaP Prostate Carcinoma Cells by Inactivating Akt and Modulating Tight Junctions
1
Dongnam Institute of Radiological & Medicine Sciences, Busan 619-953, Korea
2
Departments of Internal Medicine, Institute of Health Sciences, Gyeongsang National University School of Medicine, Jinju 660-702, Korea
3
Department of Biochemistry, Dongeui University College of Oriental Medicine and Anti-Aging Research Center & Blue-Bio Industry RIC, Dongeui University, Busan 614-052, Korea
4
Department of Molecular Biology, Dongeui University, Busan 614-714, Korea
5
Departments of Pharmacology, Institute of Health Sciences, Gyeongsang National University School of Medicine, Jinju 660-702, Korea
6
Laboratory of Immunobiology, Department of Marine Life Sciences, Jeju National University, Jeju 690-756, Korea
7
Department of Food and Nutrition, Dongeui University, Busan 614-714, Korea
8
School of Veterinary Medicine, Research Institute of Life Science, Gyeongsang National University, Jinju 660-701, Korea
9
Departments of Neurosurgery, Institute of Health Sciences, Gyeongsang National University School of Medicine, Jinju 660-702, Korea
10
Division of Applied Life Science (BK 21 Program), Institute of Agriculture and Life Science, Gyeongsang National University, Jinju 660-701, Korea
11
Department of Chemistry, Research Institute of Life Science, Gyeongsang National University, Jinju 660-701, Korea
12
Departments of Surgery, Institute of Health Sciences, Gyeongsang National University School of Medicine, Jinju 660-702, Korea
*
Authors to whom correspondence should be addressed.
Received: 4 July 2013 / Revised: 13 August 2013 / Accepted: 16 August 2013 / Published: 6 September 2013
Abstract
Tight junctions (TJs) are a mode of cell-to-cell adhesion in epithelial or endothelial cells, and serve as a physical barrier to maintenance of homeostasis in body by controlling paracellular transport. Claudins are the most important molecules of the TJs, but paradoxically these proteins are frequently over-expressed in cancers and their overexpression is implicated in the invasive potential of cancer. Hence, we investigated the effects of flavonoids extracted from
Orostachys japonicus
A. Berger (FEOJ) on TJs and the expression of claudins as well as cancer invasion along with in LnCaP human prostate cancer. FEOJ suppressed cancer cell motility and invasiveness at the concentrations where FEOJ did not show anti-proliferative activity. FEOJ increased transepithelial electrical resistance (TER) associated with tightening TJs, and suppressed expression of claudin proteins. Furthermore, FEOJ suppressed the activities of MMP-2 and -9 in a dose-dependent manner, which came from the activation of tissue inhibitor of metalloproteinases (TIMPs) by FEOJ. FEOJ suppressed migration and invasion by suppressing PI3K/Akt signaling pathway. Taken together, this study suggest that FEOJ suppresses cancer migration and invasion by tightening TJs through the suppression of claudin expression, and by suppressing MMPs in LnCaP human prostate cancer cells, which at least in part results from the suppression of PI3K/Akt signaling pathway.
View Full-Text
►

▼

Figures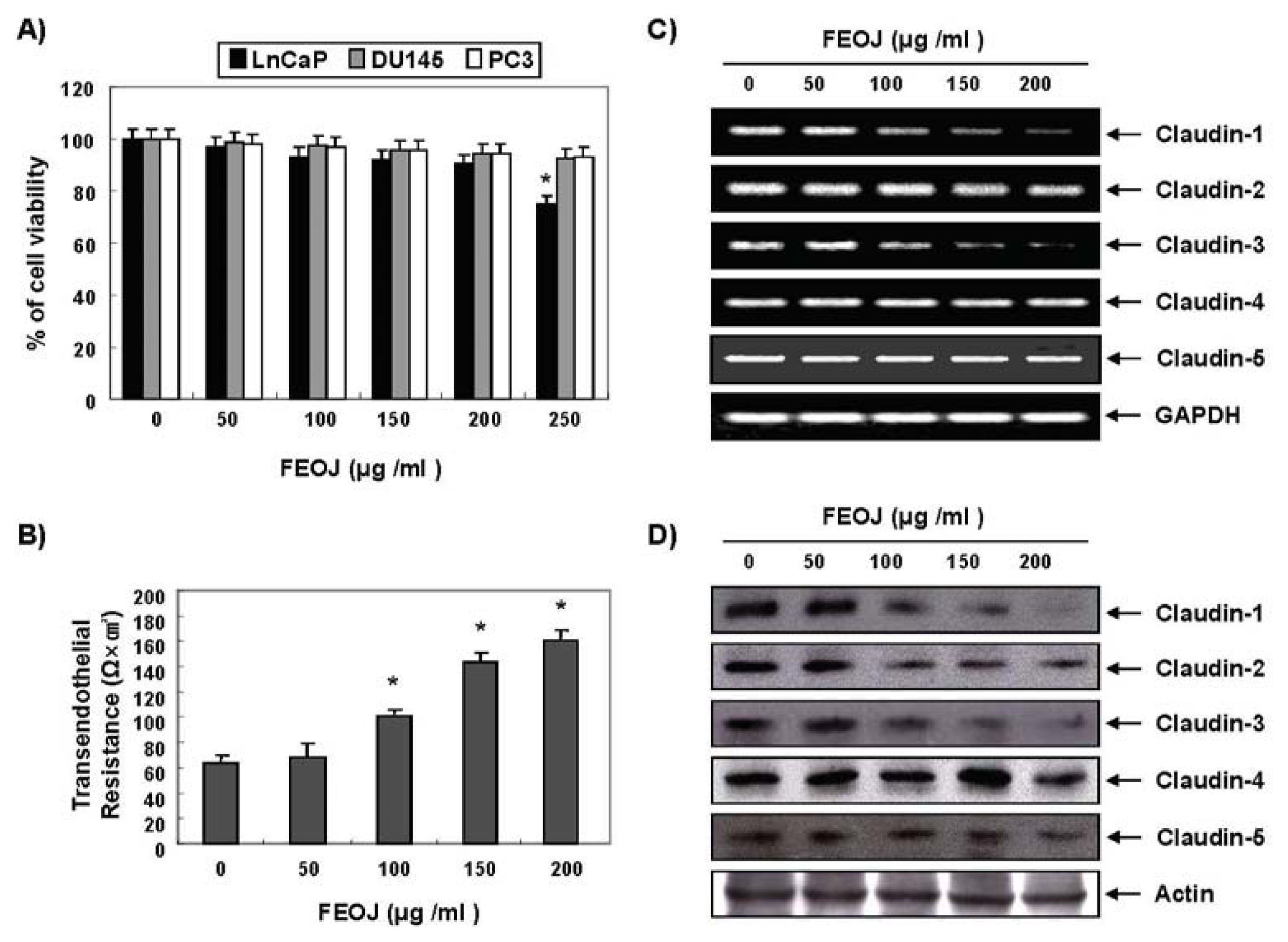 Share & Cite This Article
MDPI and ACS Style
Shin, D.Y.; Lee, W.S.; Jung, J.H.; Hong, S.H.; Park, C.; Kim, H.J.; Kim, G.-Y.; Hwang, H.J.; Kim, G.S.; Jung, J.-M.; Ryu, C.H.; Shin, S.C.; Hong, S.C.; Choi, Y.H. Flavonoids from Orostachys japonicus A. Berger Inhibit the Invasion of LnCaP Prostate Carcinoma Cells by Inactivating Akt and Modulating Tight Junctions. Int. J. Mol. Sci. 2013, 14, 18407-18420.
Related Articles
Comments
[Return to top]